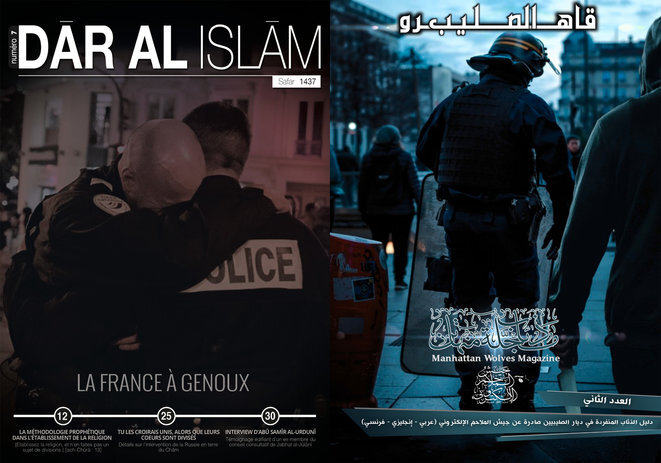 Jihadist propaganda publications often target the French police. © DR
The murder of a policewoman at Rambouillet, south west of Paris, on Friday April 23rd brought to 12 the number of members of the police and security forces who have been killed in terrorist attacks in France since 2015. Overall, attacks targeting police officers have grown in number over that period. This "French exception"  is a phenomenon which has become more prevalent since the collapse of Islamic State's self-styled 'Caliphate' in the Middle East. Matthieu Suc reports.
France's Barkhane force 'neutralised' Bah ag Moussa on Tuesday in an operation involving ground troops and helicopters, defence minister Parly said in a statement on Friday.
French defence minister Florence Parly has announced an operation led by French forces this week killed Abdelmalek Droukdel, leader of al-Qaeda in North Africa, and that last month a senior Islamic State group commander in Mali had also been captured.

Jihadists attending an Islamic State training course. © DR
The so-called Islamic State group (IS) last week claimed responsibility for the attacks in Spain that left 15 people dead and more than 100 injured, part of a long and murderous terror campaign it has led across Europe. Behind the terrorist operations lies a branch of the IS which acts as the jihadists' secret services, and which has been constructed in the image of the very countries it attacks. An eight-month investigation by Mediapart reveals the history and the methods employed by this shady organization that is a pillar of the IS structure. Matthieu Suc reports.
Anthropologist Scott Atran, a research fellow with Oxford University who also teaches at University of Michigan and John Jay College in New York, is a leading expert in the study of the motivations of those who join jihadist ranks and the rise of the Islamic State group, and advises governments and international organizations on the issue. In this interview with Joseph Confavreux, he argues that the draw of IS is widely misunderstood, is not limited to disenfranchised communities, and that the organization can only be overcome by a different military, political and psychological approach by Western nations.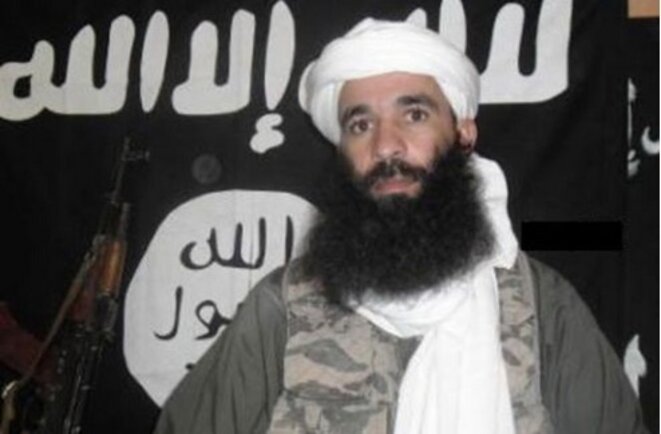 Threat to France: Yahya Abu Hammam
The massacres in Paris on November 13th last year and the attacks in Brussels on March 22nd have focused attention on Islamic State. Yet the threat from Al Qaeda terrorism has not gone away. Indeed, French intelligence agencies fear that the older terrorist movement may be planning to up the stakes with an attack on France in a bid to restore its flagging reputation in relation to its jihadist rival. Matthieu Suc reports.
The renowned 33-year-old died from wounds sustained in Friday's terrorist attack on a hotel and café in the West African country's capital.
French and US special forces helped Malian troops end siege in Bamako in which up to 27 people were killed.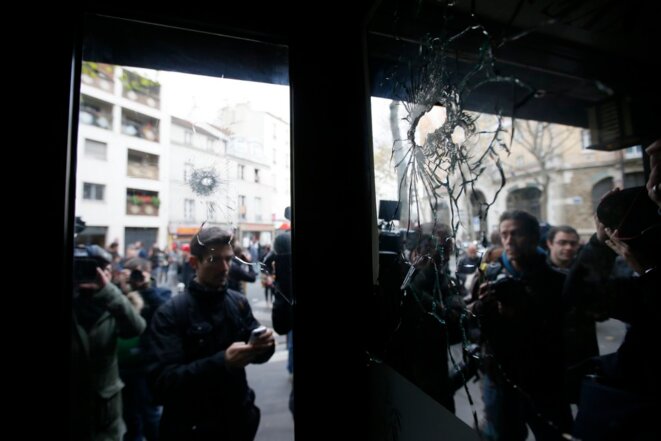 DATE IMPORTED:November 14, 2015Journalists work outside a restaurant where bullet impacts are seen the day after a series of deadly attacks in Paris, France, November 14, 2015. REUTERS/Gonzalo Fuentes © REUTERS/Gonzalo Fuentes
Islamic State has claimed responsibility for the Paris terror attacks on Friday, November 13th. But why has the terror group made France its "principal target", ahead of other states involved in the anti-IS coalition in Iraq and Syria? French journalist and author David Thomson, an expert on French jihadists, explains the background to Mediapart's Joseph Confavreux.
High-level official in the French defence ministry says the threat comes from 'pros, not dropouts' and that new attacks are inevitable.
Ideological leader of Al-Qaeda in the Arabian Peninsula (AQAP) said France had replaced a 'weakened' US in what he called the 'war on Islam'.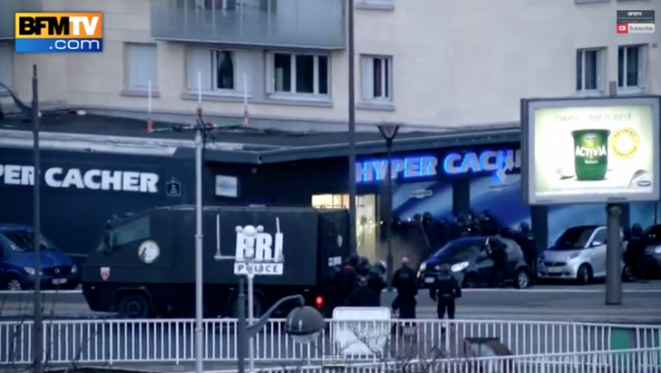 © BFMTV
Chérif Kouachi and Saïd Kouachi, the two men wanted for the shooting massacre of 12 people in an attack on satirical magazine Charlie Hebdo on Wednesday, were killed by police late Friday afternoon after an eight-hour siege of a building close to Roissy-Charles-de-Gaulle airport. Meanwhile, Amedy Coulibaly, a gunman reported to have jihadist links to the Kouachi brothers, was also killed by police after they stormed a kosher supermarket in south-east Paris where earlier on Friday he had taken 16 people hostage. Four of the hostages died, apparently murdered by Coulibaly at the start of the siege, and another four were reported to be seriously wounded. In a phone interview with French TV station BFMTV before he died, Chérif Kouachi said he represented al-Qaeda's Yemeni branch, while Coulibaly apparently told the station he represented the organisation Islamic State and was acting in "synchronisation" with the Kouachi brothers. Meanwhile, police in France are still hunting a woman described as the partner and accomplice of Coulibaly's, and who is said to be potentially "armed and dangerous". This report by Michael Streeter and Graham Tearse.
Release of Serge Lazarevic after being held by Islamists for three years means there are now no more French hostages anywhere in world.
Denial comes after US website claimed French intelligence officer had joined terrior group and was target of US air strikes.