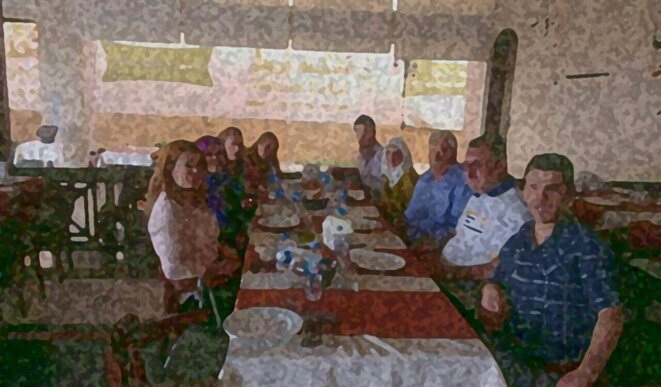 The family at the Grand Station restaurant in Aleppo before the war: the photo has been altered to protect their identity.
Many Syrian refugees living in Turkey have gone to the French Consulate in Istanbul in the hope of obtaining a visa that will allow them to travel to France in safety. But only a small number ever get granted this precious document. Mediapart's Carine Fouteau tells the story of one Kurdish family from Syria who were twice forced to flee the fighting and who are now desperately waiting for a visa from the French authorities that would restore hope to their shattered lives.
The end of the battle for Syria's second city and the plight of its civilians have drawn different responses from across France's political spectrum. On the Right the line taken by conservative presidential candidate François Fillon has been close to that of the far-right Front National, with his defence of the Assad regime and Vladimir Putin. The ruling Socialist Party and the Greens have emphasised their support for Syria's opposition, while the radical left presidential candidate Jean-Luc Mélenchon has adopted an anti-imperialist stance, with the United States as his main target. Lénaïg Bredoux, Lucie Delaporte and Christophe Gueugneau report.
Diplomatic sources said Paris and London have also raised the prospect of sanctions on 12 Russians involved in the Syrian conflict, adding them to the EU's list of some 200 people that also includes three Iranians, with similar sanctions against Syrian individuals.
French foreign minister Jean-Marc Ayrault said bombing of rebel-held parts of Syrian town of Aleppo by Russia and Damascus regime are war crimes over which Paris is to ask the International Criminal Court to launch an investigation.
France's  Security Council resolution demanded an end to air strikes and military flights over Syria's city of Aleppo.
Another jihadist complains that 'they make me do all the washing' as grim reality of life in Syria sinks in for young French Islamist recruits.