Keyword: Alexandre Benalla
Related keywords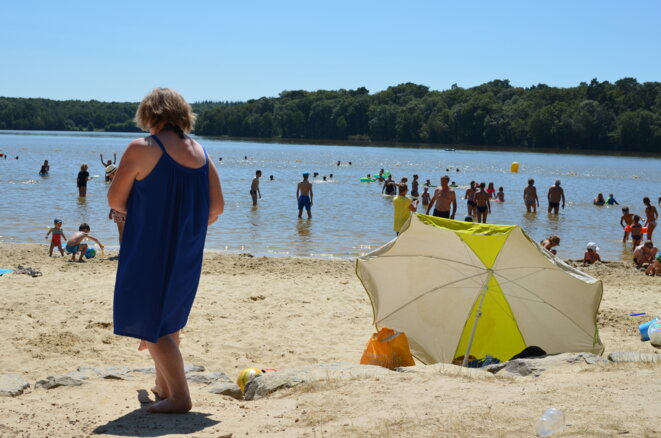 Opinion was divided on the lakeside beach at Sillé-le-Guillaume in central west France. © Justine Brabant
In an attempt to play down the Benalla affair, the minister for equality Marlène Schiappa claimed that the issue did not interest "the people". To test this assertion Mediapart went to  her political stronghold, the central western city of Le Mans, visiting both its plusher districts where Emmanuel Macron picked up 35% of the first-round vote last year, and more working class areas. As Justine Brabant found, while the affair involving the president's bodyguard dressing in police insignia and beating up protestors has not shaken people's convictions, many profess to be weary of politics – both that of the old world and Macron's "new world".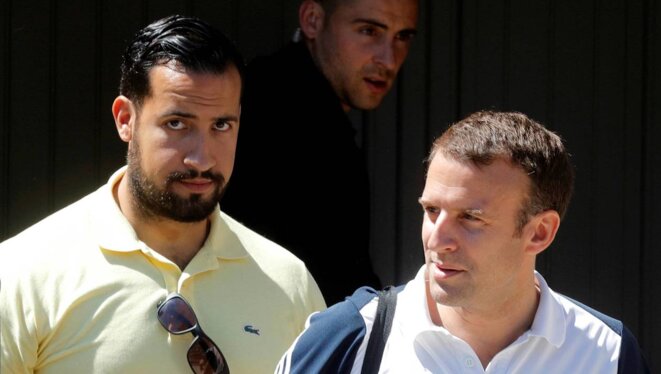 Alexandre Benalla and President Emmanuel Macron. © Reuters
Without Emmanuel Macron there would have been no Alexandre Benalla at the Élysée; for the man who dressed with police insignia and assaulted demonstrators owes everything to the president. But, equally, there would be no Benalla scandal without the support given by the president of the Republic to his trusted aide. Mediapart publishing editor Edwy Plenel says that it is this protection, even lying, that makes this scandal an affair of state.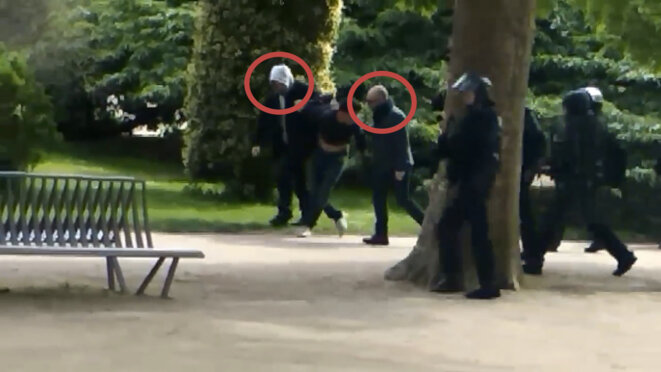 Alexandre Benalla (circled, with white hood) and Vincent Crase (circled right) during the arrest of a man in the Jardin des plantes on May 1st.
French President Emmanuel Macron's security aide Alexandre Benalla, together with an employee of Macron's ruling LREM party, Vincent Crase, were involved on May 1st in other incidents before they assaulted a man among May Day crowds at a square in the Latin Quarter of Paris. In a new video obtained by Mediapart, the two men, officially present alongside police as civilian "observers" of crowd-control operations that day, can be seen heavy-handedly joining in the arrest of a man at a public park. The new evidence of their violent and illegal behaviour that day further deepens the scandal of a suspected cover-up of their actions by the presidential office and senior police hierarchy.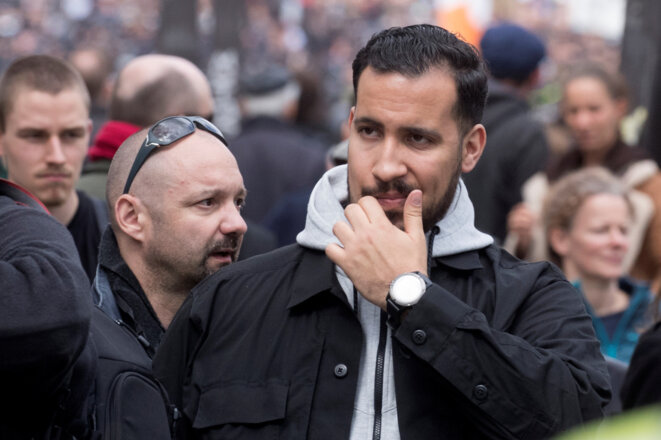 Alexandre Benalla (foreground) during the May Day marches in Paris on May 1st. © DR
The unfolding scandal prompted by videos of the vicious assault of a man during May Day disturbances by President Emmanuel Macron's private security aide Alexandre Benalla now includes the revelation that confidential police CCTV footage of the events in a Paris square were published on Twitter by supporters of Macron's party in an attempt to denigrate Benalla's victim. Screenshots obtained by Mediapart show the images, apparently from a CD copy of the footage given to Benalla by police officers, and which Benalla said he immediately handed to the Élysée Palace, were posted on social media just after Benalla's thuggish behaviour was revealed by French daily Le Monde – before being removed just hours later.Karl Laske, Pascale Pascariello and Lénaïg Bredoux report.
The far-reaching scandal surrounding Emmanuel Macron's former security aide has deeply bruised the young French president's aura of modernity and candour, reports The Guardian from northern Burgundy.
In his first interview since prompting the worst crisis of Emmanuel Macron's presidency, disgraced security aide Alexandre Benalla said 'my case has been used to settle scores' and accused 'politicians and police' of using him as 'weak link' with which to hurt the French president.
French President Emmanuel Macron, during a visit on Thursday to south-west France, said the political scandal in which he is mired after a close aide was caught wearing police insignia beating up a young man during May Day marches was 'a storm in a teacup', adding that 'it doesn't affect me much'.
While French President Emmanuel Macron made his first comments on the scandal which broke last week over his wayward personal security official Alexandre Benalla, police on Wednesday searched the latter's former office at the presidency.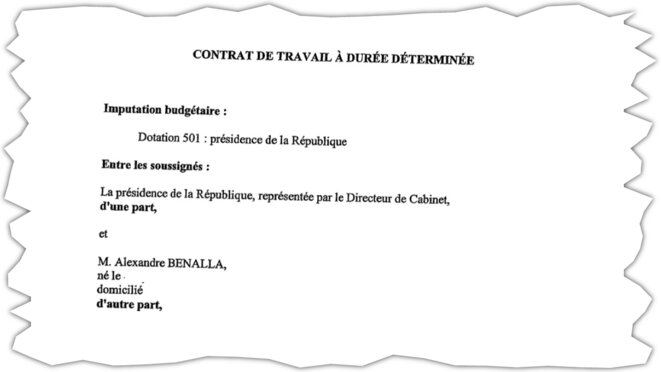 Extract from Alexandre Benalla's empoyment contract with the Elysée Palace (full details in the article). © Document Mediapart
The political scandal surrounding Emmanuel Macron's disgraced personal security advisor Alexandre Benalla is centred less on his thuggish behaviour in beating up May Day demonstrators while illegally wearing police insignia but rather on the secrecy of his role and his relationship with the president who afforded the 26-year-old extraordinary powers. Benalla was engaged as a 'mission leader' with the presidency, a vague title afforded to a number of other Élysée Palace staff whose activities are largely unaccountable to the public. Mediapart has obtained the employment contracts of Benalla and five other so-called 'mission leaders' at the Élysée which reveal how they are exempt from probity law requirements that apply to official advisors. Mathilde Mathieu reports.     
France 24 presents a timeline of the crisis into which Emmanuel Macron's presidency has been thrown in a turbulent week following revelations of the extraordinary powers given to his personal security advisor, Alexandre Benalla, who was caught on video footage beating up a May Day demonstrator in Paris while passing himself off as a police officer.
French President Emmanuel Macron, who for several days has dodged answering questions about his security advisor Alexandre Benalla caught on video assaulting May Day demonstrators, has cancelled a public appearance with crowds along the Tour de France cycle race scheduled for Wednesday, while his interior minister Gérard Collomb was quizzed by MPs about the May 1st events.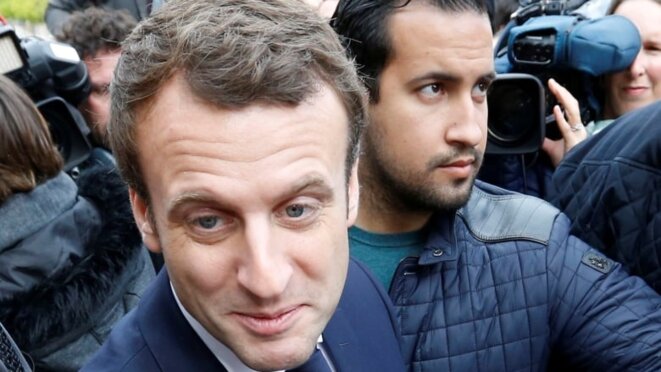 Emmanuel Macron (left) with his now disgraced security aide, Alexandre Benalla, during election campaigning in May 2017. © Régis Duvignau/Reuters
The scandal surrounding French president Emmanuel Macron's security advisor Alexandre Benalla, who beat up May Day demonstrators while passing himself off as a police officer, evokes a nauseating picture of a parallel police and a private security office within the heart of the French presidential office, writes Mediapart publishing editor Edwy Plenel in this opinion article on the fast-developing crisis engulfing Macron and his government. This privatisation of the president's security, with the ugly atmosphere of hatchet men with a law to themselves, reveals the dark side of Macron's monarchic style of leadership.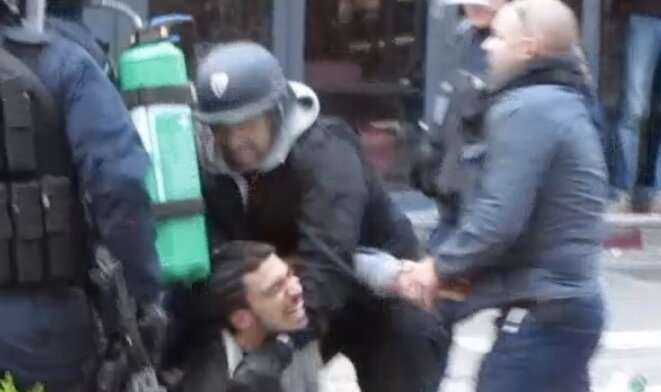 Alexandre Benalla (centre) and his associate Vincent Crase attack a demonstrator on May 1st in the presence of police. © DR
President Emmanuel Macron was this weekend mired the gravest crisis since he came to office little more than a year ago, after further revelations about the events when his personal security advisor physically assaulted May Day demonstrators while dressed as a police officer, and growing evidence that his extraordinary behaviour was covered up by the Élysée Palace and the interior ministry. Both Macron and his interior minister Gérard Collomb were reportedly made aware more than two months ago of the thuggish behaviour of the president's personal security advisor Alexandre Benalla, who was only finally dismissed from his post on Friday when he was taken into police custody two days after the scandal was first revealed by the media.
French President Emmanuel Macron's personal security aide Alexandre Benalla, who was revealed this week to have assaulted May Day demonstrators while wearing a police helmet and armband ID during what was supposed to be a mission of observation of crowd control police, has been fired and taken into custody for questioning as the scandal spread to allegations of a cover up involving France's interior minister and senior presidential staff.