Keyword: Alexandre Benalla
Related keywords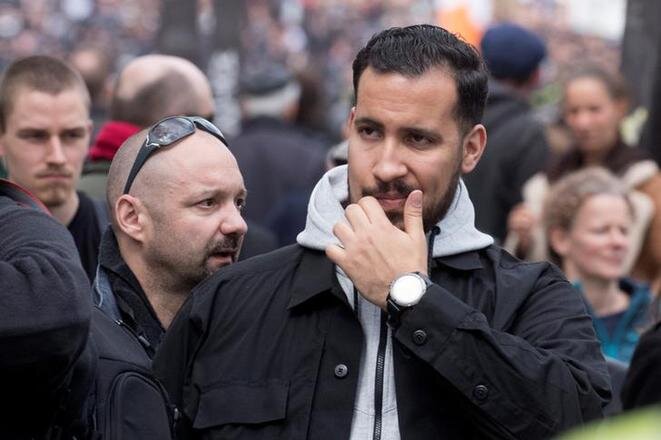 Alexandre Benalla and, just behind him, Vincent Crase in Paris on May 1st 2018 . © Reuters
France's national fraud prosecution unit has opened an investigation for "corruption" over a French firm's security contract signed with Russian oligarch Iskander Makhmudov, and negotiated by Alexandre Benalla while the latter was a security aide at the Élysée. Mediapart first revealed details of this contract, which involves a company run by Benalla's friend Vincent Crase, back in December. In a separate development the French prime minister's head of security has resigned after claims that her flat was used to host a bail-breaching meeting between Benalla and Crase that was secretly recorded in July 2018. She denies any wrong doing. Fabrice Arfi, Antton Rouget and Marine Turchi report.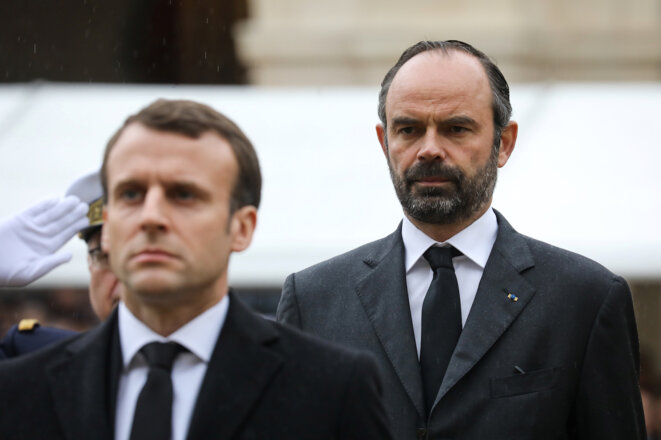 President Emmanuel Macron and prime minister Édouard Philippe in Paris in March 2018. © Reuters
It was an intervention from the office of France's prime minister Édouard Philippe which caused the opening of an investigation into the source of secret recordings involving a former presidential aide, Mediapart can reveal. This investigation then led to an attempt by prosecutors to search Mediapart's office – which Mediapart prevented, citing laws designed to protect its sources. The prosecution authorities, meanwhile, are remaining silent about the information they received which caused them to start the probe. Fabrice Arfi, Antton Rouget, Matthieu Suc and Marine Turchi report.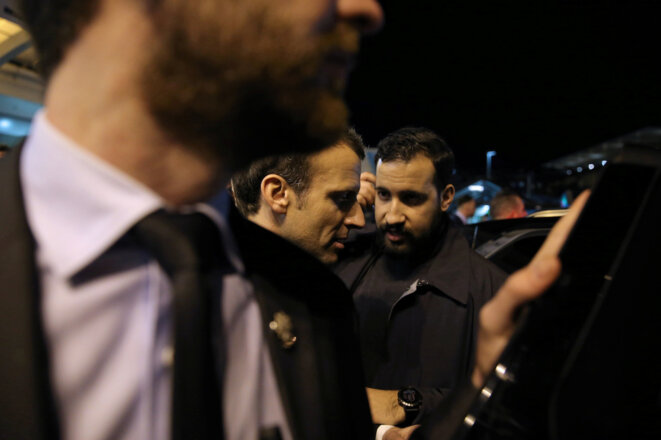 Emmanuel Macron and Alexandre Benalla. © Reuters
Mediapart refused a highly unusual attempt by prosecutors in Paris on Monday morning to search its editorial offices as part of an  investigation that notably cites a breach of the personal privacy of Alexandre Benalla, the disgraced controversial former security aide to President Emmanuel Macron. He was sacked and placed under formal investigation last summer after video footage emerged of him and ruling LREM party security manager Vincent Crase using violence on protestors during demonstrations in Paris on May 1st. The new prosecution services' probe follows Mediapart's revelations last week of extracts from a compromising conversation between Benalla and Crase, who met in violation of their conditional bail, which raise wider questions over Benalla's actions while employed by the presidency, and also his relationship with the president. Mediapart exercised its legal right to refuse the raid on the grounds of protecting the identity of its sources.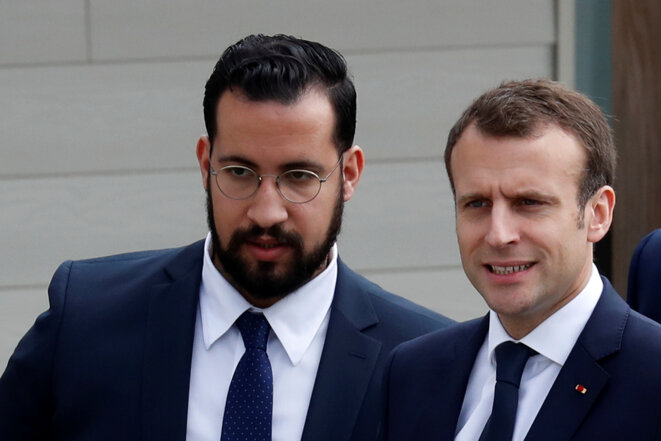 Alexandre Benalla and President Emmanuel Macron during a visit to Normandy April 12th 2018. © Reuters
An investigation by Mediapart sheds dramatic new light on the affair involving Alexandre Benalla, who was a security aide to President Emmanuel Macron until he was sacked when video footage emerged showing that he had used violence against protestors at a demonstration. In particular recordings of Benalla talking to the former head of security for the ruling LREM party, Vincent Crase, who also lost his job over the scandal, reveal details about a secret meeting that breached a judicial control order, about a security contract with a Russian oligarch close to Vladimir Putin, and Benalla's ongoing communications with President Macron. Fabrice Arfi, Antton Rouget and Marine Turchi report.
Alexandre Benalla, the disgraced former security aide to President Emmanuel Macron who last year was placed under investigation for assault and impersonating a police officer after video emerged of him beating people on the sidelines of May Day marches in Paris, was taken into police custody on Thursday for questioning over his alleged illegal obtention and use of diplomatic passports since leaving the Élysée Palace last August.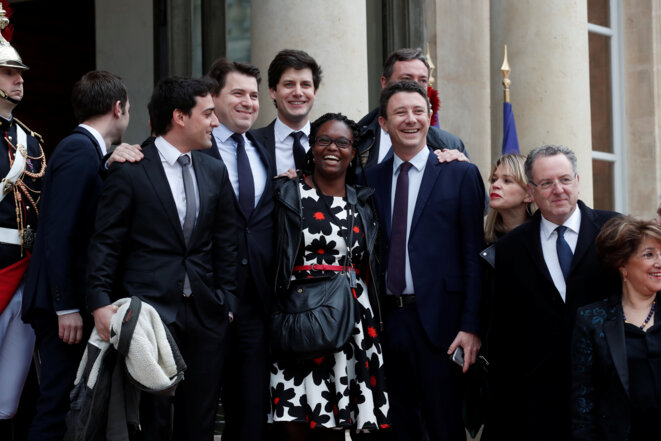 From left to right, part of President Macron's inner circle Stéphane Séjourné, Sylvain Fort, Julien Denormandie, Benjamin Griveaux, Richard Ferrand. In the middle is Sibeth Ndiaye. At the Élysée May 14th 2017. © Reuters
The head of communications at the Élysée has just announced that he is to leave his post by the end of January. Sylvain Fort, who is close to Emmanuel Macron having worked alongside him for more than two years, proclaimed his "total loyalty" to the French president. But this and reports of other possible departures from the president's inner circle have further weakened a presidency which is embroiled in the affair involving former security aide Alexandre Benalla and the ongoing social movement carried out by the so-called from the yellow vest protestors. Lénaïg Bredoux reports.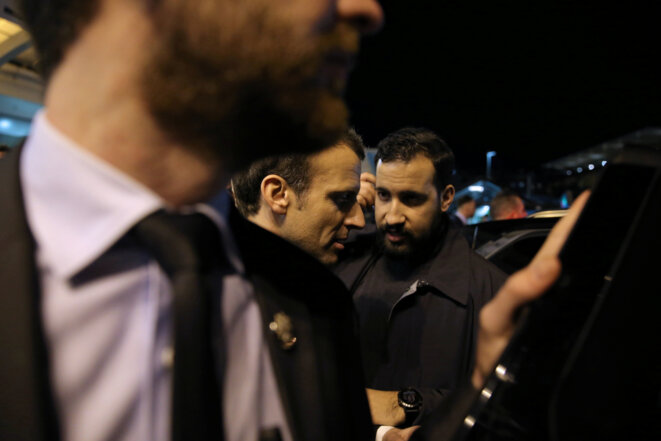 Emmanuel Macron with bodyguard Alexandre Benalla. © Reuters
The scandal surrounding President Emmanuel Macron's disgraced former personal security aide Alexandre Benalla, who was fired over media revelations that he violently assaulted participants in May Day marches in Paris this year while illegally wearing police apparel, escalated this month after Mediapart's revelations that he has continued to use a diplomatic passport while conducting business trips abroad, notably in Israel and several African countries. Now, in an exclusive interview with Mediapart, he claims to continue to regularly discuss ongoing political issues with Macron, despite the Élysée's insistence that he has "no further contact" with the French president. Benalla, 27, says his mobile phone records provide the truth of his claims, while he also accuses Macron's entourage as behaving like a "mafia" against him. Fabrice Arfi reports on the deepening mystery of Benalla's relationship with the French president.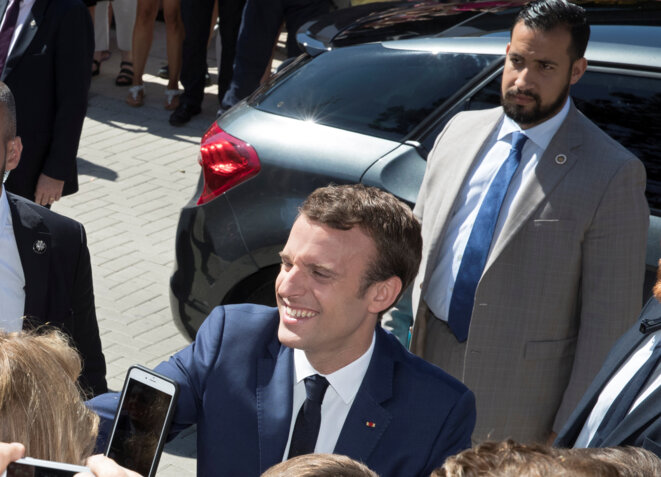 Alexandre Benalla standing behind Emmanuel Macron when he served as the president's bodyguard. © Photo d'archives/REUTERS/Philippe Wojazer
Alexandre Benalla, the disgraced former personal security advisor and deputy cabinet chief to President Emmanuel Macron, who was dismissed from his post this summer after it was revealed he assaulted May Day marchers in Paris while wearing police insignia, has continued to travel in possession of a French diplomatic passport and notably during recent business trips to Israel and several African countries, Mediapart has learnt. The passport, valid for four years, was delivered to him on May 24th, three weeks after the May Day events for which he is now placed by magistrates under formal investigation. Fabrice Arfi and Antton Rouget report.
The French presidency has contacted Emmanuel Macron's disgraced former security aide and deputy cabinet director, Alexandre Benalla, who was fired over revelations he assaulted individuals during May Day marches, to account for his eventual business dealings when employed by the Élysée Palace and warned him over his conduct on recent high-level business trips to Africa.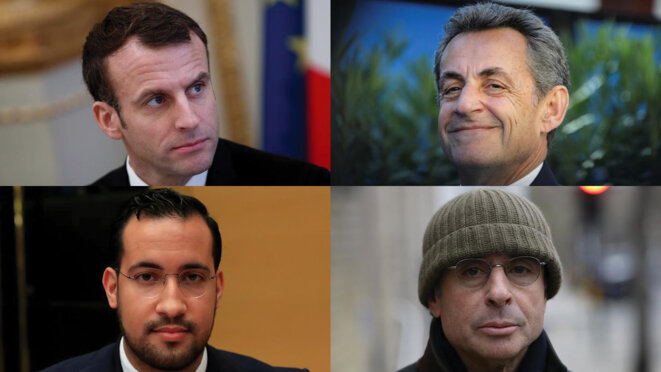 Clockwise from top left: Emmanuel Macron, Nicolas Sarkozy, Alexandre Djouhri and Alexandre Benalla. © Reuters
In recent weeks the current French president Emmanuel Macron has deepened his ties with former rightwing president Nicolas Sarkozy. The latter recently represented France at a ceremony in Georgia and the pair have lunched together. But by a curious coincidence two of their former allies, each of them facing judicial investigations in France, have also been meeting. They are Alexandre Benalla, President Macron's former security advisor who caused a scandal over the summer after he was filmed using violence against protestors in Paris on May 1st, and Alexandre Djouhri, a businessman and middleman who was close to Nicolas Sarkozy and who is awaiting extradition to France as part of the investigation into Libyan funding of Sarkozy's 2007 election campaign. Fabrice Arfi reports.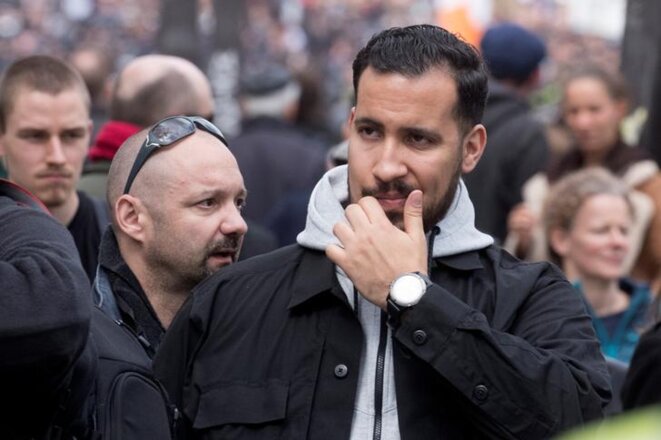 Alexandre Benalla right, and Vincent Crase, left, in Paris, on May 1st 2018. © Reuters
An oligarch close to Vladimir Putin, and suspected by several European judges of being linked to the Russian mafia, paid money to the company of a key figure in the scandal involving President Emmanuel Macron's former security advisor Alexandre Benalla. A payment of almost 300,000 euros was made to the company of gendarme reservist Vincent Crase in June 2018, at a time when the latter was still employed by the French president's party La République en Marche as the deputy 'security and safety' manager. Crase was with Alexandre Benalla when Macron's security advisor was caught on video using violence against demonstrators on May 1st 2018 in a scandal that rocked the French presidency over the summer. Fabrice Arfi, Antton Rouget, Marine Turchi and Anastasia Kirilenko report.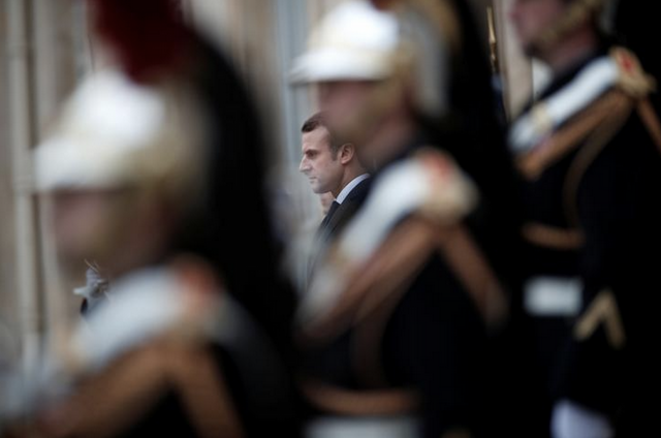 © Reuters
A series of controversial affairs involving key staff, some surprise resignations, comments from senior figures in his own administration and dysfunctional behaviour at all levels of government have left President Emmanuel Macron weaker than ever after the summer. There is growing concern inside his entourage where many now recognise that the presidency has a problem; and that this problem involves the president himself. Ellen Salvi reports.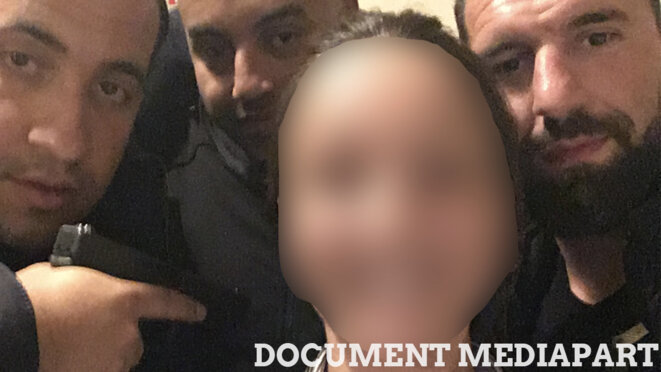 Alexandre Benalla and two other members of the campaign security team pose with a waitress in Poitiers in April 2017. © Mediapart
The incident took place on the night of April 28th, 2017, after an election rally by Emmanuel Macron. Alexandre Benalla – who has now lost his job as the president's security aide – posed for a selfie in a restaurant. In it he is shown holding his gun. The problem for Benalla, however, is that at the time he was not authorised to carry a firearm. The prosecution authorities have now announced a preliminary investigation into the matter. Christophe Gueugneau and Antton Rouget report.
Alexandre Benalla, the 27-year-old security aide for French President Emmanuel Macon whose ambiguous role inside the Élysée Palace came under scrutiny after video published on social media showed him beating participants in May Day demonstrations while illegally wearing police insignia, reluctantly submitted to questions by a Senate commission of inquiry in parallel to a judicial investigation into his actions.