Keyword: Alexandre Benalla
French president was forced to fire Alexandre Benalla, now 30, after a video emerged showing him striking a young man and grabbing a young woman by the neck at a May Day protest in 2018.
Alexandre Benalla, who is now facing five investigations, faces charges of forgery, concealment and "unlawful public use of documents justifying a professional status".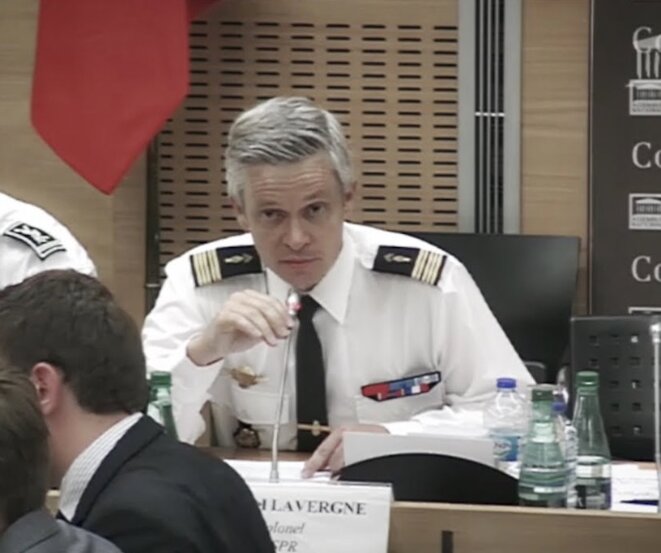 Screen grab of Lionel Lavergne during one of the hearings at the National Assembly into the Benalla affair. © DR
The name of senior gendarme officer Lionel Lavergne cropped up during an investigation into a Corsican 'mafia' godfather in 2014, Mediapart has learnt. Yet despite the astonishing contents of phone-taps in the case, that same year the gendarme was appointed number two in charge of protecting the president at the Élysée. When subsequently told by a senior official at the Élysée that he would not get promoted to the top post, Colonel Lavergne retorted: "You don't know who you are dealing with." He later got the top post, working as head of Élysée security for presidents François Hollande and Emmanuel Macron from 2017 to 2019. Matthieu Suc and Brendan Kemmet report on the results of a Mediapart investigation that goes back five years.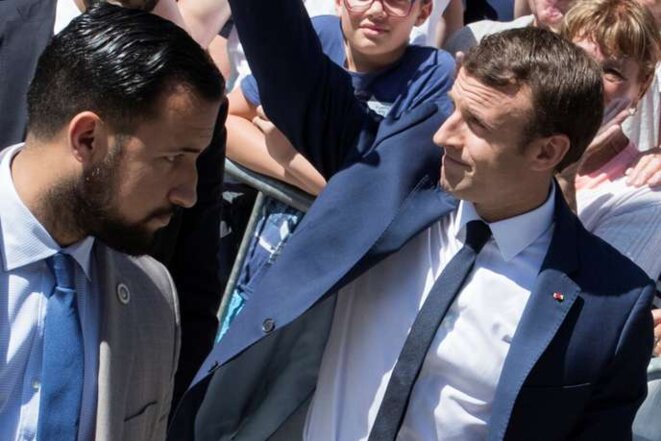 Alexandre Benalla and Emmanuel Macron at Le Touquet in northern France in June 2017. © Philippe Wojazer / Reuters
Despite claims from the Élysée that Emmanuel Macron's former security aide no longer has any links with the presidency, Alexandre Benalla held a secret meeting with an African head of state in the company of a current member of the president's inner circle, Mediapart can reveal. At the end of May 2020 Benalla – who was sacked from the Élysée in July 2018 after being filmed beating up protesters in Paris - met with the new president of Guinea-Bissau, Umaro Sissoco Embaló, along with Élysée aide Ludovic Chaker. Chaker is a former soldier who was the first secretary general of Macron's political movement En Marche! in 2016, and a significant figure in the president's entourage. Fabrice Arfi, Antton Rouget and Marine Turchi report.
Alexandre Benalla (left) with President Emmanuel Macron in April 2018. © CHARLY TRIBALLEAU / AFP
A key witness in a judicial investigation into the disappearance of a safe belonging to President Emmanuel Macron's disgraced former security aide Alexandre Benalla has this week given a statement to police that he saw two Élysée Palace staff in possession of the safe, together with Benalla, hours after the latter was forced into hiding in July 2018, Mediapart can reveal. The witness said he was told that the contents of another safe in Benalla's Élysée office and emptied at around the same time contained "sensitive" information relating to both Macron's election campaign and personal matters. Fabrice Arfi, Antton Rouget and Marine Turchi report.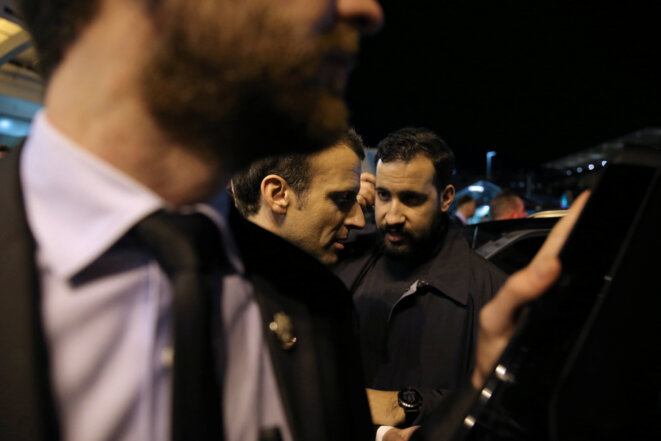 Emmanuel Macron and Alexandre Benalla. © Reuters
A year and a half after the gun safe owned by Alexandre Benalla went missing, prosecutors in Paris have finally opened a judge-led investigation into the "removal of documents or objects … with the aim of hindering the truth from coming out". With the support of the investigating judge, the probe could also now look into the disappearance of the contents of a second safe. This was the one that President Emmanuel Macron's former security aide used when he worked at the Élysée, before he was eventually sacked after being caught on video beating up a MayDay protestor in 2018. Fabrice Arfi, Antton Rouget and Marine Turchi report on the latest twist in the Benalla affair.
Concerns have been raised privately within the French justice system about the involvement of the government and in particular the Élysée in picking the successor to Éliane Houlette as head of the country's national financial crimes prosecution unit, the Parquet National Financier (PNF). This is because the PNF is currently handling two investigations which are particularly sensitive for the presidency. One is into the Russian security contracts involving former Élysée security aide Alexandre Benalla. The other probe is into President Emmanuel Macron's chief of staff Alexis Kohler over an alleged conflict of interest. Fabrice Arfi, Michel Deléan and Antton Rouget report.
Prosecutors drop probe involving three current and former officials in the president's office in connection with the so-called Benalla affair'.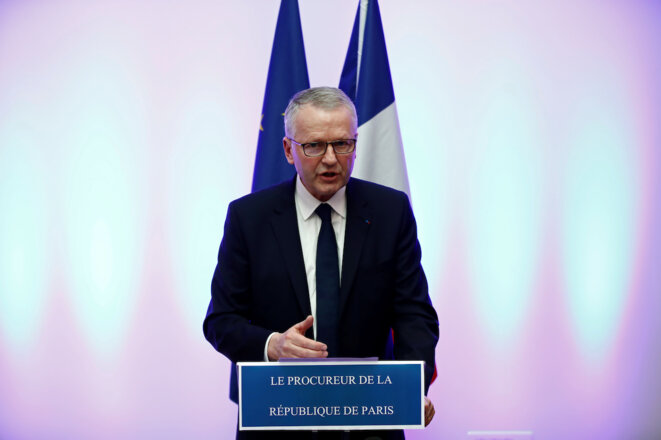 Chief Paris public prosecutor Rémy Heitz. © Reuters
A senior reporter from French daily Le Monde has been summoned for questioning later this month by the French domestic intelligence agency, the DGSI, over her investigations into the relationships of President Emmanuel Macron's disgraced former aide, Alexandre Benalla. The move follows a recent attempt by the Paris public prosecution services to carry out a search of the offices of Mediapart, also following its reports into Benalla's covert activities, and separate summonses for questioning this month by the DGSI of journalists who revealed the French government's false claims denying the offensive use of French-made weapons in the war in Yemen. Fabrice Arfi, of Mediapart's investigative reports team, details the new offensive against journalists who champion the public's right to know, and the person leading the campaign against them, namely chief Paris public prosecutor Rémy Heitz.  
The French domestic intelligence service, the DGSI, has summoned for questioning Ariane Chemin, a senior reporter with French daily Le Monde, over her investigations into the relationships of President Emmanuel Macron's security aide Alexandre Benalla, bringing to five the number of journalists the spy agency has recently summoned following reports embarassing the government.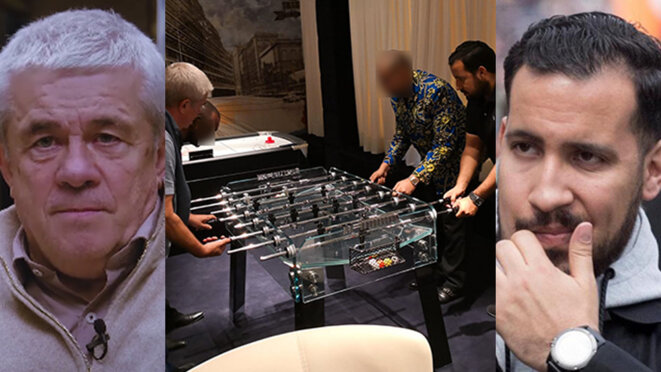 Jean-Louis Haguenauer, left, and Alexandre Benalla at a château in the Dordogne in August 2018. © Document Mediapart
In the unfolding saga of the Benalla affair, which involves President Emmanuel Macron's sacked security aide Alexandre Benalla, one man played a key role in the shadows. He is French middleman Jean-Louis Haguenauer, the man behind the Russia security contract negotiated by Benalla while the latter was still working as a key aide at the Élysée. Mediapart can reveal how over a period of 30 years Haguenauer cultivated a network of contacts in Russia, including close links with the Russian secret services. Fabrice Arfi, Antton Rouget and Marine Turchi report.
In one of the sharpest confrontations in years between France's powerful executive and its parliament, the Senate announced on Thursday it had referred Macron's top aide Alexis Kohler, his chief of staff Patrick Strzoda and Lionel Lavergne, the Elysée's top security official, to prosecutors for withholding information from an investigation into Macron's former bodyguard Alexandre Benalla.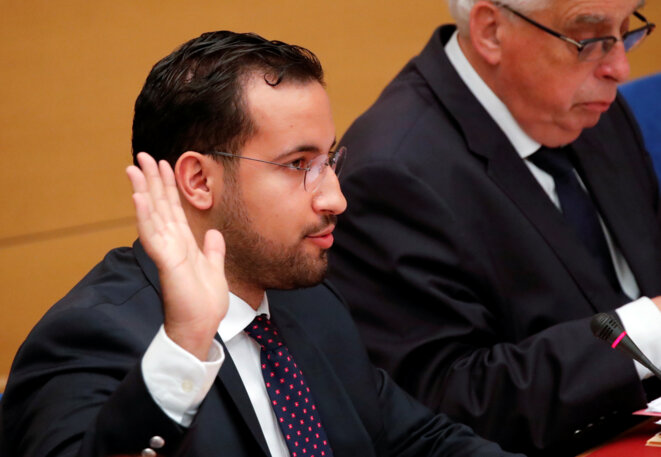 Alexandre Benalla (left) testifying before a French senate commission. © Reuters
The long-running and still unfolding saga of the scandal surrounding Emmanuel Macron's former close security aide Alexandre Benalla has prompted serious questions over the French president's judgement about, and relationship with, his bodyguard, and also the secretive workings of the Élysée Palace and its senior staff. Those questions are heightened with documents revealed here by Mediapart, and the account of a former minister and his senior aide – who commented that Macron's entourage "didn't protect him sufficiently" from a young man whose rise to prominence in the presidential office almost beggars belief.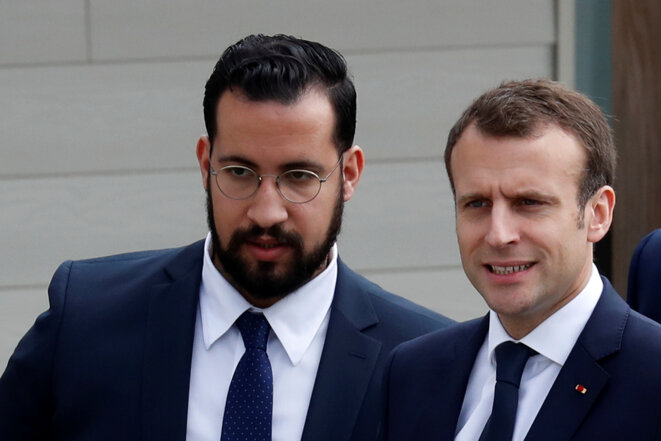 Alexandre Benalla and President Emmanuel Macron during a visit to Normandy April 12th 2018. © Reuters
Mediapart is not a back-room intelligence agency but a news-gathering organization. We do not spy on anyone nor do we install secret microphones, writes Mediapart publishing editor Edwy Plenel. We are content with revealing information in the public interest while respecting press laws. That is true in the current affair involving President Emmanuel Macron's security aide Alexandre Benalla just as it was in the earlier Bettencourt, Sarkozy-Gaddafi and Cahuzac affairs, he says.