Keyword: alexandre djouhri
Alexandre Djouhri is wanted by Paris over claims including corruption of a foreign public official and conspiracy to misappropriate public funds.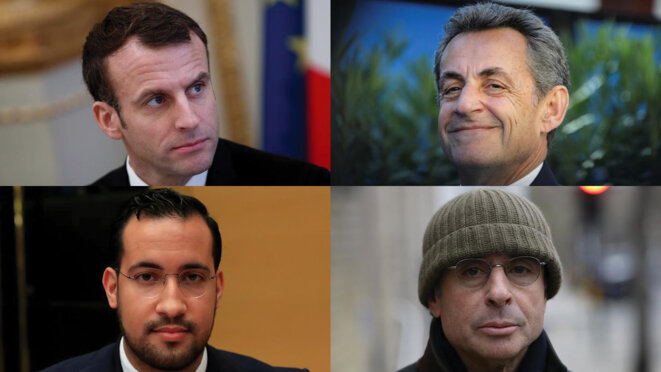 Clockwise from top left: Emmanuel Macron, Nicolas Sarkozy, Alexandre Djouhri and Alexandre Benalla. © Reuters
In recent weeks the current French president Emmanuel Macron has deepened his ties with former rightwing president Nicolas Sarkozy. The latter recently represented France at a ceremony in Georgia and the pair have lunched together. But by a curious coincidence two of their former allies, each of them facing judicial investigations in France, have also been meeting. They are Alexandre Benalla, President Macron's former security advisor who caused a scandal over the summer after he was filmed using violence against protestors in Paris on May 1st, and Alexandre Djouhri, a businessman and middleman who was close to Nicolas Sarkozy and who is awaiting extradition to France as part of the investigation into Libyan funding of Sarkozy's 2007 election campaign. Fabrice Arfi reports.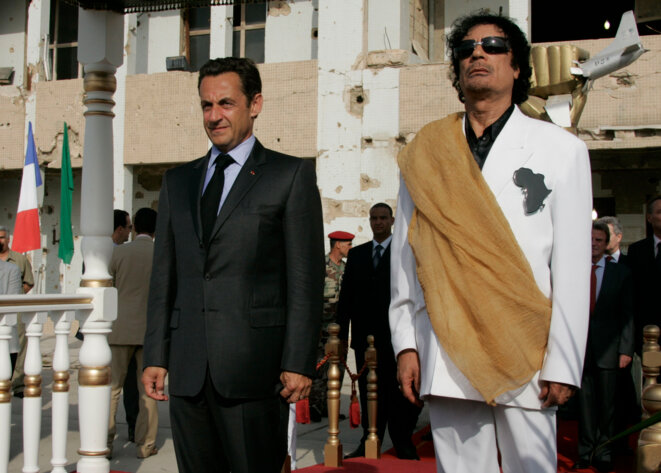 Standingtogether: Nicolas Sarkozy and Muammar Gaddafi in Libya. © Reuters
Nicolas Sarkozy, who has been placed under formal investigation for corruption over Libyan funding of his election campaign, has denied claims that he took money as part of a corrupt arrangement with Muammar Gaddafi's regime. He has also sought to rubbish accusations that as part of a corrupt pact he helped further the cause of Libya and some of its key figures. But here Fabrice Arfi and Karl Laske detail the evidence showing that the former head of state did indeed serve the interests of Gaddafi's dictatorial regime.
The middleman Alexandre Djouhri has been released on bail by a court in London pending proceedings to extradite him to France. Examining magistrates in Paris investigating claims that Libyan regime money was used to finance Nicolas Sarkozy's 2007 election campaign want to question Djouhri over crucial documents found at his Swiss home. Mediapart understands these show that the middleman did indeed oversee the payment of half a million euros of Libyan origin to President Sarkozy's most trusted lieutenant, Claude Guéant. Karl Laske and Fabrice Arfi report.
Alexandre Djouhri was arrested in London as part of French investigation into alleged Libyan funding of Sarkozy's election win.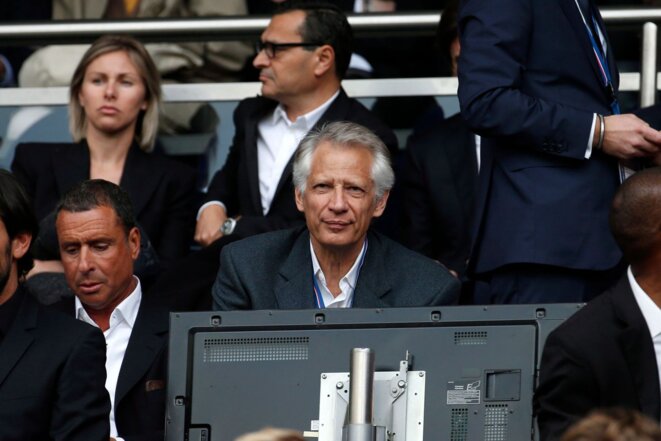 Alexandre Djouhri, centre left, and former premier Dominique de Villepin, centre, at the Parc des Princes football stadium, April 23rd, 2014. © Benoit Tessier Reuters
In 2009 the former French prime minister Dominique de Villepin was paid nearly half a million euros in money which originated in a Libyan state fund, Mediapart can reveal. Details of the payment, which came via middleman and business Alexandre Djouhri, have been unearthed by investigators examining another 500,000 euro payment, which was made to Nicolas Sarkozy's former right-hand man Claude Guéánt and which passed through a similar route. Villepin has told detectives he was unaware of the Libyan origin of the money. Karl Laske and Fabrice Arfi report.

Claude Guéant, Bernard Squarcini, Bachir Saleh et Alexandre Djouhri
In April 2012, Mediapart revealed a document recovered from the archives of the toppled regime of late Libyan dictator Muammar Gaddafi detailing its agreement to fund Nicolas Sarkozy's 2007 presidential election campaign. The letter, signed by Gaddafi's intelligence chief Moussa Koussa, was addressed to Bashir Saleh, head of the regime's multi-billion-dollar Libyan African Portfolio investment fund. Following the collapse of the Gaddafi regime, Saleh found asylum in France. But after Mediapart's report, and while he was the object of an Interpol 'wanted' for his arrest and extradition back to Libya where he faced fraud charges, Saleh subsequently fled to South Africa. Mediapart can reveal how French magistrates have established that Saleh's last-minute flight on May 3rd 2012 was organised by Alexandre Djouhri, a businessman close to Sarkozy's longstanding chief of staff Claude Guéant. But also present when the two men met in the shadows of the Eiffel Tower in the early evening of that same day was Sarkozy's domestic intelligence chief, Bernard Squarcini. Karl Laske and Fabrice Arfi report.