Éric Alt, the vice-president of the non-governmental anti-corruption organisation ANTICOR, is also a judge. He is now being investigated by a judicial watchdog over comments he made in his role as an ANTICOR activist about a corruption case in Corsica, and also his participation in another case involving a senior ally of President Emmanuel Macron. As Michel Deléan reports, questions are being raised about whether the French government has targeted Alt because of its displeasure over ANTICOR's role in high-profile cases.
Concerns have been raised privately within the French justice system about the involvement of the government and in particular the Élysée in picking the successor to Éliane Houlette as head of the country's national financial crimes prosecution unit, the Parquet National Financier (PNF). This is because the PNF is currently handling two investigations which are particularly sensitive for the presidency. One is into the Russian security contracts involving former Élysée security aide Alexandre Benalla. The other probe is into President Emmanuel Macron's chief of staff Alexis Kohler over an alleged conflict of interest. Fabrice Arfi, Michel Deléan and Antton Rouget report.
In one of the sharpest confrontations in years between France's powerful executive and its parliament, the Senate announced on Thursday it had referred Macron's top aide Alexis Kohler, his chief of staff Patrick Strzoda and Lionel Lavergne, the Elysée's top security official, to prosecutors for withholding information from an investigation into Macron's former bodyguard Alexandre Benalla.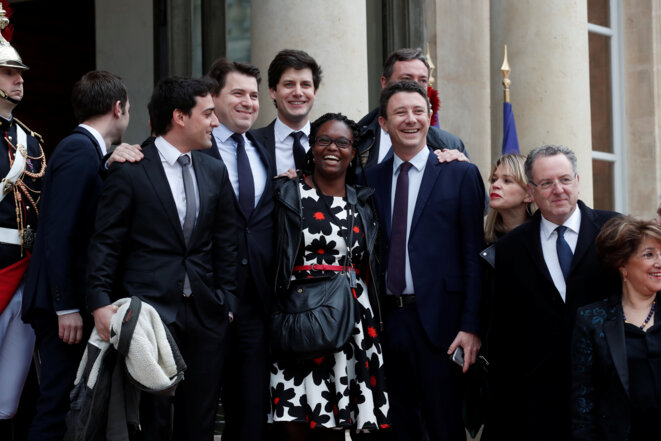 From left to right, part of President Macron's inner circle Stéphane Séjourné, Sylvain Fort, Julien Denormandie, Benjamin Griveaux, Richard Ferrand. In the middle is Sibeth Ndiaye. At the Élysée May 14th 2017. © Reuters
The head of communications at the Élysée has just announced that he is to leave his post by the end of January. Sylvain Fort, who is close to Emmanuel Macron having worked alongside him for more than two years, proclaimed his "total loyalty" to the French president. But this and reports of other possible departures from the president's inner circle have further weakened a presidency which is embroiled in the affair involving former security aide Alexandre Benalla and the ongoing social movement carried out by the so-called from the yellow vest protestors. Lénaïg Bredoux reports.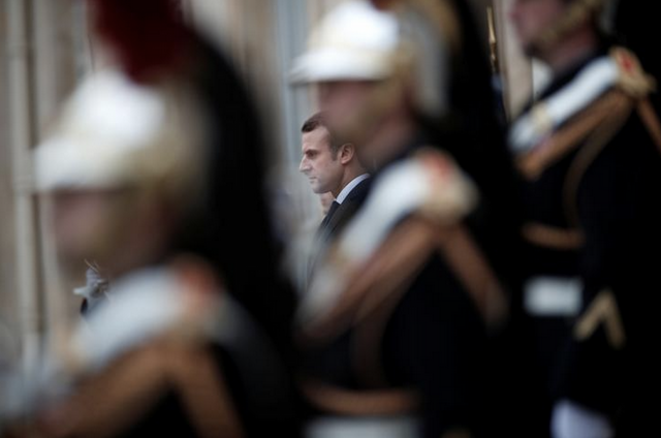 © Reuters
A series of controversial affairs involving key staff, some surprise resignations, comments from senior figures in his own administration and dysfunctional behaviour at all levels of government have left President Emmanuel Macron weaker than ever after the summer. There is growing concern inside his entourage where many now recognise that the presidency has a problem; and that this problem involves the president himself. Ellen Salvi reports.
Villers-Cotterets, north-east of Paris, in March 2017, Emmanuel Macron, accompanied by Alexandre Benalla, visits the town where writer Alexandre Dumas was born. © Reuters
Paris prosecutors have refused to broaden the scope of the investigation of the Alexandre Benalla affair into claims that evidence in the case was concealed. This is despite the fact that, according to documents seen by Mediapart, President Emmanuel Macron's former security aide himself claimed that he had arranged for evidence to be hidden. The affair concerns claims – backed by video footage – that Benalla and another official unlawfully took part in the arrest of a May Day demonstrator in a Paris park earlier this year. Pascale Pascariello, Fabrice Arfi and Karl Laske report.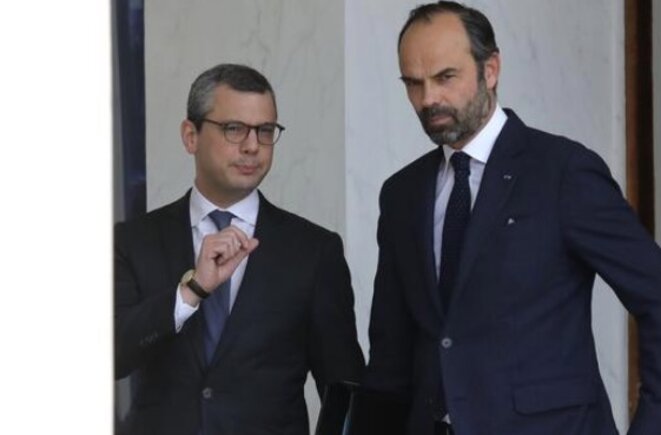 Chief of staff Alexis Kohler and PM Edouard Philippe, both members of the Le Havre Supervisory Board from 2010 to 2012. © LCI
Contrary to what he has stated, President Emmanuel Macron's chief of staff Alexis Kohler has not always revealed his family links to the Mediterranean Shipping Company (MSC), and in his duties as a senior public servant has not always stood aside from issues involving the giant Italian-Swiss shipping firm. Official documents from the major French port of Le Havre, seen by Mediapart, show that Kohler took part in discussions and votes concerning the company while he sat on the port's Supervisory Board as a civil servant from 2010 to 2012. Laurent Mauduit and Martine Orange investigate.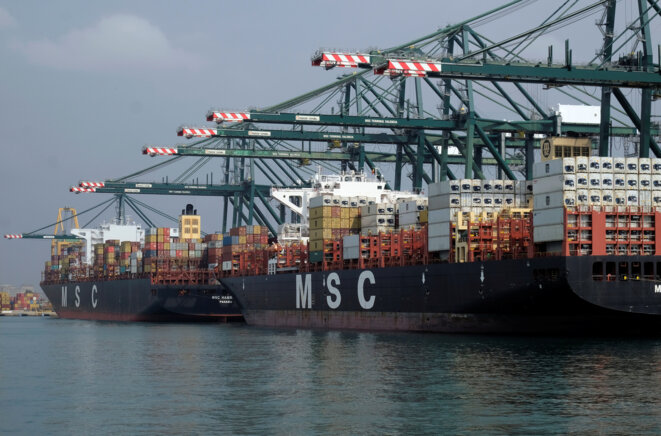 MSC container ships in the Spanish port of Valencia. © Reuters
Why was Alexis Kohler, who is now secretary general at the Elysee and chief of staff to President Emmanuel Macron, so keen to become finance director at the shipping firm MSC and its cruise company subsidiary MSC Cruises? Yes, the Italian-Swiss group is world number two in maritime freight, is a major cruise company and controls a number of port terminals. But it also uses tax havens and practices tax avoidance, keeps its business confidential and operates in an environment where dangerous shadows lurk. Martine Orange and Cecilia Ferrara investigate.
Police acting for France's financial crime prosecution services on Wednesday searched offices in the economy and finance ministry as part of an investigation into a complaint lodged against President Emmanuel Macron's chief of staff for suspected influence peddling and conflict of interest when he was one of the ministry's most senior civil servants.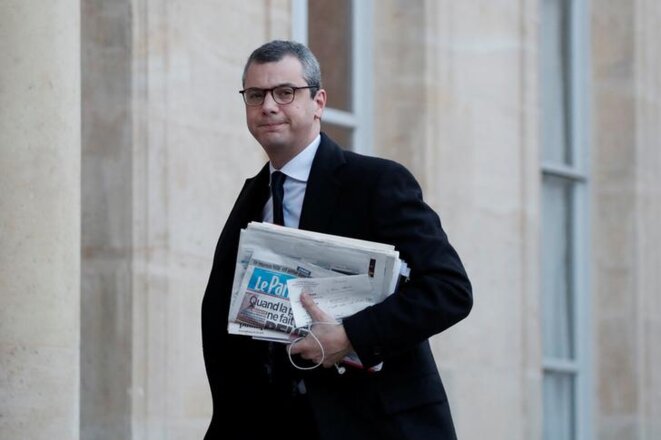 Alexis Kohler at the Elysée Palace, January 3rd 2018. © Reuters
The French prosecution services have launched an investigation into suspected corruption by President Emmanuel Macron's chief of staff Alexis Kohler, following an official complaint lodged by anti-corruption NGO Anticor. The complaint cited revelations last month by Mediapart into Kohler's role, when he was a senior civil servant, in affairs in which the interests of a shipping company owned by members of his close family were at stake. Mediapart's Martine Orange, who first broke the story, details here the background to the case that now threatens the downfall of the man described by French daily Le Monde as "the most powerful senior civil servant in France".
The French public prosecution services have opened an investigation into corruption allegations against President Emmanuel Macron's chief of staff, Alexis Kohler, which centre on suspected conflict of interest and influence peddling over his close connections with a major shipping company while serving as a senior civil servant.  

Does President Emmanuel Macron's approach to government encourage the confusion of public and private interests?
Two current affairs sum up the nature of 'Macronism', the approach to government adopted by the French president Emmanuel Macron since his election in May 2017. One involves his chief of staff at the Élysée and claims that he faces a clear conflict of interests between the public and private sectors, the other concerns the hefty discounts that the Macron campaign received on various campaign services during the presidential election. Both stories highlight the same problem: the failure of France's watchdogs to adequately monitor public life. Fabrice Arfi reports.