Macron told relatives and activists on the eve of the 60th anniversary of the bloodshed that "crimes" were committed on the night of 17 October, 1961, under the command of Paris police chief Maurice Papon.
The call follows a row over visas and critical comments from Paris about the North African country; last weekend, Algeria recalled its ambassador from Paris and banned French military planes from its airspace.
The deepening diplomatic spat comes as France repositions thousands of its troops who are involved in the international fight against Islamist extremism in the southern Sahara. 
The French president made the admission "in the name of France" during a meeting with Ali Boumendjel's grandchildren.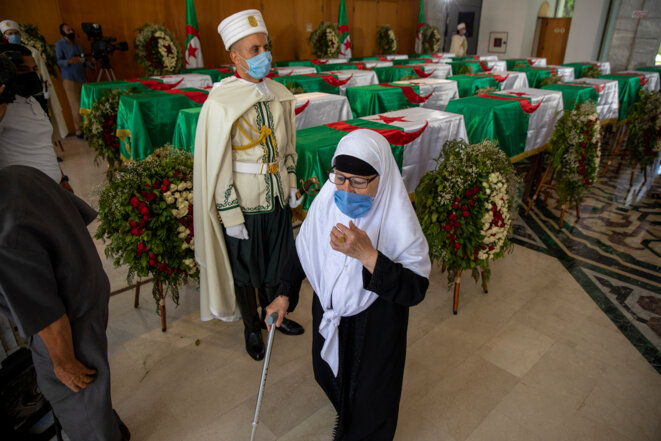 The skulls of Algerian resistance fighters decapitated during France's conquest in the 19th century have been returned to the country. © Sofiane Bakouri / Hans Lucas via AFP
In January 2021 the French historian Benjamin Stora delivered a report commissioned by President Emmanuel Macron that is aimed at "reconciling memories" between France and its former colony Algeria. The French head of state said he would follow a recommendation in the report and establish a "memories and truth" commission to address the history of France's colonial past in Algeria, but he stopped short of issuing an official apology. The report itself has attracted criticism in both France and Algeria. Mediapart has asked two Algerian historians, Afaf Zekkour and Noureddine Amara, for their views of the document and of Franco-Algeiran relations in general. The pair criticise Stora for what they call "soft revisionism" and for prioritising France's needs for a united view over the recounting of history. Rachida El Azzouzi reports.
The commission was a central recommendation of a report presented to Mr Macron last week by historian Benjamin Stora that marks another attempt to try to come to terms with one of the most sensitive periods of French history.
France is returning to Algeria the remains of 24 combattants killed in the 19th century during the early French colonialisation of the North African country which finally won independence in 1962 after a bitter eight-year war.
Algeria  singled out two documentaries broadcast on Tuesday by France 5 and the former colonial power's Parliamentary Channel, about the recent protests.
The North African country's new president has put shale gas back on the agenda, an unpopular, short-sighted move that has added to the complaints of a restive population whose protests brought about dramatic regime change last year. Rachida El Azzouzi reports.
Mathilde Panot, a senior Member of Parliament for France's radical left opposition party La France Insoumise (LFI) ('France Unbowed'), travelled to Algeria to show her solidarity for the people taking part in the 'Hirak' or popular movement against the regime there. But after two days she and her delegation were arrested and taken to the capital Algiers where she was effectively placed under house arrest in an hotel. After an intervention by France's Ministry of Foreign Affairs Mathilde Panot was eventually put on a plane back to France. Mediapart's Rachida El Azzouzi, Pauline Graulle and Khedidja Zerouali report on events which highlight the continuing repression of opposition voices in Algeria.
In Paris, car horns could be heard beeping as crowds waving Algerian flags headed towards the Champs-Élysées to celebrate win over Senegal.
A total of 282 people were arrested across the country, 249 of whom were placed in police custody, the interior ministry said on Monday.
They are the latest protests against Algerian President Abdelaziz Bouteflika's decision to run for a fifth term in office. 
Authorities in the French city of Bayonne are struggling to cope with the number of migrants coming from across the nearby Spanish border. Mediapart met Joseph and Moriba, 'blood  brothers' who are seeking France's protection after nearly dying at sea crossing to Europe from Morocco. After a legal battle, Joseph has now been recognised as a minor by the French courts while Moriba's request will be heard on appeal shortly. Mathilde Mathieu reports.