Centrist presidential candidate Emmanuel Macron's comments, during a trip to Algiers, that French colonial past in Algeria included crimes against humanity, which he said 'we must face up to also by apologising to those who were hurt', have been slammed by his far-right and conservative rivals, the latter describing his move as 'unworthy'.
A former militant with the Algerian extremist Armed Islamic Group, which led brutal attacks in the country in the 1990s, Merouane Benhamed fled to France and was among 25 people convicted in 2006 for plotting an attack in support of Islamist fighters in Chechnya.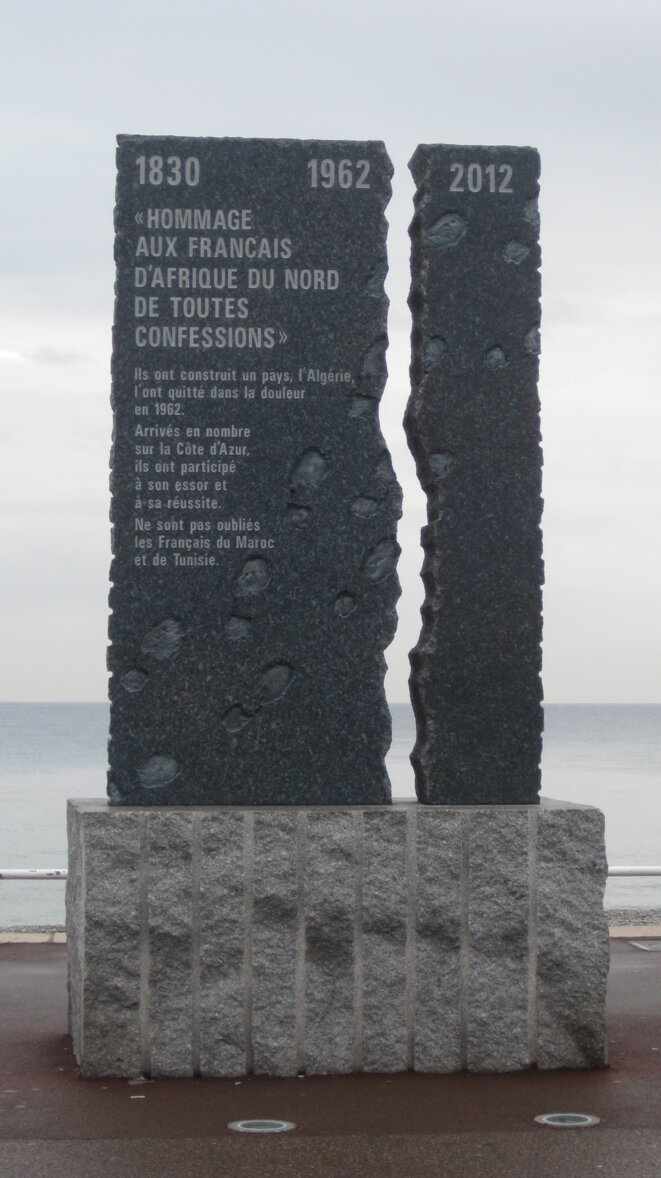 Mounument to the Pieds-Noirs on the promenade des Anglais in Nice. © Hélène Staes
Following Algeria's independence from France in 1962 around 800,000 Algerians of French descent, known as 'Pieds-Noirs', resettled in mainland France, many of them in the south of the country. It has long been assumed that the presence of so many of these repatriated settlers was a major factor in the political rise of the far-right Front National in the Mediterranean region of France. But as Nicolas Chevassus-au-Louis reports, the supposed influence of this ageing group of voters may largely be a myth.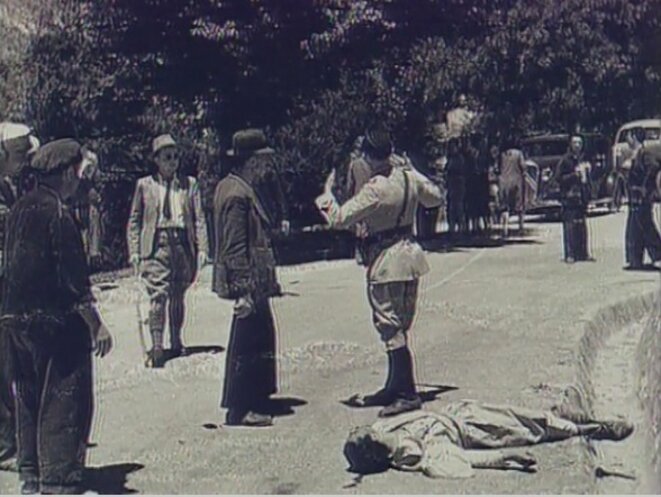 Documentaires dans l'article
France, along with countries around the world, marked 'Victory in Europe Day' on Friday, in commemoration of the 70th anniversary of the defeat of Nazi Germany and the end of war in Europe. But May 8th 1945 also marks the beginning of the massacres of thousands of Algerian civilians by French soldiers and settlers' militias, which, according to various estimations, left between 6,000 and 35,000 people dead. The events, which began during celebrations of the victory over Germany in a market town in north-east Algeria, were for 60 years unrecognised by France. Documentary maker Mehdi Lallaoui tracked down survivors and witnesses of the mass killings, along with rare archive material, for a 55-minute film for TV channel Arté, which Mediapart presents here. To accompany it, Lallaoui writes of the context and horrors of the weeks of mass murders, and calls for what "is undisputedly a crime against humanity" to at last be officially recognised as such.
Algerian security sources say the body of Hervé Gourdel was found in Akbil, close to where he was kidnapped by Islamists in September 2014.
The Algerian government said Abdelmalek Gouri, head of the group which executed Hervé Gourdel in September, was killed by special forces.
Algerian and French media reported that Bouteflika, who was last year treated for a stroke in France, returned for care on Tuesday.
The Algerian justice minister claimed a militant involved in the September abduction of French tourist Hervé Gourdel was killed last month.
Algeria refused to send investigators in France crucial samples of the skulls of the seven monks murdered in mysterious circumstances in 1996.
Judge Marc Trévidic and his team will oversee exhumation of the monks' heads, buried at their monastery in Tibhirine, 80km south of Algiers.
Soldiers killed the five gunmen during hunt for the killers of French tourist Hervé Gourdel who was beheaded in Algeria last month.
The brutal execution of French climber Hervé Gourdel by a little-known terrorist group in Algeria has thrown the spotlight on attempts by Islamic State (IS) to extend its network of influence across North Africa and beyond. The Algerian group Jund al-Khilafa kidnapped and beheaded the French mountaineer as a gruesome and public sign of allegiance to the Iraq and Syria-based group. But so far Islamic State has failed to win the allegiance of any other group in Africa as it competes with al-Qaeda for dominance among the jihadist groups of the world. As Pierre Puchot reports, its attempt to be the global leader in jihadism may depend on lasting control of Iraqi oil wealth.
Algeria's justice minister says initial investigation has identified 'certain members' of terror group who murdered Hervé Gourdel.
The rally in the hometown of the hostage beheaded by Algerian Islamists, came as flags were lowered to halfmast across France in mourning.
France has authenticated a video of the beheading of Hervé Gourdel, which President Hollande said was a 'cruel and cowardly' act.