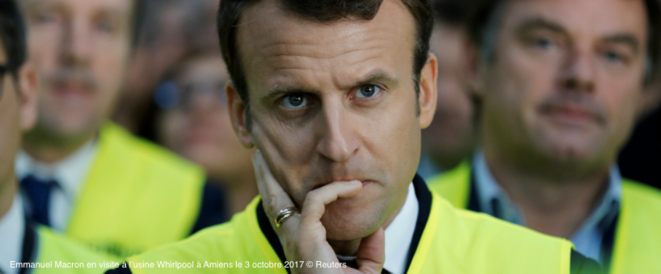 In the immediate aftermath of the European elections, in which the ruling centrists lost to Marine Le Pen's far-right party, the French government has had to deal with impending job losses at three major industrial sites. It is, argues Martine Orange, the outcome of a deliberate policy by President Emmanuel Macron: the massive and organised destruction of French industry. Mediapart's finance and business writer says that as a result France runs the risk of being trapped permanently in austerity and unable to forge an industrial future for itself.
US corporation General Electric faces fines of 50,000 euros for every job it promised but has failed to create after its purchase in 2014 of the energy arm of French engineering company Alstom, labour minister Muriel Penicaud has said.
Germany's Siemens makes the inter-city ICE trains, while Alstom builds the French equivalent, TGV trains, and have combined sales of €15.3bn.
Ministers announce order for 15 high-speed trains, mostly for tracks on which they cannot run at top speed, to preserve jobs at Alstom plant.
Alstom CEO said the company will go ahead with closure of manufacturing at its historic train-building plant, affecting 400 staff, despite President Hollande's pledge to do 'everything' to halt the plan.
French industry minister said upping state's 20% stake in troubled engineering group, which announced a reorganisation of plants, was not planned 'at this moment in time'.
The cuts follow GE's purchase of France's Alstom energy unit, but Paris warns US firm it must stick by pledge to replace lost jobs with new ones.
Export credits used for coal technology made by turbine maker Alstom 'should be used to invest in renewable energy', said ecology minister.
The French engineering group admitted falsifying books to pay more than 75 million dollars in bribes worldwide for energy arm contracts.
US justice department insists the French group should pay the fine and not General Electric which recently bought Alstom's power division.
Just a few weeks ago the chief executive of French company Alstom suggested that the group had no alternative but to sell its energy section outright to American firm General Electric. But then the economy minister Arnaud Montebourg stepped into the fray and brokered a deal, agreed last weekend, that offers considerably better prospects for one of France's flagship companies. And in doing so, says Martine Orange, the minister has not only scored a personal political victory, he has also shown that the state is not always powerless to intervene on the industrial landscape.
Head of German parliament's economics committee says Paris acted with 'ice-cold national industrial interest' in taking stake in French firm.
The US giant has finally won its lengthy bidding against rivals after shareholder Bouygues agreed to sell its stake to the French government.
The race of rival bids for French engineering firm's energy arm appeared over as French government backs that of General Electric.