Related keywords
Comment came after he was asked about recent, insulting comments that Bolsanaro and a colleague made about French president and his wife.
The crisis of wildfires raging in the Amazon is to be the subject of emergency talks at this weekend's G7 summit in south-west France, while President Emmanuel Macron has announced he is withdrawing support for the Mercosur free-trade deal between the EU and South American nations, accusing his Brazilian counterpart Jair Bolsonaro of 'lying' about his commitments on combating the climate emergency.
US e-commerce giant Amazon has said it will offset the cost of France's new tax on profits made by online sales of large tech companies by raising fees for French businesses that use its platform to find customers, warning that 'this could put smaller French firms at a competitive disadvantage to their peers in other countries'.
More than €650m worth of new goods is destroyed or thrown away each year, says prime minister Édouard Philippe.
Protesters express concern over pollution and protected species in construction of huge centre for packing and delivery beside Lyon airport.
The 'GAFA' taxwill apply to digital companies with global revenues of over 750 million euros and French revenue over 25 million euros.
The French economy ministry has filed action in a Paris commercial court demanding a 10-million-euro fine against internet retail giant Amazon which it accuses of using its dominant position to impose allegedly unfair contracts with vendors using the platform.
Economy minister Bruno Le Maire said France and Germany would join forces to tackle what he called 'digital platforms' escaping taxes on their business activities in France, notably citing Airbnb as a target.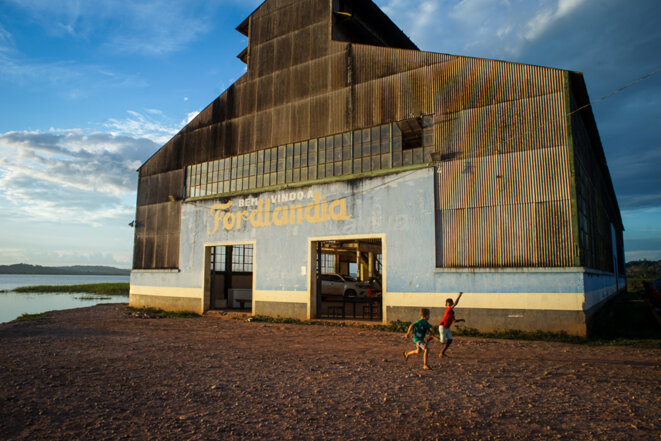 One of the old Fordlandia warehouses. © Thomas Cantaloube
Ninety years ago the American car magnate Henry Ford created a town in the Amazon jungle in order to secure a supply of rubber for his vehicles' tyres. Today it is just a ghost town, another example of the hubris so commonly associated with this region of the world. Mediapart's Thomas Cantaloube reports from Brazil on whether the lessons of that failed venture have truly been learned.
The French oil company Maurel & Prom has come under fire from French and local non-governmental organisations after it abruptly left a drilling platform in the Peruvian Amazon that was no longer deemed economically viable following the fall in world oil prices. In particular it has been accused of leaving behind environmental problems and of playing down the risks of pollution to local communities. Meanwhile the French Parliament has been considering a law that would force multinationals to operate a "vigilance plan" to avoid environmental and other problems in the future. Karl Laske reports.
In response to new law the online bookseller is now charging customers in France just one centime for books dispatched to their homes.
France's upper chamber has approved a bill that would ban online book retailers - such as Amazon - from offering free delivery.
Online retailer has banned sale of foie gras on its British website following animal rights campaign accusing producers of 'very un-British' cruelty.
Law to save bookships will restrict companies such as Amazon from combining offers of five percent discounts with free deliveries.