Amazon France and major hypermarket chains have agreed to postpone their yearly "Black Friday" discounted sales to December 4th in face of growing anger from small retailers who have been forced to close under public lockdown rules and who hope to be allowed to reopen next month.
Amazon's six French warehouses, which employ around 10,000 workers on permanent and interim contracts, have been shut since April 16th after court rulings said the company could only continue to operate if it limits deliveries to a list of essential goods only and carry out an assessment of the health risks to its employees in consultation with French trades unions.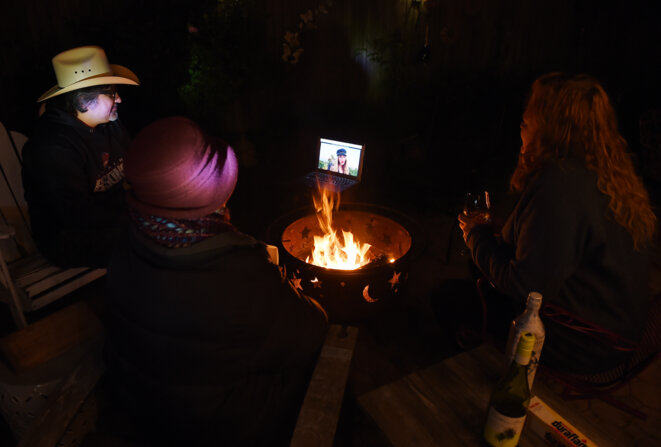 Neighbours in the United States watch the 'One World : Together At Home' online concert on April 18th 2020. © AFP
One of the side effects of the coronavirus pandemic has been a shake-up in the world of culture, including in France. As cinemas have stayed closed and music festival and tours have been cancelled, online streaming has stepped in to satisfy consumer demand for new film releases and live performances. Critics fear that not only is the culture industry rapidly becoming concentrated into the hands of a few major global players, there is also a risk that the dominance of online in films and music will reduce cultural diversity for many people – especially the poorest. Mickaël Correia reports.
Court in Paris upheld a ruling that Amazon must stop selling nonessential goods in France as it carries out a risk assessment on how best to protect employees from coronavirus in its distribution centres.
US online retail giant Amazon has been ordered by a French court to only deliver essential items in France during the Covid-19 virus epidemic, warning it will be fined 1 million euros per day if it fails to comply.
Several hundred workers at an Amazon warehouse and shipping centre near Orléans in north-central France staged a strike on Wednesday over their fears of exposure to the Covid-19 coronavirus, calling for the site's closure or for a dispensation for those staff who wished to stay at home.
Activists in France have staged sit-ins outside Amazon's French headquarters and logistics center to denounce the occasion imported from America.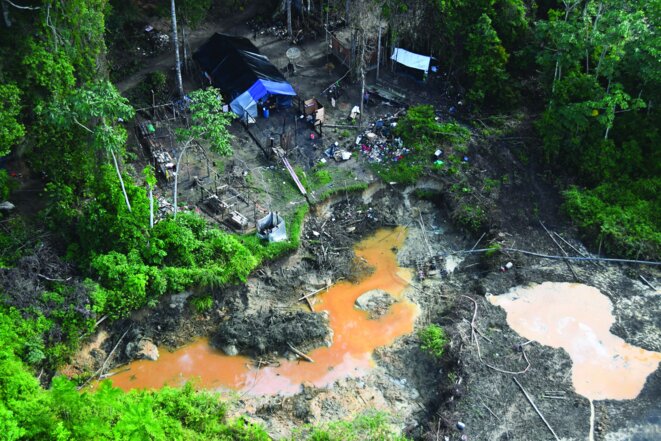 An unauthorised gold-prospecting site in operation in 2017 in French Guiana. © Parc Amazonien de Guyane
For many years, French leaders have liked to pose on the international scene as potential saviours of the Amazon, as we have just witnessed at the recent G7 summit in Biarritz with the diplomatic spat between President Emmanuel Macron and Brazilian president Jair Bolsonaro over forest fires. President François Mitterrand started the trend back at the Earth Summit in Rio de Janeiro in 1992. But alongside the diplomatic posturing there is also the reality of what is happening in French Guiana, an overseas region of France that lies just to the north-east of the Amazon rainforest. As Marion Briswalter reports from Cayenne in Guiana, what is happening on the ground in this French corner of South America reflects less well on Paris's stewardship of the environment.
Comment came after he was asked about recent, insulting comments that Bolsanaro and a colleague made about French president and his wife.
The crisis of wildfires raging in the Amazon is to be the subject of emergency talks at this weekend's G7 summit in south-west France, while President Emmanuel Macron has announced he is withdrawing support for the Mercosur free-trade deal between the EU and South American nations, accusing his Brazilian counterpart Jair Bolsonaro of 'lying' about his commitments on combating the climate emergency.
US e-commerce giant Amazon has said it will offset the cost of France's new tax on profits made by online sales of large tech companies by raising fees for French businesses that use its platform to find customers, warning that 'this could put smaller French firms at a competitive disadvantage to their peers in other countries'.
More than €650m worth of new goods is destroyed or thrown away each year, says prime minister Édouard Philippe.
Protesters express concern over pollution and protected species in construction of huge centre for packing and delivery beside Lyon airport.
The 'GAFA' taxwill apply to digital companies with global revenues of over 750 million euros and French revenue over 25 million euros.