Investigators are probing how France-based jihadist Amedy Coulibaly obtained weapons for attack that followed Charlie Hebdo massacre.

The bullet-shattered glass entrance of the Hyper Cacher store (left) and guns offered by the traffickers who armed Amedy Coulibaly.
In January 2015, a series of terrorist attacks in Paris left 17 people dead, including 11 at the offices of satirical magazine Charlie Hebdo, and four Jewish men in a kosher supermarket. The attack on the kosher store was carried out by Amedy Coulibaly in the name of the so-called Islamic State group. A number of weapons later found at the scene and at his home transited via an arms trafficking network in northern France which had been the object of several lengthy police surveillance operations. So why have magistrates in charge of investigating the itinerary of the arms still not questioned those involved in the surveillance? Karl Laske reports.
A French fugitive suspected of supplying kosher store attacker Amedy Coulibaly with weapons he used to kill five people with was arrested in Malaga.

DR
The terrorist attacks in Paris last year were back in the headlines this weekend after the arrest in Belgium of Salah Abdeslam, wanted for his part in the November 13th shooting and bombing massacres in the French capital. Those attacks, like the shootings carried out at Charlie Hebdo magazine and a Paris kosher store in January 2015 demonstrate the ease with which terrorists can acquire reactivated weapons, notably from Eastern Europe. In partnership with eight other European media organisations grouped in a collective project, European Investigative Collaborations, Mediapart exposes here how the European Union has turned a blind eye to the trafficking of improperly deactivated military weapons, as illustrated by the history of one such weapon used to murderous effect in Paris. Fabrice Arfi, Karl Laske and Matthieu Suc report.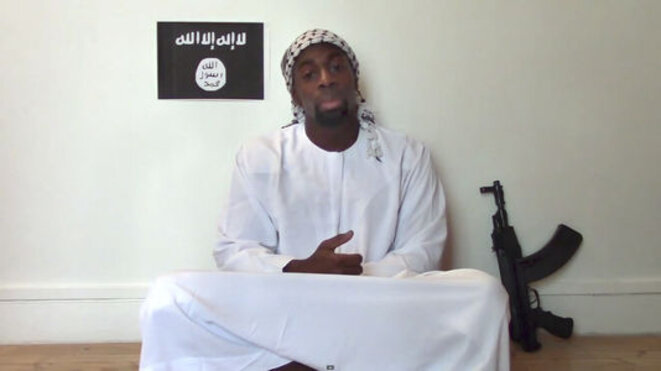 Amedy Coulibaly.
In December 2008, freelance journalist Warda Mohamed interviewed a 26-year-old convicted delinquent who hid his identity behind the pseudonym 'Hugo'. The interview centred on the repeat offender's experiences in prison, where he served time for crimes including armed robbery and drugs trafficking. Little more than six years later, Mohamed discovered that 'Hugo' was in fact Amedy Coulibaly, who shot dead a policewoman and four customers of a kosher store during the January 2015 Islamist terrorist massacres in Paris. Here Mohamed returns to that interview in 2008, when Coulibaly explained how he was "transformed" by prison.
French media report says police found an email instructing Amedy Coulibaly to 'work alone', 'pick easiest targets' and to make repeated attacks.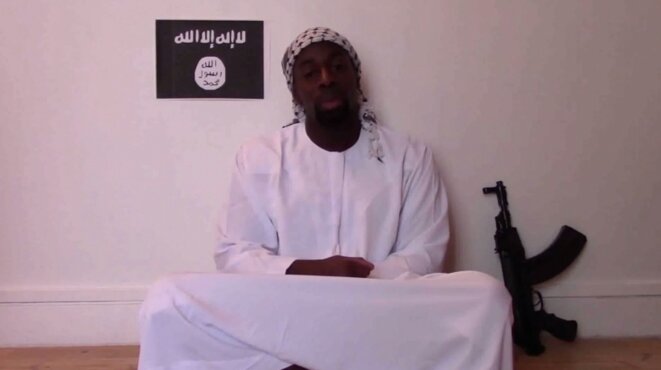 Vidéo posthume d'Amedy Coulibaly revendiquant son attaque. © DR
During the Paris terrorist attacks in January, four customers taken hostage in a kosher supermarket were shot dead, and four others seriously wounded, by a man claiming to have targeted the Jewish store in the name of Islamic State. The gunman, Amedy Coulibaly, was subsequently killed by police when they stormed the store. Mediapart can reveal that the automatic weapons found by his body were identified by Slovak police as having been bought late last year by a Lille-based dealer in decommissioned military arms, but who has astonishingly never been questioned about his eventual contact with Coulibaly. Karl Laske reports.
A Paris court gave the stand-up comic a fine and a suspended jail term for posting on Facebook his support for terrorist Amedy Coulibaly.
The men, aged 25 and 33, are suspected of involvement in terrorist activity with Amedy Coulibaly, who shot dead four hostages in the January attacks.
Three men and a policewoman are held for questioning over their relationships with Amedy Coulibaly who shot four people dead in January.
In the latest edition of its French-language magazine, Islamic State presents Hayat Boumeddiene, 26, as being present with the group in Syria.
Man, 31, arrested by two tram workers after the attack, is described by police as an 'unbalanced individual' recently refused entry to Turkey.
The 26-year-old wife of Amedy Coulibaly is emerging as key figure to understanding planning behind Charlie Hebdo and kosher store killings.
The body of the 32 year-old, shot dead by police after he took hostages in a kosher store, killing four, was buried in a suburb south of the city.