On the 28th rolling Saturday of demonstrations by the so-called 'yellow vest' anti-government movement protesting falling living standards for low- and middle-income earners, and demanding greater say in policy-making decisions, the interior ministry said nationwide turnout had plunged to 11,500, the lowest so far, while the movement claimed 35,000.
The driver of an armoured cash-carrying van containing an estimated 3.2 million euros which disappeared as his colleagues delivered money to a Western Union office near Paris early on Monday has been arrested in Amiens, northern France.
Incident happened at stadium in Amiens in northern France during Ligue 1 match between Amiens and Lille as away fans celebrated a goal.
As Macron was in formal meeting with union leaders from Whirlpool plant in northern France, Le Pen popped up outside the factory itself.
Eighteen members of the White Wolves Klan face 35 charges including armed violence, theft and attempted murder.
Emmanuel Macron, 38, unknown two years ago and belonging to no political party, has raised speculation that he may run for the presidency in 2017.
In January 2016 the number of regions in France will be reduced from 22 to 13 as part of a major reform of local government. Last week the government announced the names of the capital cities of these larger regions. But as Feriel Alouti reports, the debate over the way this reform was carried out and the likely impact of the changes still continues.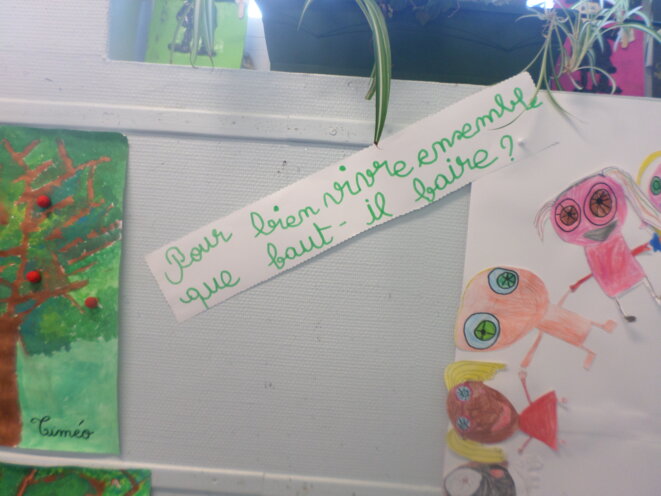 Dessin d'enfants à l'école maternelle © LD
In its response to the terror attacks in Paris in January the French government emphasised the importance of schools and the central role of secularism in fighting intolerance and extremism. Mediapart recently visited schools in the north of the French city of Amiens, an area which has recently seen riots and where the Moroccan-born education minister Najat Vallaud-Belkacem herself grew up and was educated. Here the issue of secularism divides teachers, parents and local help groups alike. "I have the impression that, faced with this debate, everyone is a bit lost," says one teacher. Mediapart's education correspondent Lucie Delaporte reports from the city.
France's pupils and teachers have gone back to school this week in the annual ritual known as the 'rentrée scolaire'. Amid the usual hopes and expectations for the new school year, many teachers feel a growing sense of frustration. For despite the promise by President François Hollande to make education a priority and create 60,000 new teaching posts, many current staff feel their working conditions and pay have been overlooked. In some deprived areas, meanwhile, hard-pressed teachers have been voting with their feet, asking to be transferred to less challenging regions. Here Mediapart examines the situation in three of those vulnerable education authorities, who have been forced to take on thousands of trainee teachers to fill their classrooms this year. Thomas Saint-Cricq and Lucie Delaporte report.
A bitter dispute over the closure of the Amiens plant ended when workers occupying the site accepted significantly increased severance pay. 
Observers say 'boss-napping' of two executives at Goodyear plant may damage France's reputation as destination for foreign investment.
Angry workers holding two managers in 'boss-napping' at factory in northern France are demanding more money in exchange for loss of their jobs.
US tyre maker Goodyear is to close a loss-making plant in northern France, which employs 1,173 workers, following a long conflict with unions.
French interior minister Manuel Valls is jostled by crowd of youths as he visits Amiens where rioting left 17 police officers injurred, one seriously.