Related keywords
Angela Merkel wants centre-right candidate Manfred Weber as next EU Commission president but Emmanuel Macron favours other candidates.
French President Emmanuel Macron and German Chancellor Angela Merkel met in the border town of Aachen on Tuesday to sign a pact that brings greater cooperation between their two countries, notably in economic and security issues, and including the aim of creating a 'German-French economic area with common rules' and a 'common military culture' that Merkel said could 'contribute to the creation of a European army'.
Merkel's decision to stand down now as CDU party leader has forced French president to reassess prospects for critical relationship with Berlin.
Franco-Gernman pair hailed a 'new chapter' for currency union, but left details to be worked out later with other members of the 19-country bloc. 
French president congratulated Chancellor Angela Merkel and acting SPD leader Olaf Scholz after Social Democrats voted for new coalition.
French president Tweeted his plea for cooperation after calling German Chancellor to congratulate her on winning a fourth term in office.
Russia, Armenia and the former West Germany were all major suppliers of technology and raw materials for Syria's programme of chemical weapon production, exiled Syrians who worked on the project have told Mediapart. They also say that, in violation of intentional law, the Damascus regime still has a secret arsenal of up to 35 tonnes of chemical weapons. René Backmann reports.
Emmanuel Macron is to travel to Germany to meet Chancellor Angela Merkel on Monday, the day after his inauguration as France's new president, when the two leaders are expected to seek agreement on measures to strengthen the eurozone.
First German edition of the French magazine that was nearly wiped out by murderous attack in January 2015 hits newsstands this week.
Theresa May will make her first overseas visits this week, meeting François Hollande in Paris after visiting German Chancellor Angela Merkel in Berlin.
French president François Hollande and German chancellor Angela Merkel seek to restor calm over Brexit ahead of meeting in Berlin.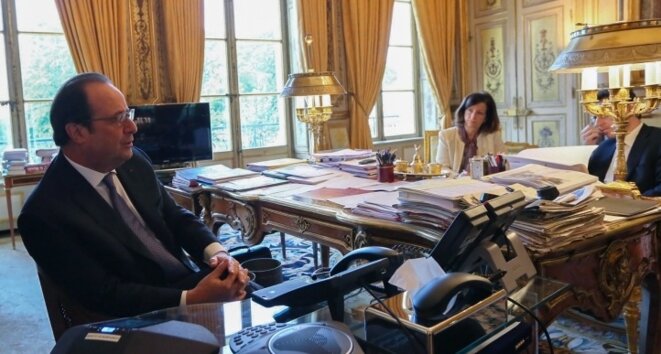 Brexit crisis: Hollande has been on the phone to other EU leaders, in this case Greek premier Alexis Tsipras. © (Elysée)
News of the British vote to leave the European Union has caused considerable shock in France, one of the founding fathers of the European project. President François Hollande has called for immediate action to revitalise the EU and after meetings with ministers on Friday will meet with Italian premier Matteo Renzi in Paris this weekend and with German chancellor Angela Merkel in Berlin on Monday. On Tuesday the French Parliament will also debate the likely impact of Brexit on France and Europe in general. Lénaïg Bredoux reports.
Two leaders mark the 300-day 1916 offensive in north-east France that claimed more than 300,000 lives in one of the war's bloodiest battles.
As Hollande and Merkel meet in Paris, president insists that France shares the same desire as Germany to tackle the problem.