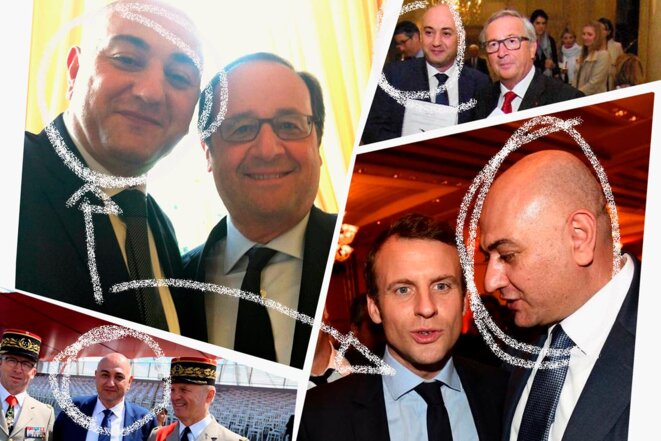 Mohamad Izzat Khatab with François Hollande, Emmanuel Macron, former European Commission boss Jean-Claude Juncker, and former chief of the defence staff in France General Jean-Louis Georgelin. © Photomontage Mediapart
He has been variously described as a "billionaire, a "peacemaker" and a key figure in "inter-faith dialogue". For ten years French political and religious leaders have rolled out the red carpet for Mohamad Izzat Khatab, a Syrian businessman whose past is shrouded in mystery. According to an investigation by Mediapart, this fan of selfies taken with the rich and powerful has just been placed under investigation in relation to a vast fraud case. Antton Rouget reports.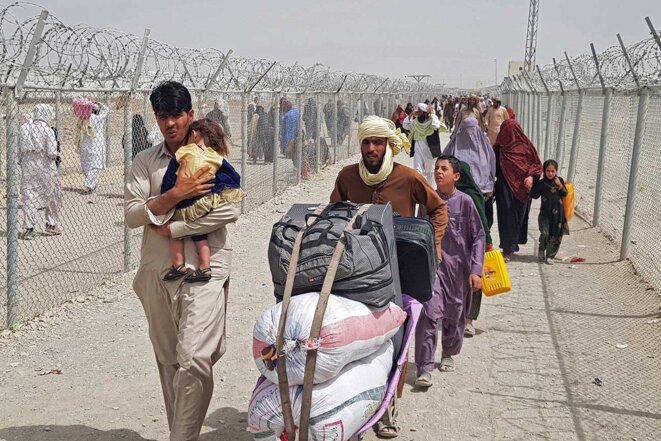 Families at the Pakistan border fleeing the Taliban advance, August 16th 2021. © Photo AFP
Most European Union countries waited until the last minute before suspending expulsions of Afghans who had sought asylum on their soil. Now that the Taliban have seized power in Kabul, the 27 EU foreign ministers are meeting this Tuesday to decide the next steps to take. A dignified welcome for Afghan exiles who have already arrived on their territory would be a first sign of solidarity, says Mediapart's Carine Fouteau.
Lebanon, anti-government protests in Belarus, the COVID-19 crisis, Mali's coup d'état, and tensions between Greece and Turkey will also be discussed, according to a French official.
President Emmanuel Macron and Chancellor Angela Merkel announced the unprecedented package after talks by video conference.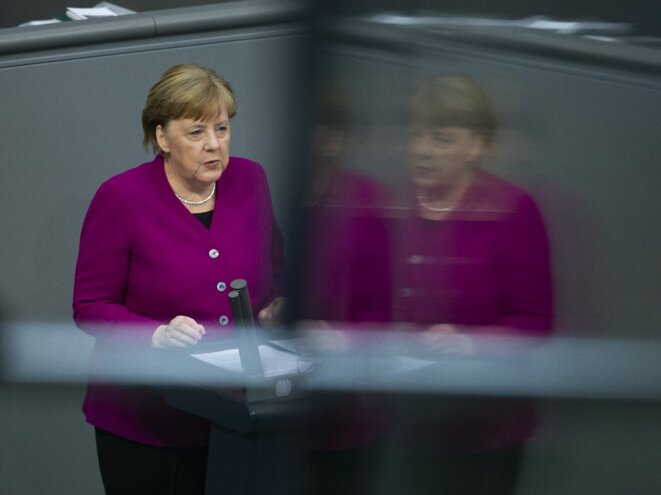 Angela Merkel - treating the German people as grown-ups.
In an interview with Mediapart, history lecturer Johann Chapoutot, an expert on contemporary Germany and the history of the Nazis, uses the example of Germany to highlight France's failings in its handling of the coronavirus pandemic. He says that while the German chancellor Angela Merkel appeals to people's reason, in France "they lie to us". Interview by Ludovic Lamant.
At a meeting on Wednesday between French President Emmanuel Macron and German Chancellor Angela Merkel, the two leaders reportedly agreed that weapons built by either of their countries and which contained 20% or more of components from the other would require before any export the consent of the country where the component was manufactured.
Angela Merkel wants centre-right candidate Manfred Weber as next EU Commission president but Emmanuel Macron favours other candidates.
French President Emmanuel Macron and German Chancellor Angela Merkel met in the border town of Aachen on Tuesday to sign a pact that brings greater cooperation between their two countries, notably in economic and security issues, and including the aim of creating a 'German-French economic area with common rules' and a 'common military culture' that Merkel said could 'contribute to the creation of a European army'.
Merkel's decision to stand down now as CDU party leader has forced French president to reassess prospects for critical relationship with Berlin.
Franco-Gernman pair hailed a 'new chapter' for currency union, but left details to be worked out later with other members of the 19-country bloc. 
French president congratulated Chancellor Angela Merkel and acting SPD leader Olaf Scholz after Social Democrats voted for new coalition.
French president Tweeted his plea for cooperation after calling German Chancellor to congratulate her on winning a fourth term in office.
Russia, Armenia and the former West Germany were all major suppliers of technology and raw materials for Syria's programme of chemical weapon production, exiled Syrians who worked on the project have told Mediapart. They also say that, in violation of intentional law, the Damascus regime still has a secret arsenal of up to 35 tonnes of chemical weapons. René Backmann reports.
Emmanuel Macron is to travel to Germany to meet Chancellor Angela Merkel on Monday, the day after his inauguration as France's new president, when the two leaders are expected to seek agreement on measures to strengthen the eurozone.