The 77th anniversary of the allied D-Day landings in Normandy was, because of the Covid-19 pandemic, without the usual strong contingent of remaining veterans, but a highlight was the unveiling of an imposing seafront memorial to the more than 22,000 troops under British command who died during the three-month campaign to liberate northern France from German occupation.
Emmanuel Macron on Wednesday led an official ceremony at the tomb of Napoleon Bonaparte to mark 200 years since the death of the one-time emperor, in what the French president said was a commemoration and not a celebration of his life.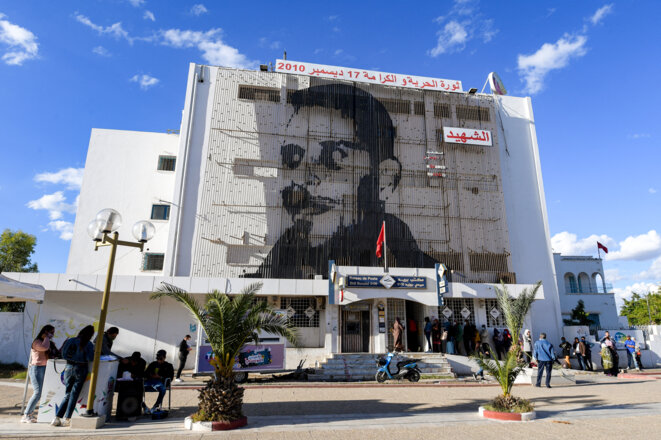 Un immense portrait de Mohamed Bouazizi à Sidi Bouzid le 27 octobre 2020. © Fethi Belaid/AFP
It was ten years ago this month that the desperate act of self-immolation by street vendor Mohamed Bouazizi in the Tunisian town of Sidi Bouzid prompted not only the so-called "Jasmine Revolution" that would topple the regime of strongman president Ben Ali, but also set in train the "Arab Spring" revolt that spread across North Africa. Mediapart spoke to three young men from Sidi Bouzid who took part in the 2010 protests over Bouazizi's plight, and who reflect on what has become of their revolt that created hope of a new democratic future for their country. Lilia Blaise reports.
Yellow vest demonstrators held marches in towns and cities across France on Saturday, as the social protest movement against falling living standards for low- and middle-income earners marks one year of consecutive weekly action, when the interior ministry claimed a nationwide turnout of about 28,000, the highest since April, while in Paris groups of troublemakers who burned vehicles and attacked commercial property clashed with police in Paris who made more than 120 arrests.
Arson attack, which followed anti-Semitic graffiti, came three years to the day after assault on a Jewish supermarket in Paris by Islamist gunman.
Murder of journalists, police officers and shoppers at kosher store in 2015 by Islamist gunmen was first of a wave of bloody militant attacks.
This month marked the 20th anniversary of the death, on January 8th 1996 at the age of 79, of François Mitterrand, the first socialist president to be elected under France's Fifth Republic. He served two successive terms in office from 1981 until 1995, during which time current president, François Hollande, and other leading Socialist Party figures received their political schooling. Mediapart editor-in-chief Edwy Plenel takes stock of Mitterrand's legacy of which, he argues here, the socialists now in power have retained only the dark side.
President Hollande's speech on 2015 massacre marked by shooting of knifeman in Paris and debate on efficacy of intelligence forces.
Around 50 small boats arrived in the French port to commemorate Operation Dynamo in which 338,000 troops were rescued from Nazi forces.
A total of 28 nations took part in Operation Dragoon on the beaches near Marseille on August 15, 1944, with a total force of 450,000 men.
Around 400 separate events will be held as American, Russian and British heads of state are among those marking 70th anniversary of landings.
In wide-ranging interview in bid to boost record low ratings, French president says he wants to be judged on results at the end of his 5-year term.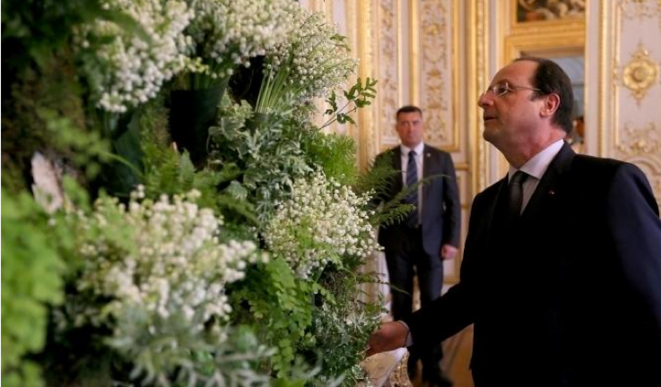 A l'Elysée, le 1er mai, lors de la traditionnelle cérémonie de remise du muguet. © (Elysée)
May 6th, 2014 marks the second anniversary of François Hollande's election as president of the French Republic. Any celebrations, however, are likely to be muted. Six weeks after disastrous local election results that led to a government reshuffle, and just three weeks before European elections where his Socialist Party looks set to come third, the president is at a record low in opinion polls. Hated by the Right and mistrusted by sections of the Left, Hollande now has three years in which to recover from a near-total rejection by the French public. As Hubert Huertas argues, that will be no easy task.
The period of reform is not over yet but there is an economic turnaround, insists the French president as he marks two years in office.