Related keywords
Arson attack, which followed anti-Semitic graffiti, came three years to the day after assault on a Jewish supermarket in Paris by Islamist gunman.
Murder of journalists, police officers and shoppers at kosher store in 2015 by Islamist gunmen was first of a wave of bloody militant attacks.
This month marked the 20th anniversary of the death, on January 8th 1996 at the age of 79, of François Mitterrand, the first socialist president to be elected under France's Fifth Republic. He served two successive terms in office from 1981 until 1995, during which time current president, François Hollande, and other leading Socialist Party figures received their political schooling. Mediapart editor-in-chief Edwy Plenel takes stock of Mitterrand's legacy of which, he argues here, the socialists now in power have retained only the dark side.
President Hollande's speech on 2015 massacre marked by shooting of knifeman in Paris and debate on efficacy of intelligence forces.
Around 50 small boats arrived in the French port to commemorate Operation Dynamo in which 338,000 troops were rescued from Nazi forces.
A total of 28 nations took part in Operation Dragoon on the beaches near Marseille on August 15, 1944, with a total force of 450,000 men.
Around 400 separate events will be held as American, Russian and British heads of state are among those marking 70th anniversary of landings.
In wide-ranging interview in bid to boost record low ratings, French president says he wants to be judged on results at the end of his 5-year term.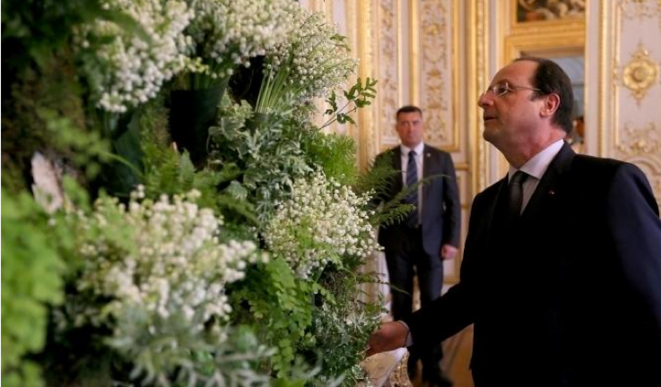 A l'Elysée, le 1er mai, lors de la traditionnelle cérémonie de remise du muguet. © (Elysée)
May 6th, 2014 marks the second anniversary of François Hollande's election as president of the French Republic. Any celebrations, however, are likely to be muted. Six weeks after disastrous local election results that led to a government reshuffle, and just three weeks before European elections where his Socialist Party looks set to come third, the president is at a record low in opinion polls. Hated by the Right and mistrusted by sections of the Left, Hollande now has three years in which to recover from a near-total rejection by the French public. As Hubert Huertas argues, that will be no easy task.
The period of reform is not over yet but there is an economic turnaround, insists the French president as he marks two years in office. 
France will set tone for the way the world marks the 1914-18 war; two of its bloodiest battles, at Verdun and the Somme, took place on French soil.
One year on, and the Hollande presidency is widely regarded as having almost completely failed. Right through the corridors of power the same question is being asked: why isn't it working? In a bid to find the answer, Mediapart provides a guided tour of each of the separate institutions that makes up the socialist administration which took office on 15th May 2012. Lénaïg Bredoux and Mathieu Magnaudeix report.
Beleaguered president outlines ten-year programme of investment in digital and other new technologies, alternative energy, health and infrastructure.
President has little to celebrate on first anniversary of his election on Monday...soaring unemployment, flailing economy and a shaming tax scandal.