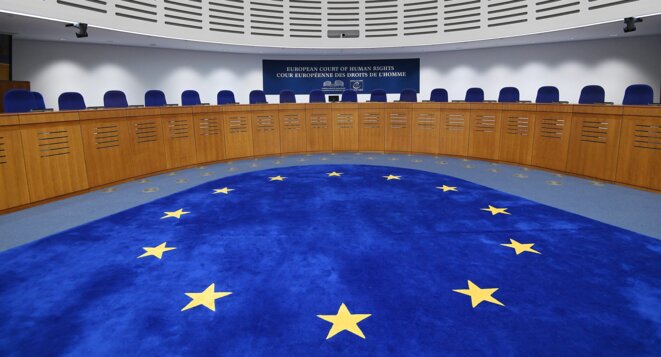 Inside the European Court of Human Rights. © FREDERICK FLORIN / AFP
A 66-year-old woman has lost all her appeals in France against a divorce case ruling that she was at fault in the collapse of her marriage after refusing to continue to have sexual relations with her husband. This month she submitted an ultimate appeal before the European Court of Human Rights in what may prove a watershed case on the notion of "conjugal duty". Marine Turchi reports.
As new admissions of Covid-19 patients to hospitals and intensive care units continued on an upward trend in France over recent weeks, Prime Minister Jean Castex has appealed for 'a sense of responsibility' to encourage young aduts to observe social distancing and mask-wearing after widespread flouting of the measures during the summer holiday period.   
The French head of state is commemorating the 80th anniversary of wartime leader Charles de Gaulle's BBC broadcast to occupied France after the 1940 Nazi invasion.
As the world of sport in France was engulfed in scandal over accusations of the covering up of widespread sexual abuse of young athletes, and notably the rape allegations by a former ice skating champion and three of her fellow skaters against their former coaches, French sports minister Roxana Maracineanu on Thursday appealed to 'to all victims, past and present, to speak up so that we can find the offenders and prosecute them'. 
A conviction and six-month suspended jail sentence handed last year to Cardinal Philippe Barbarin, 69, archbishop of Lyon, for failing to inform the authorities about evidence of child sex abuse by a priest under his authority was overturned on appeal on Thursday, although an association of victims said they would in turn appeal the ruling. 
An appeal by former French president Nicolas Sarkozy against a decision to prosecute him on charges of corrupting a senior magistrate to obtain information in a legal case concerning him has been rejected, and he is now expected to stand trial within months. 
The first of two appeals lodged by Former French President Nicolas Sarkozy against a decision to send him for trial for influence peddling and corruption was thrown out by a Paris court on Monday.
An appeal by St. Tropez lifeboat staff for contributions to replace their ageing vessel has fallen on deaf ears among the rich owners of luxury yachts in the fashionable French Riviera port, prompting the station's head to angrily comment that, 'Its great to shower  young ladies with a bottle of 50,000-euro Cristal champagne, but they could be a more restrained and help us a little more'.
Human remains, ski equipment and glasses found in 2005 at an altitude of 3,000 metres in Italy's Aosta region have been found through DNA tests to be that of a Frenchman who disappeared in a storm there in 1954, after his family answered an appeal for information launched on social media by Italian police.
Venezuelan-born Ilich Ramirez Sanchez, 68, nicknamed Carlos the Jackal, who became one of the most notorious far-left terrorists during the 1970s and 1980s and who was already serving two life sentennces for terrorism in France, on Thursday lost his appeal before a Paris court againt a previous conviction for leading a hand grenade attack which killed two people and wounded 34 others in a shopping mall in the French capital in 1974.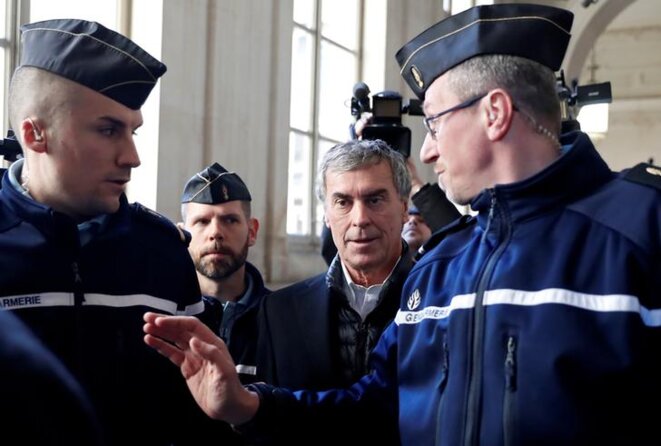 Jérôme Cahuzac (centre) arriving in court on February 12th. © Reuters
At the end of two weeks of hearings, a Paris court on Thursday deferred until May its verdict on the appeal by disgraced former French budget minister Jérôme Cahuzac against a three-year prison sentence handed to him in 2016 for tax fraud and money laundering. Cahuzac, 65, who Mediapart revealed in 2012 held a secret tax-haven bank account while leading a crackdown on tax fraud, did not contest his conviction, but sought a reduced sentence which would allow him to escape prison. While his lawyers argued that Cahuzac was a "broken" and "finished" man who risked taking his own life if sent behind bars, the prosecution has reiterated its demand for a three-year sentence. Mediapart legal affairs correspondent Michel Deléan was in court to follow the proceedings.   
Following a legal appeal by marine parks in France, the country's highest administrative court, the Council of State, has overruled a decision taken last year by outgoing socialist govenment environment minister Ségolène Royal which banned the future breeding of dolphins and killer whales in captivity, after the court decided it had not been properly redacted, .
Human rights court upholds hate crime conviction in France after show with Holocaust denier and an actor dressed as concentration camp inmate.
France's relative lack of appeal for migrants has not blunted the fearmongering about immigration that has helped fuel support for far-right.