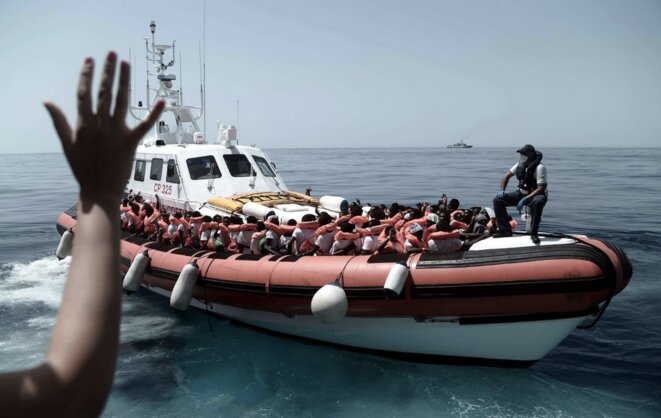 Some of the migrants rescued by the Aquarius were transferred to Italian coastguard ships in a convoy heading for Spain. © Karpov / SOS Méditerranée
The odyssey of the migrant rescue ship Aquarius offers a new example of the violence of Europe-wide immigration policies, and not only those of the far-right in power in Italy, writes  Mediapart co-editor Carine Fouteau. For the migrants onboard the Aquarius, who will eventually arrive in a state of exhaustion in Spain, the ship's long and deviated route for a safe haven is yet further confirmation that they and others like them are simply considered as a burden by European countries – if, that is, they manage to arrive alive on the continent's shores.  
After earlier doubt, Italian Prime Minister Giuseppe Conte has maintained his lunch meeting in Paris on Friday with French President Emmanuel Macron, as the two leaders appeared to calm a high-profile diplomatic row over sharp criticism from Paris over Rome's decision to refuse sanctuary to migrants saved at sea by an NGO. 
Italian economy minister Giovanni Tria cancelled planned talks in Paris on Wednesday with his French counterpart while in Rome France's ambassador was summoned to a meeting with the foreign ministry amid the row sparked by President Emmanuel Macron's sharp criticism of Italy's decision to refuse entry to migrants aboard an NGO sea rescue ship.
Italy has accused France of 'hypocrisy' after French President Emmanuel Macron blasted Rome for 'cynicism and irresponsibility' in disallowing a humanitrian organisation's ship from disembarking at an Italian port the more than 600 migrants it has rescued at sea.