In a previous article, Mediapart described how steel tycoon Lakshmi Mittal built his conglomerate on the ruins of Eastern and Western Europe's restructuring steel industries, taking loans and subsidies but paying hardly any tax on the continent. In the second and concluding article of her investigation Martine Orange reports on how ArcelorMittal has based its financial branch in the desert of Dubai, reveals the curious network of tax-haven companies through which the Mittal family controls the operation, and wonders just why the group's results in Europe were so bad even during the good years for steel makers.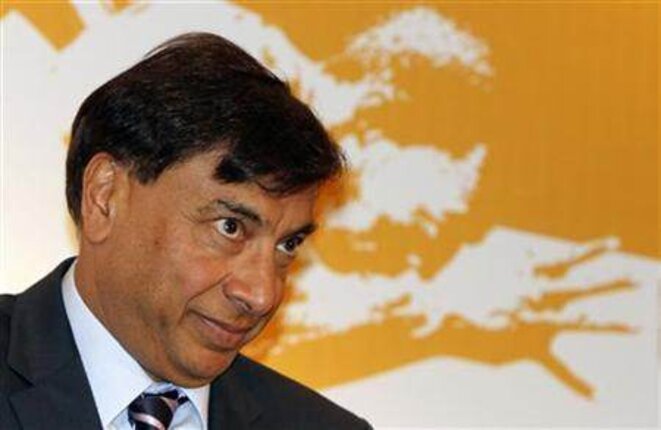 Lakshmi Mittal © Reuters
ArcelorMittal, the world's largest steel producer whose chairman and CEO is London-based Indian tycoon Lakshmi Mittal (pictured), pays hardly any taxes in Europe. Making the most of the tax-break competition between European Union countries, the group juggles transfer pricing and optimal fiscal gains for its financial flow. But behind what may appear to be a common sense business approach that makes the most of what's on offer lies a secretive organisation that prevents any proper scrutiny of the real economic performance of ArcelorMittal's plants or subsidiary companies. In this first of a two-part investigation, Martine Orange traces the steel giant's history and lifts the veil on its hidden practices.
Lakshmi Mittal reacts to being told he was "not welcome in France" and says nationalisation of his steel plant would be a "giant leap backwards".
ArcelorMittal chief sends letter to workers promising to maintain steel production in France and honour committments over troubled Florange site.
ArcelorMittal pulls its application to use troubled site for an EU project in less-polluting steel, dashing hopes of keeping two blast furnaces going.
The French government's handling of the dispute at ArcelorMittal's steel plant in Florange, in Lorraine, has been widely judged as a major blunder.
Industry minister Arnaud Montebourg has accused the steel giant of "not respecting France" saying it has "never honoured its commitments". 
Industry minister Arnaud Montebourg says France should consider a takeover of two blast furnaces at ArcelorMittal's steel plant in Florange.
Steel-making giant ArcelorMittal is summoned by the French government to either restart idled furnaces in north-east France or sell them.
Au Louvre
With just two weeks to go before the first round of the French presidential elections, growing anger over the uncertain fate of one of the last major steel-making plants in France has returned the issues of de-industrialization, globalization and the social responsibility of corporations to the fore of the political agenda. Exhausted but triumphant, a group of workers from the ArcelorMittal steel mill in Florange, north-east France, finally reached Paris on Friday amid public cheers and a battery of TV cameras after a marathon ten-day, 330-kilometre march in protest at the feared closure of part of their plant. Mathieu Magnaudeix was there to follow the men, now known across France as 'the ArcelorMittals', who have become the heroes of a decimated industrial heartland.