An audit ordered by safety watchdog revealed anomalies in 400 reactor parts, some still in service, raising suspicion of falsified documents.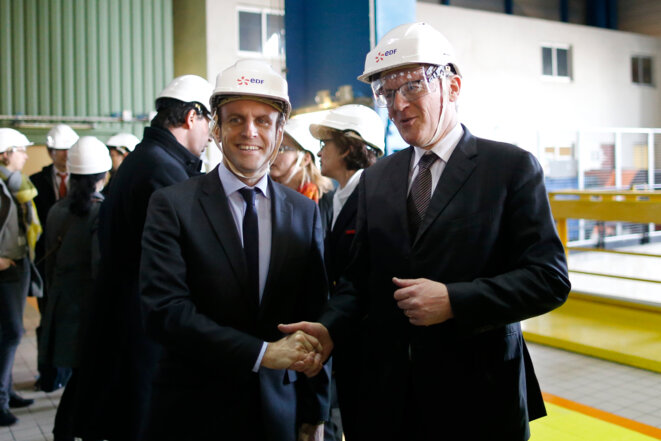 Economy minister Emmanuel Macron and EDF boss Jean-Bernard Lévy are under fire over the Hinkley Point project. © Reuters
On Friday April 22nd the board of directors at French energy giant EDF announced they were delaying a final decision on building two European Pressurised Reactors (EPRs) at Hinkley Point in Britain. The news came in the wake of an unprecedented rebellion by EDF staff against the 23-billion-euro project which some fear could even lead to the demise of the state-owned French company. Mediapart has seen a letter backed by 400 managers which calls on EDF's directors to face up to their corporate responsibilities, or face potential legal action if the Hinkley project damages the company. Martine Orange reports.
Plans by French energy giant EDF to build two European Pressurised Reactors (EPRs) at the Hinkley Point nuclear power plant in south-west England have already triggered the resignation of the company's finance director, led to opposition from unions and raised doubts from France's financial watchdog. Now, Mediapart can reveal, in an unprecedented move a number of EDF's own engineers have also expressed their deep misgivings about the multi-billion euro project and called for it to be delayed. As Martine Orange reports, the engineers fear the Hinkley Point construction could threaten the group's plans to renew France's own nuclear power stations in the near future.
French utility giant EDF is facing mounting pressure to abandon its project to build two nuclear reactors at Hinkley Point in south-west Britain. Days after the resignation on March 7th of the state-owned group's finance director over the financial risks involved, it was the turn of France's national court of auditors to sound the alarm amid a damning report on EDF's international operations. Martine Orange reports.
A project by French energy giant EDF to build two European Pressurised Reactors (EPRs) at the Hinkley Point nuclear power plant in south-west Britain has mobilised large numbers of its staff and management against the move. They believe that the huge industrial and financial risks for EDF may result in a meltdown of the group. Martine Orange reports.
France's president said an agreement was under discussion for India's purchase of 36 Rafale jets, along with a deal for six Areva-built reactors.
The French utilities group EDF is now officially the sole company overseeing France's nuclear industry. This follows an agreement in principle signed earlier this week between EDF and the ailing French nuclear firm Areva which will create a joint company in charge of designing and building new nuclear reactors. France's economy minister Emmanuel Macron has sought to draw a line under the French nuclear industry's recent financial fiasco, preferring to speak instead of a "new adventure" for the sector. Mediapart's Martine Orange analyses the deal.
Deal seen as crucial for France which generates three quarters of electricity from nuclear and needs Areva to service its existing reactor fleet.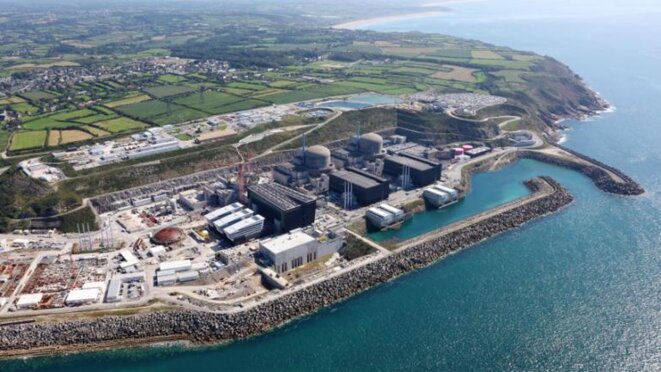 © DR
French nuclear safety inspectors have discovered numerous faults with crucial safety valves in the cooling system of what will be one of the world's biggest nuclear power plants under construction at Flamanville, on the Channel coast, Mediapart can reveal. The malfunctioning valves for the Areva-designed, third-generation European Pressurized Reactor could cause its meltdown, in a similar scenario to the 1979 Three Mile Island nuclear accident in the US. The inspectors' damning confidential report, obtained by Mediapart, follows the revelation last month that the Flamanville EPR reactor's vessel contained excessive amounts of carbon that could cause it to crack. Pascale Pascariello reports.
Sale of ailing nuclear giant's power station development activities to utilities firm EDF will likely entail major costs for the latter and the state.
Up to 4,000 jobs will be shed in France as part of cost-cutting plan that will include selling off assets, following four years of operating losses.
French nuclear watchdog found serious flaws in the shell of the EPR reactors in Flamanville, northern France, which were also shipped to China.
The giant French nuclear group Areva, whose core business is making nuclear reactors, has just announced staggering losses of 4.8 billion euros in 2014. That comes on top of nearly 3 billion euros of losses racked up in preceding years. In a bid to resolve this disastrous situation the state-owned company is now drawing up a restructuring plan that could lead to thousands of job losses. However, the group's woes cannot simply be blamed on recent events such as the Fukushima nuclear disaster in Japan or a cyclical downturn. Instead the group's terrible financial position has been building for many years thanks to industrial squabbles, bad management decisions and poor strategy. But as ever, says Mediapart's Martine Orange, it looks as if it will be the workforce who will pay the price of the group's failings rather than France's industrial, civil service and political elites despite their responsibility for this industrial fiasco.
The firm, which is 87 per cent state-owned and posted losses of 4.8 billion euros in 2014, says it hopes any redundancies would be voluntary.