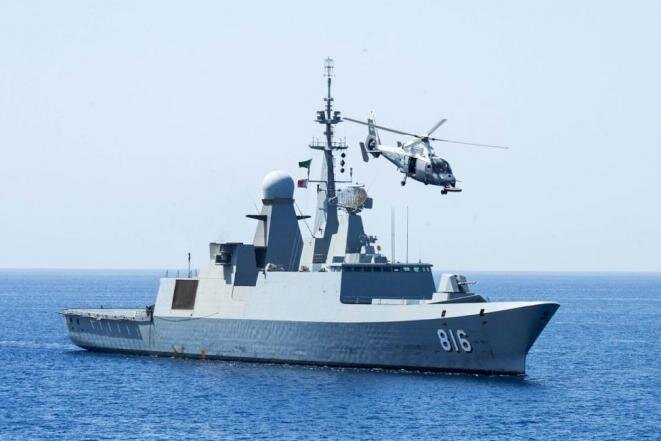 The French-built Saudi frigate Al-Dammam 816, in May 2014. © US Navy
Video evidence that warships sold by France to Saudi Arabia and the United Arab Emirates have played an active role in the maritime blockade of Yemen, contributing to the starvation of millions of civilians in what the UN has described as the worst humanitarian crisis in the world, has emerged in an investigation partnered by Mediapart. Meanwhile, a UN report earlier this month warned that the legality of arms exports to belligerents in the conflict in Yemen by countries including France, Britain and the US "remains questionable", and that "states may be held responsible for providing aid or assistance for the commission of international law violations". Antton Rouget and Yann Philippin report.
Study commissioned by human rights groups found French arms sales to Egypt rose from €39.6 million to €1.3 billion between 2010 and 2016.
Poll shows 75% of French people want President Emmanuel Macron to suspend arms exports to countries involved in the Yemeni war.
The families of 11 French engineers killed in a bomb blast in Pakistan in 2002 want French President Nicolas Sarkozy to be formerly questioned by an investigating magistrate about what he knows of a corruption deal linked to the attack.
The deal is suspected to have involved illegal political party funding in France, paid through secret kick-backs from the sale of submarines to Pakistan, a scam largely confirmed in November in the testimony, before a judge, of a former French defence minister.
Mediapart, which has led the revelations over what is now known as 'the Karachi affair', has produced a video report clearly explaining the backround to the scandal now engulfing the French president. Click here to watch the video and to read a selection of Mediapart reports on the story.