Keyword: Arnaud Montebourg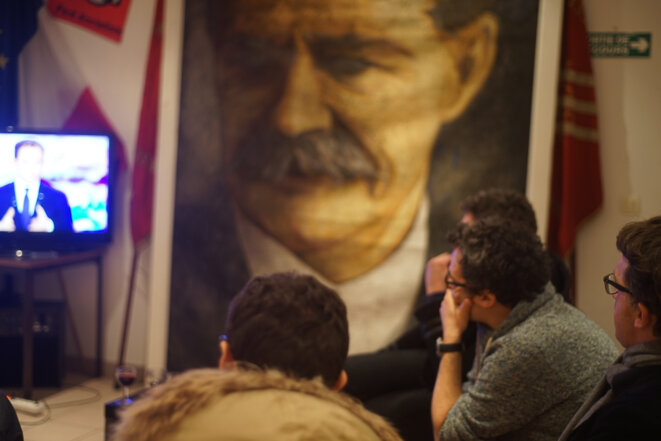 Local party members at Roubaix in northern France watch the first socialist primary debate on January 12th 2017. © Amélie Poinssot
Last Thursday the seven candidates in the Socialist Party's primary to choose a presidential candidate took part in the first of three televised debates. Mediapart joined a group of party members watching the first debate at Roubaix near Lille in northern France, which is historically one of the staunchest of socialist strongholds in France. As Amélie Poinssot discovered, many grassroots activists are still hopeful the party can be rebuilt despite the massive disappointment of François Hollande's presidency.
Presidential hopefuls quarrelled over legacy of the deeply unpopular presidency of François Hollande, who ruled out a re-election bid last month.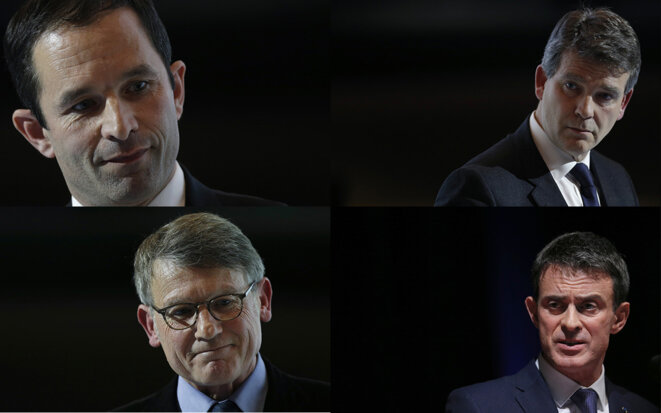 Clockwise, from top left: Benoît Hamon, Arnaud Montebourg, Manuel Valls and Vincent Peillon. © Reuters
The four main contenders to be the official mainstream socialist candidate for the 2017 French presidential elections, Benoît Hamon, Arnaud Montebourg, Vincent Peillon and Manuel Valls, know each other extremely well. For more than 20 years the members of this quartet have occupied important positions and roles in the Socialist Party and were once hailed as a new generation destined to modernise the party. Now, having never been able to form lasting alliances among themselves, and having been 'blocked' by the generation above them, the four are all standing against each other in the party's primary to choose a candidate for the Elysée. Stéphane Alliès and Donatien Huet report on four politicians who have waited a long time for their chance to become president.
The former government minister has outlined plans for a supertax on banks and a curb on executive pay in his bid to be socialist candidate.
Ex-PM Manuel Valls and former education minister Vincent Peillon revealed their stances as they battle against five rivals in left-wing primary.
The end of the battle for Syria's second city and the plight of its civilians have drawn different responses from across France's political spectrum. On the Right the line taken by conservative presidential candidate François Fillon has been close to that of the far-right Front National, with his defence of the Assad regime and Vladimir Putin. The ruling Socialist Party and the Greens have emphasised their support for Syria's opposition, while the radical left presidential candidate Jean-Luc Mélenchon has adopted an anti-imperialist stance, with the United States as his main target. Lénaïg Bredoux, Lucie Delaporte and Christophe Gueugneau report.
The two rounds of voting in Socialist Party primary, which includes four party candidates and two greens, will be held on January 22nd and 29th.
Mediapart was present at a public meeting at Nanterre, west of Paris, to discuss the forthcoming presidential election when the news broke that President François Hollande would not be standing for re-election in that contest. Many of those present in the hall were supporters of the Left who had voted for Hollande at the 2012 election. Some were quick to voice their dismay at his presidency's record, while the majority expressed general indifference and the meeting quickly resumed. As Mathieu Magnaudeix reports, it was a sign of just how irrelevant the president had already become to many ordinary voters.
The resignation of economy minister Emmanuel Macron from François Hollande's government on Tuesday to further his own electoral aspirations has dealt what looks like a fatal blow to the French president's already dwindling hopes ahead of next year's presidential election. But as Mediapart's editor François Bonnet argues, it also illustrates how an entire political system, that of France's Fifth Republic, is coming to an end.
The former socialist economy minister who left government after criticising austerity policies said François Hollande's presidency left 'a feeling of waste'.
The late British prime minister Margaret Thatcher famously said: "There is no alternative". This phrase, abbreviated to TINA, became a symbol of her liberal economic approach to government. Now, faced with potential rivals from the Left ahead of the 2017 presidential election, the French president François Hollande has coined his own version of TINA by declaring: "There is no alternative on the Left outside the line that I represent". Hubert Huertas examines Hollande's high-risk strategy.
The former industry minister has told supporters that the country's Left needs an 'alternative programme' for the 2017 presidential elections.
Arnaud Montebourg, 53, who lost his ministerial post for outspoken anti-austerity criticism of socialist government, has announced his return to political fray.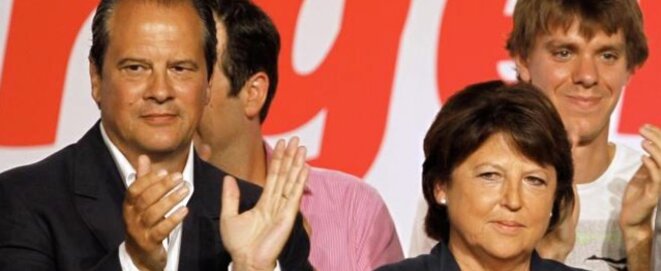 Martine Aubry on the warpath, seen here with current party boss Jean-Christophe Cambadélis.
The former first secretary of the French Socialist Party (PS), Martine Aubry, has launched a ferocious attack on the policies of President François Hollande and his prime minister Manuel Valls. Her trenchant comments in an article in Le Monde – seen by some as a call by Hollande to ditch his prime minister - in turn led to bitter criticism of her stance from government loyalists. It remains unclear where Aubry's initiative will lead. But as Mediapart's Stéphane Alliès reports, it looks as if support for the socialist government could now be in a minority within the Socialist Party itself.