Keyword: Arnaud Montebourg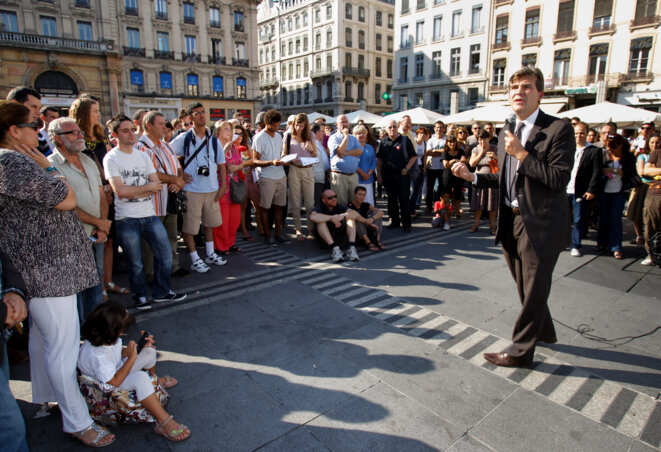 Heading for the Elysée? Arnaud Montebourg on the campaign trail back in 2011. © Reuters
He remains one of the most fascinating and colourful figures in French politics. Arnaud Montebourg was a high-profile figure in the government of President François Hollande, who as economy minister had a very public spat with a US business boss. In August 2014 he quit after disagreeing with the government's policies and went off to work in commerce. In the last 18 months Montebourg has kept a low public profile but has been assiduously meeting key figures and thinkers on the French Left. So is he, as many believe, discreetly preparing a bid for the French presidency in 2017? Lénaïg Bredoux reports.
Former major figure in government has enrolled at top institution because he wants to set up own firm and 'running a business is a real job'.
Three high-profile ministers left the government when it was reshuffled at the end of August, having signalled their disagreement with the economic policy being pursued by President François Hollande. Former minister for the economy Arnaud Montebourg and ex-education minister Benoît Hamon have both recently returned to the political fray, with more public criticism of the direction the administration is taking. Now, in an exclusive interview with Mediapart, the third minister, former culture boss Aurélie Filippetti, talks about how her "conscience" compelled her to leave government, the need for a fresh approach to the economy and her wish for a major reform of the French Constitution to make government "less monarchical". She spoke to Lénaïg Bredoux.
French Prime Minister Manuel Valls on Monday handed President François Hollande the resignation of his entire government following fierce public criticism of its austerity policies made this weekend by economy minister Arnaud Montebourg and education minister Benoît Hamon. The exit from government of Montebourg and Hamon was joined by culture minister Aurélie Filippetti, who announced on Monday her own opposition to continuing austerity measures. Hollande has asked Valls to appoint a new government, to be announced on Tuesday, that is "consistent with the direction" set by the president. In this analysis of a unique set of events since the founding of France's Fifth Republic constitution in 1958, Mediapart political affairs correspondent Hubert Huertas argues that Hollande has turned a ruling majority into such an imposing minority that a return to the urns is demanded.
Prime Minister Manuel Valls is to name a new government on Tuesday after his economy minister's weekend attacks on policy direction.
Benoît Hamon has joined the economy minister in a revolt against austerity measures, warning that they are sending France into recession.
Arnaud Montebourg attacked the 'dogmatic reduction of deficits, which is driving us to austerity and a continued rise in unemployment'.
Arnaud Montebourg, an outspoken critic of austerity, also attacked EU policies and said European Central Bank should do more to help growth.
Just a few weeks ago the chief executive of French company Alstom suggested that the group had no alternative but to sell its energy section outright to American firm General Electric. But then the economy minister Arnaud Montebourg stepped into the fray and brokered a deal, agreed last weekend, that offers considerably better prospects for one of France's flagship companies. And in doing so, says Martine Orange, the minister has not only scored a personal political victory, he has also shown that the state is not always powerless to intervene on the industrial landscape.
Economy minister Arnaud Montebourg, speaking after British eurosceptics' election win, mimicked David Cameron's offer to French tax exiles.
Surprise decree could be obstacle to General Electric's takeover of France's Alstom, as industry minister talks of need for 'economic patriotism'.
Segolene Royal first supports GE bid for French firm, then backtracks, as she also attacks some male ministers as 'cocksure machos'.
Led by prime minister Manuel Valls, ministers insist that eurozone political leaders should take up exchange rate issue and not leave it to ECB.
France's economy minister Arnaud Montebourg tells General Electric he 'cannot support' terms of current plan to buy French engineering giant.
France's economy minister expresses 'patriotic concern' at mooted takeover of French engineering giant Alstom by US firm General Electric.