Meng Hongwei, the Chinese head of the France-based international police organisation Interpol who disappeared after travelling to China last September, has admitted accepting more than 2 million dollars in bribes, according to a statement issued by a Chinese court in the north-east city of Tianjin.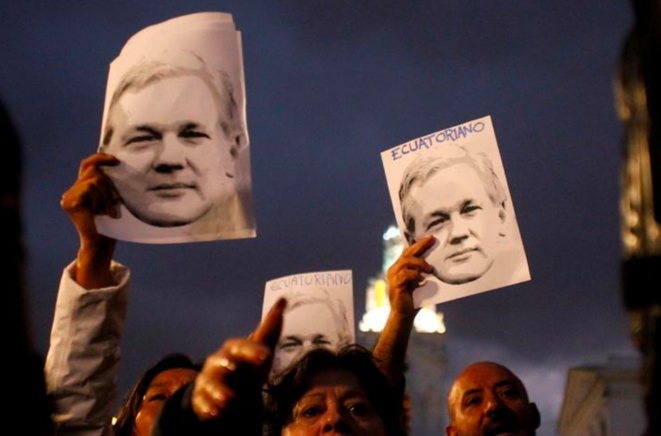 A demonstration in supporrt of Julian Assange held in Quito, the capital of Ecuador, on October 31st 2018. © Reuters
The fate of Julian Assange, just like that of Chelsea Manning or Edward Snowden, represents a far bigger issue than that of him as an individual, writes Mediapart's publishing editor Edwy Plenel in this opinion article. Whatever Assange's personal faults or mistakes, he argues, the move for his extradition to the US is about making an example of him to others because he had the audacity to challenge the powers that be with the weapon of the right to know.
US singer and actor Chris Brown, 29, was taken into police custody in Paris following a complaint by a  24-year-old woman that she was raped by him at suite at the Mandarin Oriental hotel in the French capital.
Rui Pinto, the Portuguese whistleblower linked to the Football Leaks revelations, was released on conditional bail by a Hungarian court on Friday after his arrest following an extradition demand issued by the Portuguese authorities. Pinto, 30, who is to fight the extradition demand, is accused of attempted extortion and data theft. Mediapart can confirm that he is cooperating with French prosecution services and has agreed to help Swiss prosecutors in separate investigations into suspected tax evasion and corruption revealed by the Football Leaks documents.
Alexandre Benalla, the disgraced former security aide to President Emmanuel Macron who last year was placed under investigation for assault and impersonating a police officer after video emerged of him beating people on the sidelines of May Day marches in Paris, was taken into police custody on Thursday for questioning over his alleged illegal obtention and use of diplomatic passports since leaving the Élysée Palace last August.
The case of the arrest and continued detention in Japan of Renault chairman and CEO Carlos Ghosn over alleged financial misconduct has revealed the severity of the Japanese judicial system, which again denied him bail at a hearing in Tokyo this week. But it has also illustrated the situation of impunity granted in France to numerous high-placed individuals like Ghosn, writes Mediapart co-founder Laurent Mauduit in this opinion article. For while it now appears that the French government is finally moving towards his replacement as head of the French carmaker, economy and finance minister Bruno Le Maire has until now done his utmost to protect Ghosn, even declaring that there was 'nothing in particular to report' on his tax situation in France, when in fact the boss of one of France's biggest industrial corporations has been a tax resident in the Netherlands since 2012.
French national Peter Cherif, 36, also known as Abou Hamza, wanted for his suspected involvement in the 2015 gun attack on the offices in Paris of satirical magazine Charlie Hebdo, which left 12 people dead, has been arrested in Djibouti, a former French colony in the Horn of Africa that lies opposite Yemen.
The French government is looking for candidates to replace Renault's boss Carlos Ghosn, currently detained in Japan over financial misconduct allegations, after several of the carmaker's board of directors, led by Cherie Blair, the wife of former British prime minister Tony Blair, urged Ghosn's dismissal amid deep strains his arrest has caused in Renault-Nissan-Mitsubishi alliance, according to an exclusive report by news agency Reuters.
A man who fled corruption and money laundering charges in his native Ukraine by faking a death certificate has been arrested near Dijon in east-central France where he was found to be living a luxury lifestyle with a château, works of art and vintage cars worth an estimated 4.6 million euros.
Saad Lamjarred, a Moroccan singer and a star in his home country who fled bail in the US after being charged with beating and raping a woman in New York in 2010, and who was accused of another rape of a woman in Paris in 2016, has been refused bail on appeal after he was arrested in France for the alleged rape of a woman in the Rivierra resort of Saint-Tropez.
A 25-year-old man reportedly receiving psychiatric treatment has been arrested for assaulting a young woman in a Paris street, caught on video and widely relayed by the media, after she objected to his sexually suggestive comments.
A once-closed investigation into the unsolved suspectedt murder of a four-year-old girl, whose unidentified body which bore marks of brutal injuries was found in a ditch beside a motorway in central France in 1987, appeared close to finally being solved after DNA identification taken from her brother arrested in 2016 for an unrelated violent crime led police to her parents, who were arrested this week.
The motives of a 26-year-old Moroccan man arrested after taking staff at a PR agency in central Paris hostage during a four-hour siege which ended without bloodshed when police stormed the building remained unclear Monday evening, according to official sources.
Stéphane Poussier, a parliamentary candidate in elections in 2017 for the radical-left France Insoumise (France Unbowed) party, has been arrested after sending a message via Twitter rejoicing over the death of gendarmerie officer Arnaud Beltrame, who voluntarily took the place of a hostage during Friday's terrorist shootings in south-west France and who subsequently died from gunshot and stab wounds.