The seven, and three other Italians still being sought, had been convicted of terrorism charges in Italy dating back to the 1970s and 1980s.
French police have arrested four men aged between 23 and 60 in connection with the kidnapping on Tuesday of an eight-year-old girl, which investigators believe was carried out on behalf of her mother who had lost custody of the child.
Police forces across Europe have carried out hundreds of arrests, seizing cash, drugs and weapons after listening in on an encrypted communications network used by criminal gangs which was cracked by French police in 2017.  
French media reports citing official sources said five people, including an imam, have been detained in connection with the murders of four staff at Paris police headquarters on October 3rd during a stabbing rampage by an IT worker at the site, Mickaël Harpon, which is being investigated by anti-terrorism police.
Five alleged members of a neo-Nazi cell in France, two of them minors, have been arrested on suspicion of planning to attack a place of worship, a source close to the investigation told French media.
The driver of an armoured cash-carrying van containing an estimated 3.2 million euros which disappeared as his colleagues delivered money to a Western Union office near Paris early on Monday has been arrested in Amiens, northern France.
A Chinese foreign ministry spokeswoman said France's call, along with other Western governments, for Beijing to release two Canadians arrested after Canada detained the chief financial officer of Chinese telecoms giant Huawei as 'strange' and 'very bad in the eyes of the Chinese people'.
Five men and a woman which prosecutors said have links to far-right circles have been arrested in several locations across France on suspicion of preparing a 'violent' aatack against President Emmanuel Macron.
Six people have been detained in the north-east French city of Lille in connection with a series of recent attacks on nine commercial businesses there, including against a butchers shop and a McDonald's fast-food branch, when windows were smashed and fake blood was daubed on walls.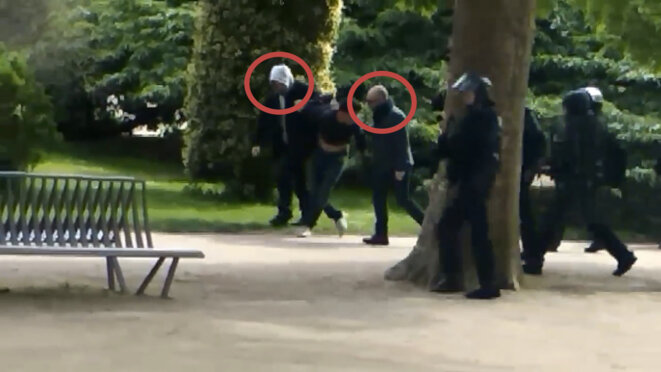 Alexandre Benalla (circled, with white hood) and Vincent Crase (circled right) during the arrest of a man in the Jardin des plantes on May 1st.
French President Emmanuel Macron's security aide Alexandre Benalla, together with an employee of Macron's ruling LREM party, Vincent Crase, were involved on May 1st in other incidents before they assaulted a man among May Day crowds at a square in the Latin Quarter of Paris. In a new video obtained by Mediapart, the two men, officially present alongside police as civilian "observers" of crowd-control operations that day, can be seen heavy-handedly joining in the arrest of a man at a public park. The new evidence of their violent and illegal behaviour that day further deepens the scandal of a suspected cover-up of their actions by the presidential office and senior police hierarchy.
Ten men, including a former gendarme, have been arrested across France for their suspected role in a plot to attack Muslims. Mediapart can reveal that one of the suspects had been setting up his own laboratory to make explosives. Matthieu Suc, Marine Turchi and Jacques Massey report on the story behind the dramatic arrests and the murky world of the far-right in France.
Arrests were made in operations across France but mainly on the island of Corsica, prosecution sources said.
Two Paris binmen who stole a truck from their service depot and attempted to empty the rubbish it was carrying outside the headquarter's of President Emmanuel Macron's political party were arrested in central Paris on Friday by gun-waving police.
French police on Tuesday arrested 16 people, including two women,  over their suspected involvement in an attack on two officers attempting to disperse an unauthorised wharehouse party in a Paris suburb last December 31st, when video published on social media showed a policewoman being kicked by a mob after she fell to the ground.