French interior minister Gérard Collomb said one of five people held for questioning after the discovery at the weekend of four gas bottles and a detonation device linked to a mobile phone at the foot of a residential building in a wealthy Paris neighbourhood is known to security services as a "radicalised" Islamist.
French judicial sources have confirmed that police have arrested two people on Wednesday in the Paris suburb of Villejuif where gas bottles and other components that can be used to make TATP explosives of the type used in recent terrorist attacks in France, Britain and Belgium were found in their flat.
The elderly relatives of Grégory Villemin, a four-year-old boy whose body was found in a river in eastern France after he disppeared from his family home, have been placed in custody for questioning, suspected of being the authors of poison-pen letters sent at the time of the murder, following an investigation by a specialist cold-case review unit of gendarmerie detectives.
Two men of French nationality aged 23 and 29 were arrested Tuesday morning in the southern city of Marseille when, according to the French interior minister, bomb-making chemicals and weapons were found in what the authorities suspect was a plan to launch a terrorist attack during this weeks French presidential election campaigning.
Three men, aged between 18 and 30, were arrested in dawn raids on Tuesday in the Paris region, Marseille and Clermont-Ferrand, in what press reports said was an urgent operation that was part of an investigtion opened in January.
Three men and a girl of 16 were found with bomb-making materials by anti-terrorist police in a raid on a flat in the southern city.
The Belgian ambassador to France was on Thursday summoned to explain why the two arrested police officers had crossed the border with 13 migrants in their vehicle.
The detained were all from the region around Nice in south-east France, suspected of helping Mohamed Lahouaiej Bouhlel mount his attack on July 14th, when he drove a truck into Bastille Day crowds on the Nice seafront causing the deaths of 86 people.
The three Syrians, who police suspect were a 'sleeper cell', appear to have travelled via the same traffickers as three suicide bombers who blew themselves up near Paris in November 2015.
French interior minister Bernard Cazeneuve gave few details of the arrests but said three of those arrested were preparing terrorist attacks.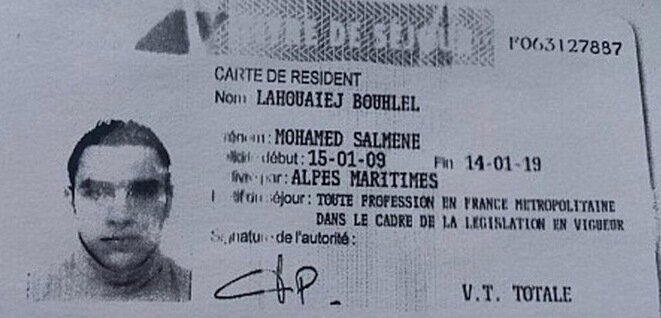 Mohamed Lahouaiej Bouhlel's residency permit. © DR
Three new arrests were made on Sunday as French investigators attempt to establish whether Mohamed Lahouaiej Bouhlel, the 31-year-old Tunisian who drove a heavy truck into Bastille Day crowds in Nice on Thursday, killing 84 people, received help from accomplices in preparing the massacre. Fresh evidence emerged this weekend suggesting he had carefully planned the attack, including CCTV footage of him reconnoitring the scene earlier last week. But despite a claim by the Islamic State group that Bouhlel was a "soldier" for the jihadist group, his motive remained unclear. Meanwhile, French health minister Marisol Touraine said on Sunday that "about 85 people" were still hospitalised after the carnage on July 14th, of which 18, including a child, were in a life-threatening condition. Graham Tearse reports.
The jihadist group claimed Tunisian who drove truck into crowd in Nice had followed its calls for such attacks; five people now in custody over the massacre.
Two England fans were arrested after clashes with local youths in the Old Port district of Marseille ahead of Saturday's England-Russia Euro 2016 match.
The UK-registered Audi was chased by Belgian police across border into France where its four occupents, reportedly Iraqis, were shot at and arrested.
Belgian prosecutors say Mohamed Abrini, who has admitted being third Brussels airport bomber, said the group changed target after arrest of Salah Abdeslam.