Keyword: Asif Ali Zardari
Related keywords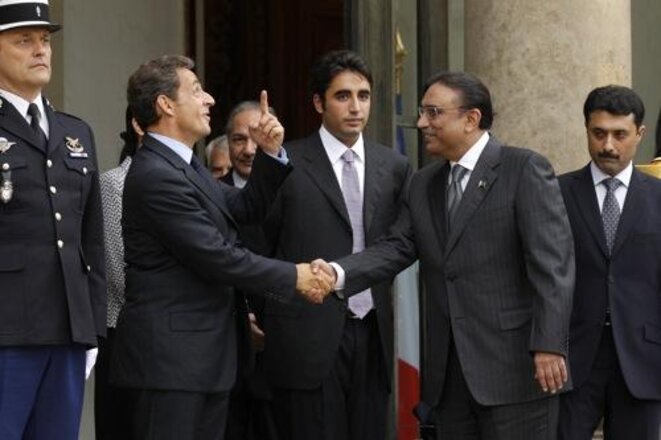 President Nicolas Sarkozy and Pakistani President Asif Ali Zardari. © Reuters
Mediapart has gained exclusive access to evidence obtained by a French judge investigating a suspected far-reaching financial scam surrounding the sale of French submarines to Pakistan that details how Pakistani President Asif Ali Zardari, widow of Benazir Bhutto, once pocketed millions of euros in bribes paid to secure the deal. But the bounty trail of bucks doesn't stop there, for one of those alleged to have rubber-stamped the payment was, according to several witness statements, Nicolas Sarkozy, before he became French president.
L'ancien président pakistanais Pervez Musharraf inspecte, en 2003, à Karachi, les sous-marins Agosta 90 B de la DCN, vendus au Pakistan en 1994. © Reuters
On May 8
th
, 2002, a group of 11 French naval engineers died in a bomb attack in the Pakistani port of Karachi. They had been helping with the construction of three Agosta 90 attack submarines, sold to Pakistan by France in 1994. An ongoing French judicial investigation into the blast is now working on the theory the murders were in retaliation for the non-payment by France of huge cash kickbacks promised to secure the deal. But evidence increasingly suggests that the bribe money was also ultimately destined for illegal political party funding in France.