Amid widespread outrage in Ferance over video images of an apparently racist and fierce assault by Paris police of black music producer Michel Zecler last weekend, President Emmanuel Macron released a statement on Facebook describing the attack as 'shameful', adding that 'those who apply the law must respect the law'.
Three police officers were suspended on Thursday after they were filmed by CCTV cameras following a black man from a north Paris street into his studio, where they can be seen punching him and beating him with a truncheon and, according to their victim, using racist language before then arresting him.
A group ,of 25 women have filed complaints for rape and sexual assault covering an 11-year period against a graffiti artist, identified as Wilfrid A, who has acquired a certain celebrity in Paris for his recurrent tags anouncing 'love runs about the streets', some of which have now been re-tagged with 'rapist' replacing 'love'.
Prosecutors have opened a preliminary investigation after videos filmed during a 'Yellow Vest' anti-government protest in the French capital on January 18th showed a man with a bloodied head being held down on his back by a helmeted officer, who then strikes him hard in the face.
A Paris court has handed suspended prison sentences to Hassa bint Salman, daughter of Saudi Arabian King Salman and half-sister of Crown Prince Mohammed bin Salman, and her bodyguard after they were found guilty of tying up and beating, on her orders, a workman who was in her luxury apartment in the French capital to repair a washbasin.
Video of incident bolstered support for plans in France to impose fines for sexual harassment on streets.
The Paris public prosecutor's office has opened an investigation after CCTV footage from a café was published on social media showing a young woman being assaulted by a man she had objected to after he made lewd comments and gestures while pasing her in the street.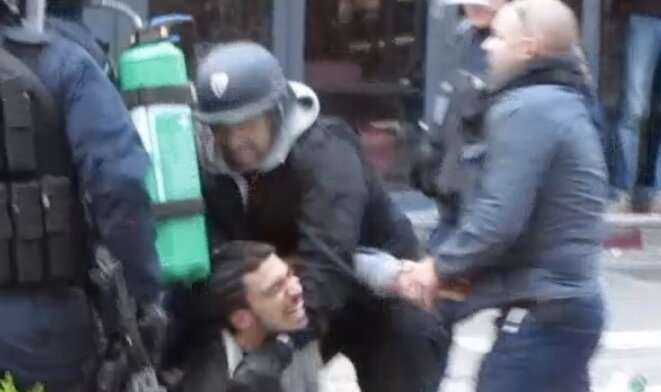 Alexandre Benalla (centre) and his associate Vincent Crase attack a demonstrator on May 1st in the presence of police. © DR
President Emmanuel Macron was this weekend mired the gravest crisis since he came to office little more than a year ago, after further revelations about the events when his personal security advisor physically assaulted May Day demonstrators while dressed as a police officer, and growing evidence that his extraordinary behaviour was covered up by the Élysée Palace and the interior ministry. Both Macron and his interior minister Gérard Collomb were reportedly made aware more than two months ago of the thuggish behaviour of the president's personal security advisor Alexandre Benalla, who was only finally dismissed from his post on Friday when he was taken into police custody two days after the scandal was first revealed by the media.
French President Emmanuel Macron's personal security aide Alexandre Benalla, who was revealed this week to have assaulted May Day demonstrators while wearing a police helmet and armband ID during what was supposed to be a mission of observation of crowd control police, has been fired and taken into custody for questioning as the scandal spread to allegations of a cover up involving France's interior minister and senior presidential staff. 
A police officer has been arrested after he was caught on CCTV footage violently assaulting a suspected thief in the cells of the main Paris court buildings, with the video sequence apparently leaked by one of his colleagues to a French website.
World 800m champion Pierre-Ambroise Bosse says he sustained 'multiple facial fractures' after a vicious late-night attack.
The 17 women published a tribune slamming existence of sexual assaults and harassment in politics and calling for parties to shame culprits and help victims.
The move follows accusations relayed by Mediapart and France Inter that Denis Baupin, forced to quit as deputy speaker, assaulted and harassed women politicians.
The 48 year-old allegedly flew into a rage after a patrol car refused his order to drive him home, then attacked officers at a police station.