French president Emmanuel Macron invites Christian who spent eight years on death row to live in country.
Assange's European defence team say it is their duty to raise case with French preesident Emmanuel Macron.
French foreign minister Jean-Yves Le Drian has said there is not 'any reason' for France to reconsider its decision in 2013 to deny asylum to former US intelligence agency whistleblower Edward Snowden, in contrast to his justice minister colleague who said she was favourable towards Snowden's comments in an interview from Moscow, where he lives with his wife in exile, that 'we would love' to be given an offer of asylum by President Emmanuel Macron.
Whistleblower Edward Snowden, a former CIA employee who revealed details of invasive secret surveillance programmes by US intelligence agencies and who has been exiled in Russia for six years to escape arrest in the US, said in an interview with French radio on Monday that he had applied for asylum in France in 2013 and 'would love to see Macron roll out an invitation', adding 'protecting whistleblowers is not a hostile act'. 
Grace Meng, whose husband Meng Hongwei faces bribery charges in China, was given protection by French police after alleged abduction bid.

Grace Meng, the wife of Interpol boss Meng Hongwei, who disappeared without trace last September after travelling to China from Lyon, where the international police cooperation organisation is based, has been granted political asylum in France, along with the couple's two children.
One MP from ruling LREM, Jean-Michel Clément, rebelled and announced he was quitting the president's party after voting against the reform.
The French government's proposed legislation to reform immigration and asylum laws has begun its passage through parliament this week, to fierce attacks from opposition MPs of both the Left and the Right. The conservatives, whose policies under their new leader have veered towards the hard-right, claim the bill is little more than soft tinkering of current laws, while the Left denounce an unjustified clampdown on migrants' rights, a view shared by some among President Macron's ruling LREM party. Mathilde Mathieu was in parliament to witness the early exchanges of what promises to be a week of inflamed debate.
Prime minister Édouard Philippe has sought to clarify plans after aid and emergency agencies accused government of planning mass expulsions.
In the wake of footage of sub-Saharan migrants captured in Libya being sold as slaves, France has pledged to offer asylum to 25 Eritreans, Ethiopians and Sudanese, including 15 women and four children, who were taken to Niger under UN protection from detention in the North African country. 
The teenagers, who were removed from the notorious 'jungle' camp in Calais and placed in a reception centre in south-west France, staged a protest at the refusal by British authorities to allow 39 of them to settle in the UK.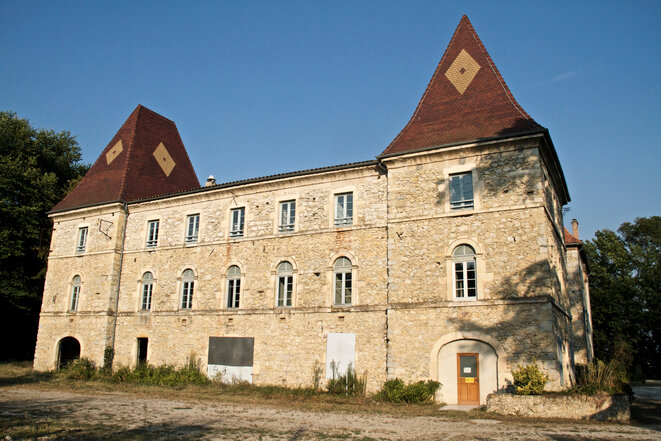 The Château de Pergaud, near Allex, where migrants will be offered temporary shelter. © L. Geslin
The usually tranquil village of Allex, in the Drôme Valley region of south-east France, has become agitated over the imminent opening of a reception centre for migrants. Villagers' opposition to the centre, which will house about 50 individuals, has prompted the mayor to announce a referendum on the issue. Laurent Geslin reports from this small village of 2,500 inhabitants where, as France's 2017 presidential election campaign draws closer, local conservative and far-right parties have jumped upon the opportunity to stoke the fires of prejudice and resentment.
Campaign in Béziers in southern France to allow Al Elfi family to stay succeeded after a decision to expel them was overturned.
Watchdog says France spends too much money on asylum seekers, too few failed applicants are being deported and the process is too long.