Combo, who has a Lebanese Christian father and a Moroccan Muslim mother, was attacked as he was putting up some art on a Paris street.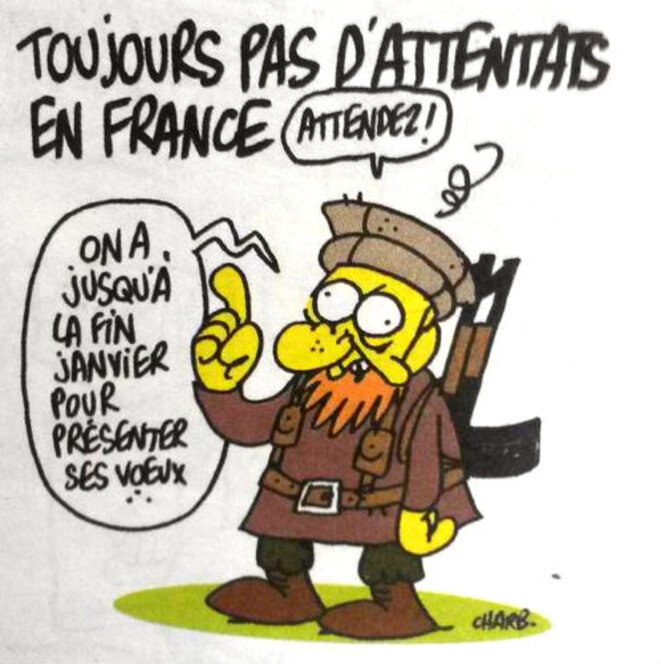 Un des derniers dessins de Charb, publié le 7 janvir 2014 © Charb
The attack by gunmen on the offices of Charlie Hebdo on Wednesday came almost nine years after the French satirical magazine found itself at the centre of a fierce controversy for first reproducing in France the so-called 'Prophet Muhammad caricatures' originally published in a Danish newspaper. Charlie Hebdo has since continued to publish cartoons that mock Islamic fundamentalism, prompting the anger of a section of Muslims in France and abroad, and which led to a devastating firebomb attack on its offices in 2011. The magazine has regularly defended its position as that of a satirical publication that is equally irreverent towards the hypocrisies of all religions. Dan Israel traces the bitter background to Wednesday's horrific outrage.
The victims, who include two police officers, were killed after hooded gunmen attacked the Paris office of the French satirical magazine.
Eleven people were injured, two seriously, after a man in his forties slammed his car into groups of pedestrians in Dijon, south-east France.
Investigators say evidence points to 'Islamist motives' for an attack on a police station that left three officers wounded and the assailant shot dead.
The knife-wielding, Burundi-born French national reportedly shouted 'Allahu Akbar' as he wounded three officers before being shot dead.
A gang of eight heavily-armed men stole 250,000 euros and reportedly 'sensitive' documents from the convoy heading for Le Bourget airport.
The 16 year-old, suspected of stealing, was severely beaten in a cellar before being abandoned in a supermarket trolley beside a main road.
Amnesty International reports that the campaigner for anti-government protesters demonstrating in Ukraine was bound and stabbed in Strasbourg.
Three youths detained after the mentally-disabled 18-year-old victim, who was physically unhurt in the attack, was pushed into a stream.
The anti-Semitic French comic was arrested after a bailiff complained of being assaulted when demanding payment from him of several fines.
The 67 year-old Italian national, head of a Paris theatre, was arrested after driving his car into the 19th-century gates of the Elysée Palace.
Syrian president Bashar al-Assad warns the Middle East could "explode" if the US and France pressed ahead with threatened air strikes.
French PM Jean-Marc Ayrault has presented intelligence to parliamentarians which he says shows al-Assad regime has used chemical weapons.