Related keywords
Six people have been detained in the north-east French city of Lille in connection with a series of recent attacks on nine commercial businesses there, including against a butchers shop and a McDonald's fast-food branch, when windows were smashed and fake blood was daubed on walls.
The official revelation that a group of soldiers on security patrol close to the Bataclan muic hall, where 90 concert goers were massacred by an Islamic State terrorist group on the evening of November 13th 2015, were ordered not to intervene has prompted a legal complaint by survivors and victims' relatives.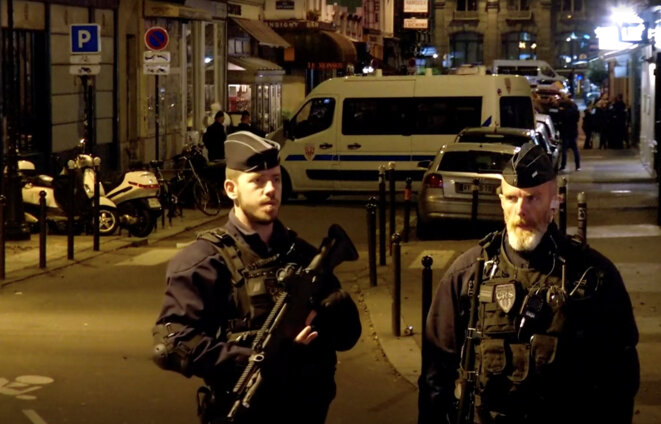 Police stand guard on the rue Monsigny after the attack on Saturday evening. © Reuters TV
One person was killed and four others wounded after a French national of Chechen origin went on a knifing rampage in central Paris on Saturday evening, in a terrorist attack claimed by the Islamic State group (IS). Khamzat Azimov, born in Chechnya in 1997, was shot dead by police minutes after he began stabbing passers-by on a street near to the Garnier Opera house. Mediapart terrorism specialist Matthieu Suc analyses here the reasons behind the changing strategy of IS-sponsored attacks in Europe, and in France in particular where they have claimed the lives of 246 people since 2014.
The Islamic State group (IS) has claimed responsibility for the attack by a knife-wielding man who stabbed passers-by in the Paris central Opera district at around 9pm local time on Saturday, when he killed one person and wounding at least four others, two seriously, before police shot the him dead.
An open-ended strike by French prison guards over pay and conditions, prompted by a series of assaults on staff in several jails across the country, will enter a second week on Monday, with unions calling for a 'total blockage' of establishments after government proposals to increase staff numbers were rejected at the weekend.
French media reports said the 36-year-old, who was seriously wounded during his arrest by armed police in northern France hours after six soldiers were mowed down by a car in the Paris suburb of Levallois-Perret, is an Algerian national living close to the French capital who was unknown to French security services but who had a record of petty crime.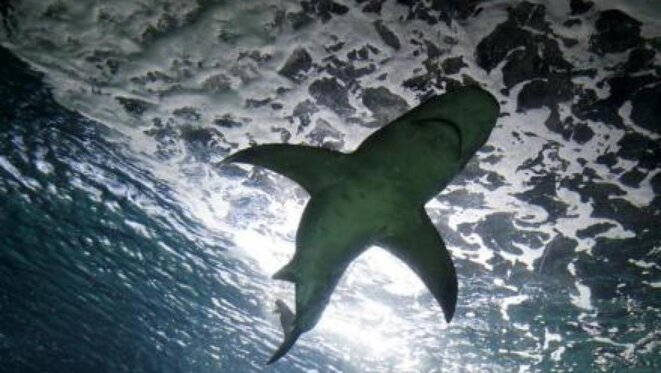 Nine people have died from shark attacks on La Réunion since 2011. © Reuters
Over the past six years a spate of shark attacks have hit the French Indian Ocean island of La Réunion, leaving nine people dead and many others badly wounded. The problem, virtually unknown before 2011, has traumatised the local population, and in an effort to reduce the danger local authorities have introduced a programme of shark culling, which has outraged conservationists. In all, more than 10 million euros have been ploughed into measures including the erection of safety netting around beaches and the employment of divers to scout for predators close to resorts. But the attacks are continuing, and despite numerous scientific studies no-one knows why. Julien Sartre reports from La Réunion, where locals are anything but united on how to deal with the problem.
The victims, part of a school group from Brittany on a visit to London, were mowed down when the driver of a vehicle mounted a pavement on Westminster Bridge and rammed into pedestrians, killing at least two people and injuring about 20 others.
Syria-based Oussama Atar, 32, believed to be a member of the Islamic State group, was already a suspect in the March 22nd attacks on Brussels in which his brothers participated as suicide bombers, but has now been named as the coordinator for the November 13th atrocities in Paris last year which left 130 people dead.
Police officers angry at increasing attacks against them - the latest in the form of Molotov cocktails thrown into a patrol car, leaving a policewoman badly burned and her male colleague in a critical condition - have held fresh demonstrations in which they cprotested against under-staffing and inadequate equipment.
The ceremony, at the Invalides military complex in Paris, was attended by hundreds of relatives of the victims of a series of terrorist attacks in France since January 2015, and also by President François Hollande and political leaders.
At least 13,000 people attended a protest over what they say is a crime wave targeting the Chinese community in France.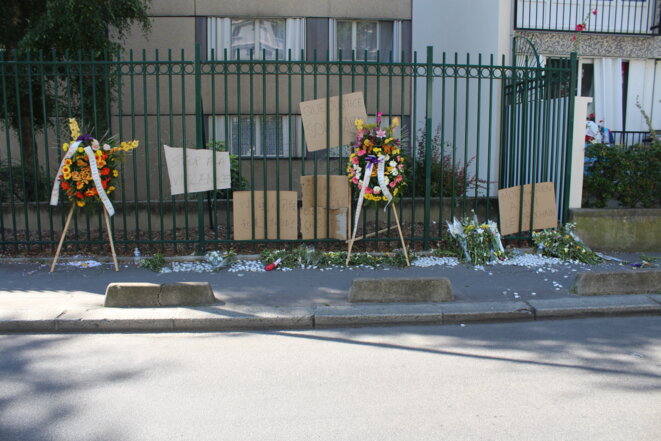 Tributes at the scene of the assault on Chaolin Zhang in Aubervilliers. © AD
The death earlier this month of a Chinese man after he was assaulted in the Paris suburb of Aubervilliers has sparked furious protests from the local Chinese and South-East Asian populations, which are increasingly the target of gratuitous violence and robberies by gangs of youths fof other ethnic origins. The authorities and the media have largely ignored the racist attacks against the Chinese community, which has now begun to set up its own self-defence groups. Aurélie Delmas reports from Aubervilliers where the mayor warns of a powder-keg situation.
Fewer than two years after satirical paper suffered terror attack that killed 12, 'written death threats' are said to have been made against it online.