Related keywords
An audit ordered by safety watchdog revealed anomalies in 400 reactor parts, some still in service, raising suspicion of falsified documents.
Auditor's report is said to criticise lack of oversight by state-controlled nuclear group of multi-billion euro projects, plus high pay awards.
Budget watchdog calls for new round of drastic cuts and an immediate freeze in public sector pay, warning public finances are badly off track.
As the French government prepares austerity measures for the economy, members of parliament throw out a proposal to audit their allowances.
The French national audit office report into spending by the French presidential offices during 2010 was largely complimentary over the achieved reduction in the administration's costs. However, it raised more than an eyebrow over the lack of accountability of spending on President Sarkozy's 'communications' advisors. Mathilde Mathieu and Michaël Hadjenberg report.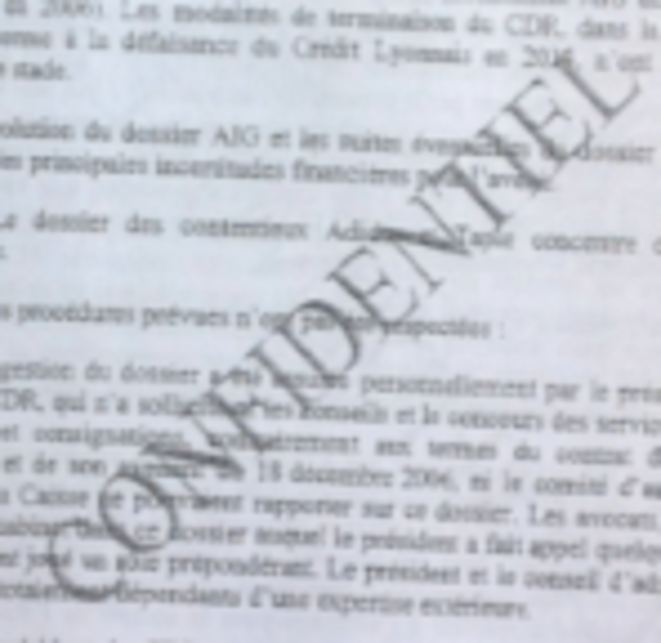 Aperçu de l'une des pages du rapport
French finance minister Christine Lagarde is hotly tipped to replace Dominique Strauss-Kahn, arrested in New York last weekend on sex assault charges, as Managing Director of the International Monetary Fund (IMF). Mediapart has exclusively obtained a copy of a confidential report (pictured) by the French national audit office, the Court of Accounts, which we publish here and which could potentially scupper her candidacy to become IMF chief. It throws deep suspicion on Lagarde's role, already the object of legal moves for suspected "abuse of authority", in a massive out-of-court settlement of 403 million euros of public funds awarded to controversial French tycoon Bernard Tapie in 2008. Laurent Mauduit reports.