Keyword: Aurélie Filippetti
Related keywords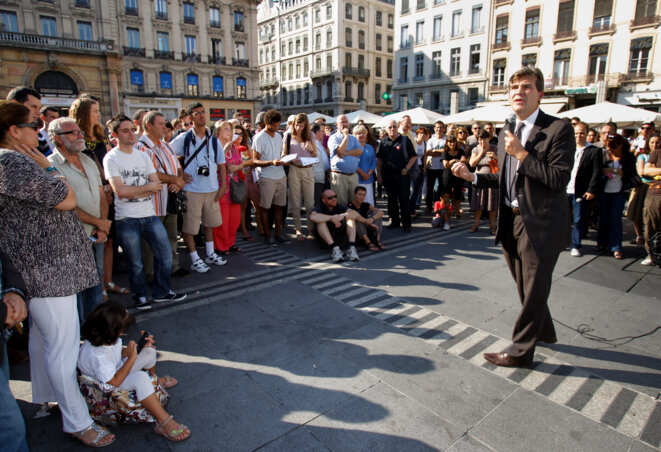 Heading for the Elysée? Arnaud Montebourg on the campaign trail back in 2011. © Reuters
He remains one of the most fascinating and colourful figures in French politics. Arnaud Montebourg was a high-profile figure in the government of President François Hollande, who as economy minister had a very public spat with a US business boss. In August 2014 he quit after disagreeing with the government's policies and went off to work in commerce. In the last 18 months Montebourg has kept a low public profile but has been assiduously meeting key figures and thinkers on the French Left. So is he, as many believe, discreetly preparing a bid for the French presidency in 2017? Lénaïg Bredoux reports.
Critics unhappy that man chosen to run the renowned modern arts centre is a top government official with no experience in museum administration.
Three high-profile ministers left the government when it was reshuffled at the end of August, having signalled their disagreement with the economic policy being pursued by President François Hollande. Former minister for the economy Arnaud Montebourg and ex-education minister Benoît Hamon have both recently returned to the political fray, with more public criticism of the direction the administration is taking. Now, in an exclusive interview with Mediapart, the third minister, former culture boss Aurélie Filippetti, talks about how her "conscience" compelled her to leave government, the need for a fresh approach to the economy and her wish for a major reform of the French Constitution to make government "less monarchical". She spoke to Lénaïg Bredoux.
Culture minister sacks museum boss as government hits back after claims by artist's son that France 'doesn't care' about Pablo Picasso.
Culture minister Aurélie Filippetti said she did not want planned sale of objects that belonged to Adolf Hitler and Hermann Goering to go ahead.
Aurélie Filippetti, who had earlier promised to inaugurate the institute, cancelled at last minute, saying exercise 'still raises questions'.
Law to save bookships will restrict companies such as Amazon from combining offers of five percent discounts with free deliveries.
A senior figure in the Socialist Party has angrily criticised French culture minister Aurélie Filippetti for allegedly snubbing Rivesaltes, a former internment and deportation camp in southern France which is set to become a memorial in 2015, during a recent trip to the area. The culture minister has dismissed the claims as 'absurd'. To understand the importance of the memorial site behind this political squabble, Mediapart asked historian Denis Peschanski to describe the political and historical issues at stake in a camp that revives some of the worst memories of the Second World War in France. Antoine Perraud reports.
French culture minister Aurélie Filippetti is accused of sexism for wanting to place Sylvie Ramond as the first ever woman head of the Louvre.
Aurélie Filippetti urges Bollywood producers to consider the benefits of filming in French Alps during two-day trip with President Hollande in India.
The future of the French body for policing illegal downloads, Hadopi, is uncertain after government says it is too expensive and failing to meet its goals.
Government considers extending TV licence fee to include computer screen owners to boost revenues for public-sector broadcasting operations.