Nobel prize-winner Joseph Stiglitz said Germany's influence on economic policy of President Hollande involved 'a kind of intimidation'.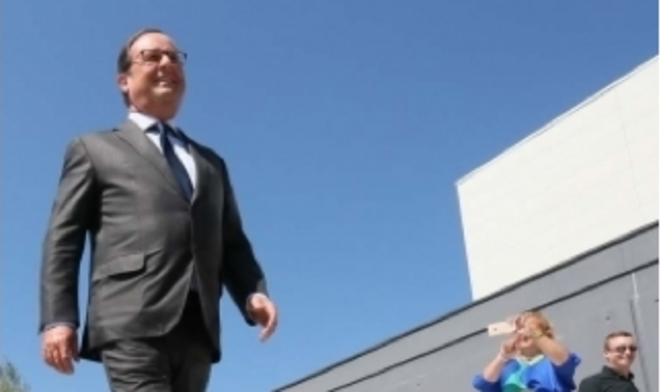 Hollande le 20 août.
While many of his opponents and rivals have begun losing ground, frought by party infighting, the horizon towards a re-election as French president in 2017 is now clearing for François Hollande. In a remarkable turnaround from the calamitous situation just 12 months ago, a drubbing for the long-unpopular president is no longer certain, and a new term in office has become plausible, even a certainty for some of his entourage. But, Mediapart editor François Bonnet argues here, that is to underestimate the political boomerang that represents the profound social crisis in France that marks his presidency, and the unprecedented and developing European crises he has failed to address.
Sections of the Left in France greeted Syriza's triumph in the Greek elections on Sunday with great enthusiasm, with some hailing it as an "historic moment". But the success of the Greek party, which unites various left-wing groups, has also highlighted the continuing divisions on the Left in France and its own failure to create a lasting electoral coalition. At the same time the challenges facing the new Syriza government, which is seeking to end austerity and renegotiate its debt burden with the EU and international bodies, underline the problems facing any left-wing administration in Europe. A key question is whether France's own socialist president, François Hollande, will now seize the opportunity to change economic direction and push the EU and Germany to back more growth-oriented policies. First, Mediapart's Stéphane Alliès, in Paris, examines how the French Left will react to the Greek results, then Brussels correspondent Ludovic Lamant wonders whether any truly left-wing policies can be carried out by national governments under current eurozone rules.
Premier Manuel Valls said Berlin and Brussels had to be 'careful' about how they spoke to France and that Europe project was 'at risk'.
Ministers say borrowing will meet EU limits two years later than promised and that 'no further effort will be demanded of the French'.
The US economist and Nobel prize-winner slammed French president for letting his country 'be bullied as if it were a basket case'.
Prime Minister Manuel Valls is to name a new government on Tuesday after his economy minister's weekend attacks on policy direction.
Benoît Hamon has joined the economy minister in a revolt against austerity measures, warning that they are sending France into recession.
Arnaud Montebourg attacked the 'dogmatic reduction of deficits, which is driving us to austerity and a continued rise in unemployment'.
The European Commission's incoming president, centre-right politician Jean-Claude Juncker, caused surprise this summer when he pledged his support for a continent-wide minimum wage. Juncker, who will take up his post in November, has not yet detailed the potentially complicated practical framework for applying the minimum wage, a move which runs against the tide of the blanket austerity policies until now championed by Brussels. While Juncker faces numerous obstacles to succeed with the scheme, not least from European treaty texts, the idea that raising low incomes would be beneficial to economies appears to be gaining support even from the most unexpected quarters. Mediapart's Brussels correspondent Ludovic Lamant reports on the arguments for and against, and in just what form a pan-European minimum wage might finally see the light of day.
Just before French government members left on their two-week summer holidays earlier this month, they met with President François Hollande for a confidential seminar in which they were presented with an alarming set of economic figures and forecasts that promise dark times when they return to work on August 18th. The deflationist spiral into which Europe is being drawn threatens to destroy all hope of France recovering growth, reducing already chronic unemployment, or of straightening its public accounts. Just as worryingly, the government appears divided and dithering over the policy direction to be adopted to avoid what some business leaders predict could become a new and catastrophic crisis by 2015. Mediapart's economic and business affairs correspondent Martine Orange reports.
Plans that include freezing all state pensions and welfare benefits for a year may be tweaked to ward off revolt by some of his party's MPs.
Demonstrators showed anger over President Holande's 'pro-business' measures with slogans such as 'When you are leftist you support employees'.
At meeting in Germany, finance minister Pierre Moscovici says Paris still committed to getting finances in order, but not at expense of growth.