After submarine deal row, diplomat Jean-Pierre Thébault will head back to Canberra to 'redefine' the relationship.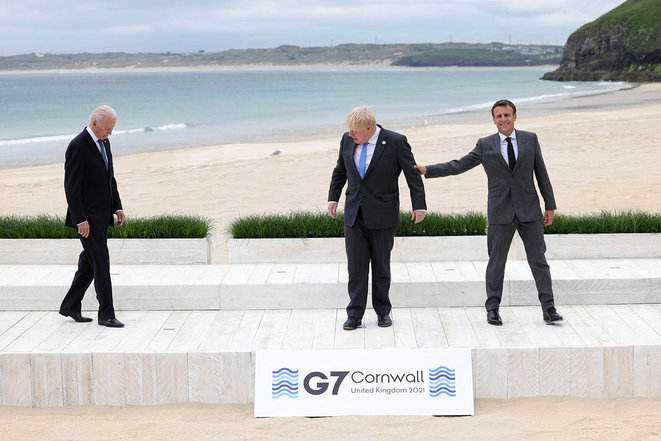 Joe Biden, Boris Johnson and Emmanuel Macron at the G7 leaders' meeting hosted by the UK, June 11th 2021. © Photo Andrew Parsons / 10 Downing Str / Agence Anadolu / AFP
After a phone conversation on Wednesday, US President Joe Biden and his French counterpart Emmanuel Macron appeared to have at least partly defused tensions over the new military pact between Australia, the UK and the US which entailed the cancellation of Australia's purchase of 12 French submarines worth 56 billion euros. In this op-ed article, Mediapart's international affairs specialist François Bougon argues that the diplomatic crisis of recent days should prompt a re-think of France's global role and an end to the notion of its grandeur and exceptionalism, a heritage handed down from Charles de Gaulle.
As French government anger mounts over Australia's announcement this month that it has abandoned an agreement to buy 12 submarines from France in favour of a defence and weapons pact with the US and UK, French European affairs minister said Paris is ready to block ongoing EU talks for a trade deal with Australia, which he called 'a country in which we no longer trust'.
Paris has called off a meeting due in London this week between France's armed forces minister and her British counterpart amid a heightening row  over Australia's decision to abandon a deal to buy 12 French diesel-electric submarines in favour of a pact with the US and UK.
The announcement of a US-UK-Australia defence pact to face China's growing influence in the Indo-Pacific region has brought an abrupt and unexpected end to a 56-billion-euro deal signed in 2016 for the sale by France to Australia of 12 submarines, which will now instead be built in the US and UK.
Australia and France have begun negotiations to significantly upgrade military co-operation, which would boost inter-operability between their forces.
The scalloped hammerheads were all taken over an eight-year period to the Nausicaá aquarium in the French port of Boulogne, near Calais.
But Australia academics say the president's motivations have more to do with French politics and that France is 'fairly peripheral' to region.
Macron due to discuss security in Pacific where France has significant interests, with both countries concerned over rising Chinese influence.
Bullecourt in northern France was scene of heaviest Australian losses in war in battle that became symbolic of incompetence of British generals.
French lobbying, including by François Hollande and 'a bus full of generals', helped win €34bn Australian deal over low-key German rival bid.
The 12 Shortfin Barracuda submarines will be built by French defence and naval group DCNS in Adelaide using Australian steel.
Officials from Malaysia, China, Australia and France hold meeting in Paris to discuss progress of investigation into missing plane.
Last year, the United Nations Refugee Agency (UNHCR) and Amnesty International denounced the appalling conditions at an Australian immigration centre in Papua New Guinea, one of two offshore Pacific camps used by Australia to detain and process migrants' demands for asylum. But the alarm went unheeded, and in February this year a revolt by the detainees led to a bloody confrontation that left one 23 year-old Iranian asylum seeker dead, and 77 other people injured, some by gunshot and machete blows. Mediapart has gained access to a series of photos of the injured detainees and witness accounts of the tragic events on February 16th and 17th which received little coverage outside of Australia. Carine Fouteau reports on the inhumane and humiliating treatment Australia reserves for asylum seekers, one of whom, an Iraqi national aged 43, told Amnesty International that, given their fate, "if we had died in the ocean, that would have been better."