The organisers of a demonstration planned for this weekend in solidarity with Palestinians amid the Israel-Gaza military conflict said they will go ahead with their march despite an official ban on the gathering which, authorities argue, carried the threat of public disturbance.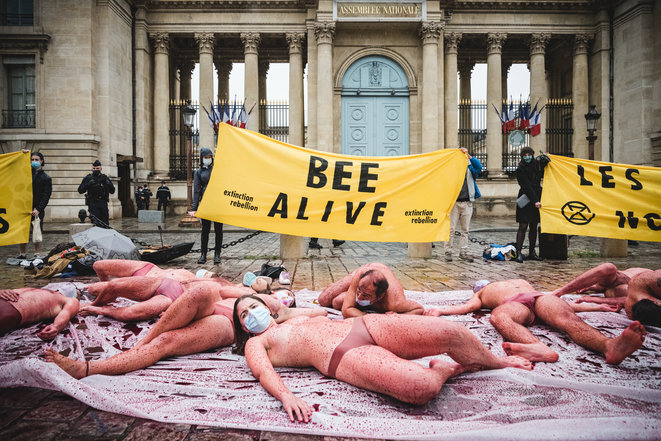 A protest by the Extinction Rebellion movement during the parliamentary debates over the partial lifting of the ban on the use of neonicotinoids, October 5th 2020. © NurPhoto/AFP
The French parliament earlier this week approved a three-year exemption for sugar beet growers from a ban on the use of a class of pesticides known as neonicotinoids. The sugar beet sector has argued that its future was at stake because it was otherwise unarmed to counter the loss of crops caused by an aphid-borne virus disease. But the move outraged environmentalists who point to the inevitable effects of soil and water contamination by neonicotinoids, which are notably harmful for bees, and the dangers for human health. Amélie Poinssot highlights the ill-informed arguments presented in parliament in favour of a return of the controversial pesticides.
French environment minister Barbara Pompili has announced the beginning of a 'process' for the prohibition of keeping wild animals in captivity, notably for public entertainment such as in circuses or aquatic shows, and an end to mink rearing for the fur trade.
The until-now familiar heating devices to allow more comfortable al fresco conditions for clients of French bars and cafés, notably allowing smokers a space outside tobacco-free indoor drinking and dining, are to be banned after the coming winter as part of what is officially decribed as an environmental measure to clampdown on superfluous energy consumption.
Crowds of mostly young people in Paris gathered together with drinks and without masks at sites beside the River Seine and the Saint-Martin canal to celebrate the end on Monday of the lockdown on public movement, prompting the capital's police prefect to ban alcohol consumption at the locations for fear of a spread of the Covid-19 virus.
The nine mayors in the Sarthe département or county have banned falling ill, in a symbolic move to highlight the lack of local doctors.
Single-use plates, cups, and cotton buds were banned from January 1st; more will be banned next year, in first steps towards goal of phasing out all single-use plastics by 2040.
The French government has announced that a food additive containing titanium dioxide, which appears on labels under the code E171, and which is used mostly for colouring sweet products and sauces, but also employed in sunscreens, will be banned from January 1st 2020 after evidence that it is possibly carcinogenic.
Israeli police interrupted an event at an official French cultural centre in Jerusalem on Thursday, claiming it intended to host an event organized with a women's association 'sponsored or financed by the Palestinian Authority' and 'without authorization'.
France's civil aviation authority, the DGAC, has announced a ban on Boeing 737 MAX  airliners from flying 'into, out of, or over French territory', a move mirrored by several other European countries, in what it called 'a precaution' following the crash of an Ethiopian Airlines plane of the same model on Sunday in which all 157 passengers and crew were killed.
A court in Lyon has ruled that safety risks were not properly taken into account when a version of Bayer's weedkiller Roundup, Pro 360, which contains the suspected carcinogen glyphosate, was allowed to go on sale in 2017, prompting its removal from sale across France.
French parliament on Thursday voted in favour of the introduction of a law prohibiting the use of mobile phones by children at state schools, extending and reinforcing a ban on mobile phones already applied by about half of France's almost 60,000 educational establishments.
Decision to ban Titanium dioxide, used mainly as a whitening and brightening agent in foods, comes after studies suggested it may cause cancer.
Sales of non-meat products which use terms on packaging labels adopted from products of animal origin, such as 'veggie burger' or 'soy sausages', are to be banned in France after parliament adopted a bill submitted by an MP and farmer from President Emmanuel Macron's LREM party.