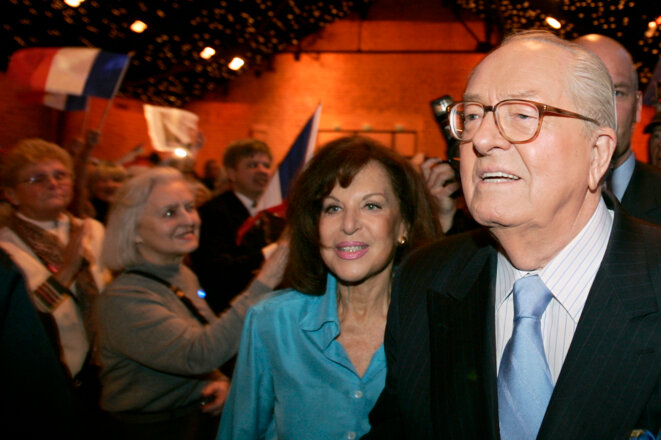 Jean-Marie et Jany Le Pen le 21 janvier 2007. © Reuters
Jany Le Pen, wife of the founder of France's far-right Front National party, Jean-Marie Le Pen, has held a secret bank account in Switzerland, according to information obtained by Mediapart. That brings to three the number of hidden Swiss accounts associated with Jean-Marie Le Pen, and France's special prosecutor for financial fraud is now understood to be investigating the former FN president's financial affairs in Switzerland. The affair also throws the spotlight on socialite Jany Le Pen, Jean-Marie's second wife, to whom he has been married for 24 years. Though she usually steers clear of party political issues, Jany Le Pen has on occasions acted as the FN founder's de facto emissary. Karl Laske and Marine Turchi look at the new allegations and examine the profile of a woman who has shared Jean-Marie Le Pen's life for more than a quarter of a century.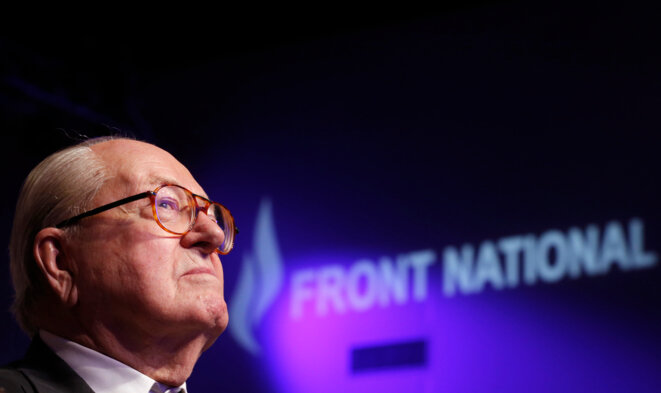 À la convention du FN pour les municipales, le 17 novembre 2013. © Reuters
The honorary president of the far-right Front National, Jean-Marie Le Pen, was the economic beneficiary of a undisclosed trust in Switzerland which was overseen by his butler and which contained 2.2 million euros in its bank account, according to information received by Mediapart. Gold ingots and coins made up 1.7 million euros of the sum involved. The revelation of the undeclared account, which was at the HSBC bank and then moved to the Compagnie bancaire helvétique (CBH), is set to provide fresh embarrassment for the Front National which is already the subject of a a judicial probe over campaign funding, and which has been hit by a damaging public split between Jean-Marie Le Pen, its former president, and his daughter Marine Le Pen, its current president. Jean-Marie Le Pen could now face investigation for tax fraud or for making false declarations to public authorities. Karl Laske and Marine Turchi report.
Authorities confirm that the request for details concerns an account held at Swiss bank UBS by the former Arsenal captain.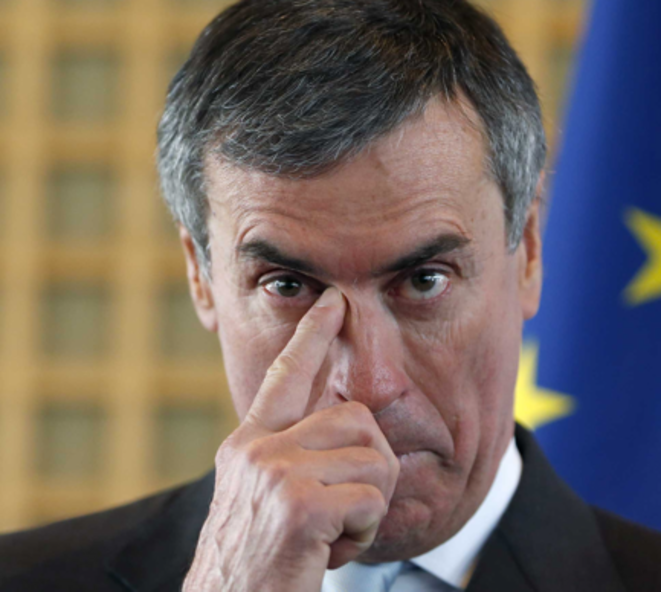 J. Cahuzac. © (Reuters)
Disgraced French budget minister Jérôme Cahuzac in April finally admitted holding a secret, tax-evading bank account abroad, the existence of which was first revealed by Mediapart in December 2012. Now Mediapart can lift some of the mystery that surrounded the complex web of structures which allowed Cahuzac to move his hidden funds across the globe, from Switzerland to Singapore via the Seychelles, allegedly with the help of a Dubai-based former board member of the Swiss bank Reyl & Co. Mathilde Mathieu, Fabrice Arfi and Dan Israel report.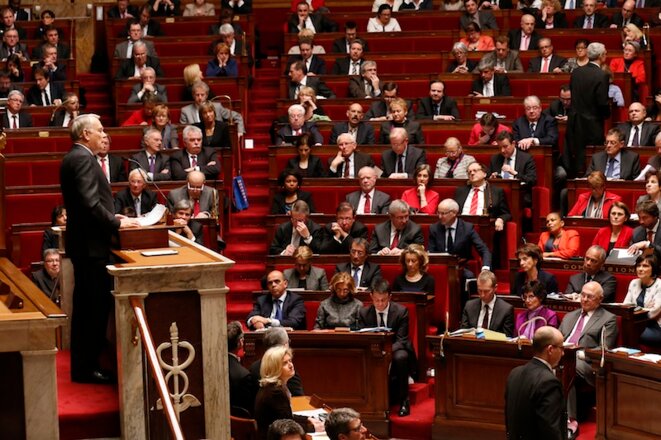 © Reuters
The resignation of budget minister Jérôme Cahuzac after a full judicial investigation was launched over his Swiss bank account sent shock waves through the ruling Socialist Party. Many MPs refuse to believe that their colleague has lied over the affair. Others want to turn the page as quickly as possible and put the matter behind them. But as Mathieu Magnaudeix, Stéphane Alliès and Lénaïg Bredoux report, one thing that is certain is that the resignation has not improved the mood in the ruling party, where one MP likened the current situation to a football match in which his side is being hammered...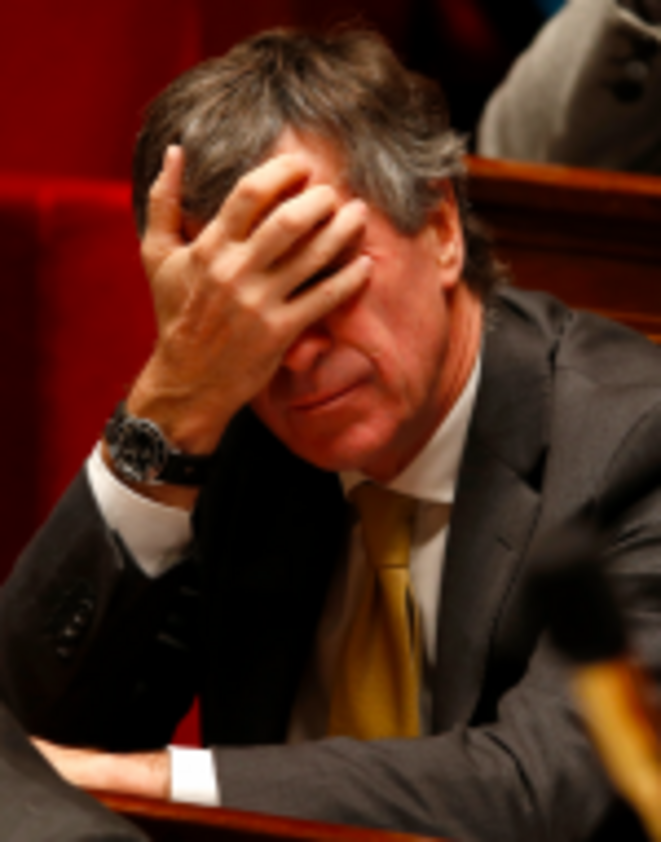 © Reuters
French budget minister Jérôme Cahuzac (pictured) has resigned after it was announced on Tuesday that a full-blown independent judicial investigation has been opened into evidence he held an undisclosed bank account in Switzerland. The events follow the authentication by forensic police of a tape, first revealed by Mediapart, on which he is heard discussing the account, which he has hitherto denied holding. Announcing the opening of a judicial investigation, the Paris public prosecutor's office said an examining magistrate will now seek the cooperation of the authorities in Switzerland and in Singapore, to where funds from the account were allegedly transferred. It also revealed the investigation will pursue claims that money paid into Cahuzac's account came from pharmaceutical companies.
The position of Budget Minister Jérôme Cahuzac in President Hollande's government looks increasingly under pressure after a preliminary formal investigation has revealed that a key element in the allegations surrounding his undisclosed Swiss bank account has been authenticated. Technicians and witnesses have confirmed that a tape recording in which Cahuzac is heard discussing his bank account at UBS in Geneva is genuine, and that the voice indeed belongs to the socialist politician. Cahuzac has always denied having the account. Investigators now believe the affair should be handed over to an independent examining magistrate. Fabrice Arfi reports.
Budget minister Jérôme Cahuzac has adopted a fresh strategy as he tries to defend himself against Mediapart's investigation that shows he had an undisclosed Swiss bank account until 2010. Cahuzac is trying to get the bank to waive its banking secrecy rules to confirm he held no such account – something the bank has so far refused to do. But as François Bonnet and Dan Israel point out, behind this apparent delaying tactic there is a clear conflict of interest between Cahuzac the budget minister and Cahuzac the private bank customer. Which is why, they argue, only an independent judicial investigation can get to the heart of the affair.
For more than ten days budget minister Jérôme Cahuzac has either refused to comment or set up a media smokescreen over key elements of Mediapart's claim that he had a secret Swiss bank account until February 2010. So far the government has backed the minister, who has denied ever having such an account. Here Mediapart's editor François Bonnet details the five crucial points over which the minister still needs to respond, including the recorded conversation in which Cahuzac is clearly heard discussing the UBS bank account in Geneva.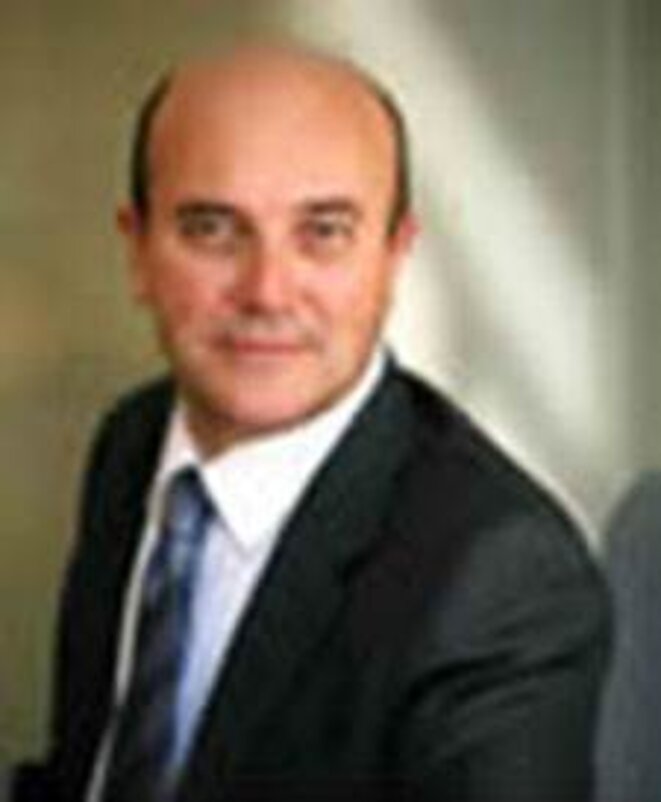 Jérôme Cahuzac, the budget minister accused of having a secret Swiss bank account until 2010, has amassed considerable wealth from his work as a hair transplant surgeon and consultant. Mediapart can reveal the name of the man who handles the minister's personal wealth, the ultra-discreet Hervé Dreyfus (see photo, right). Mediapart can also disclose it was Dreyfus to whom Cahuzac was talking during his now infamous telephone conversation when he was accidentally recorded talking about the Swiss account – whose existence he still continues to deny. Fabrice Arfi, Dan Israel, Mathilde Mathieu and Martine Orange investigate the financial background and contacts of France's under-fire budget minister.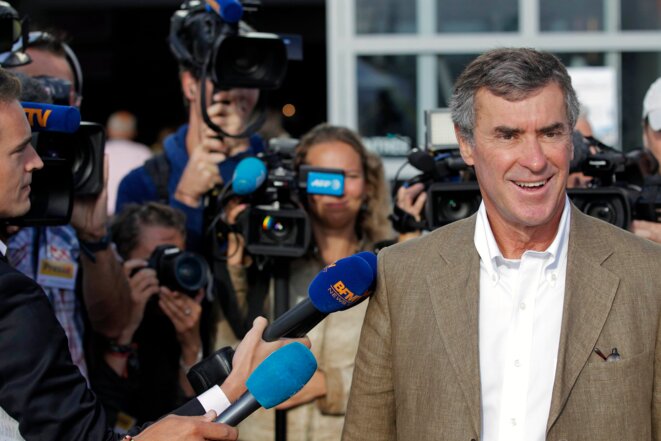 Jérôme Cahuzac © Reuters
French budget minister Jérôme Cahuzac (pictured), who last month announced his ministry was launching a crackdown on tax fraud, held for several years a secret bank account in Switzerland, Mediapart can reveal. The funds held in the UBS account were, after it was closed in 2010, allegedly then transferred to Singapore. In an interview with Mediapart, Cahuzac has denied ever holding an account in Switzerland, while threatening legal action if the suggestion that he had was published, which Mediapart does indeed do here. Fabrice Arfi reports.