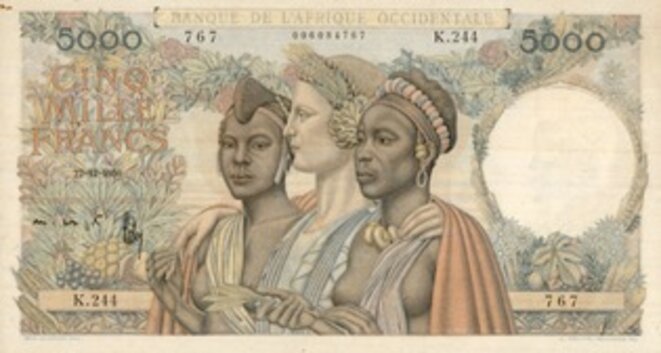 A Franc Zone banknote.
France's African colonies were finally given independence around 70 years ago but one throwback to that era still remains – control by Paris of its former colonies' currency. The 'CFA franc', guaranteed by the French Treasury, is the legal tender in 14 west and central African nations. As Fanny Pigeaud reports in the first of two articles, many African economists are critical of the 'Franc Zone', which many feel holds back economic development.
Two sacked employees have been placed under investigation after police dug up a bag containing 500,000 euros at a house in Auvergne region.
Bank of France boss Christian Noyer said that without reform the country would see zero growth and unemployment stuck at 10%.
Bank of France forecasts 0.2% economic growth in third quarter, while statistics agency INSEE forecast 0.7% expansion for whole of 2014.
Bank of France comment comes after report that BNP faces a 10 billion-dollar fine for evading US sanctions against Iran, Sudan and Cuba.
According to preliminary figures released by French central bank, the country's recovery gained ground at the end of 2013 with 0.5% growth.
Estimate from the Bank of France differs from national statistics office INSEE which suggested that France just averted recession last year.
Comments by Bank of France chief that the City of London should no longer be financial centre for the euro meet with sharp rebuke in Britain.
No French banking group is in danger even in the "extreme" scenario that Greece leaves the euro, says the Governor of the Bank of France.
Bank of France says French economy will grow by 0.2% in third quarter of 2011, confirming slowdown in euro zone's second-largest economy.