Former US president, who had a private meeting with President  Macron and also ex-head of state François Hollande, is on a lecture tour.
Russia, Armenia and the former West Germany were all major suppliers of technology and raw materials for Syria's programme of chemical weapon production, exiled Syrians who worked on the project have told Mediapart. They also say that, in violation of intentional law, the Damascus regime still has a secret arsenal of up to 35 tonnes of chemical weapons. René Backmann reports.
Former US president backs Macron over far-right rival Marine Le Pen because centrist candidate 'appeals to people's hopes and not their fears'.
The centrist French presidential candidate Emmanuel Macron, leading polls before first-round voting on Sunday, held a phone conversation with former US president Barack Obama on Thursday, giving the former economy minister a clear boost just as his rivals are narrowing the gap between frontrunners.
The United Nations international climate summit, COP21, opened at Le Bourget close to Paris on November 30th in unusual circumstances. The host country France is under a state of emergency as it welcomes leaders, negotiators and activists from around the world. As Mediapart's environment correspondent Jade Lindgaard reports, a deal at the summit appears to be within reach, but doubts and questions remain about the real direction of the negotiations.
Paris agrees new global climate accord will not be called a 'treaty' and might not contain legally-binding emissions reduction targets.
The US president, meeting François Hollande in Washington, said the two countries 'stand united, in total solidarity, to deliver justice to these terrorists'.
The revelations that the United States has been tapping the phones of presidents and others senior figures in the French state have provoked a major controversy. Politicians from all parties queued up on Wednesday morning to denounce the spying, revealed in leaked documents obtained by WikiLeaks and published by Mediapart and Libération. President François Hollande, himself revealed to be the target of phone taps in 2012, called a meeting of the government's defence committee and met a delegation of 20 Parliamentarians at lunchtime to discuss the spying crisis. The Elysée meanwhile issued a statement describing the reported spying as "unacceptable". But the spying will have come as no great surprise to the authorities in Paris who have known about or suspected such espionage for years. But France has never previously made a major public fuss about the issue for the simple reason that it, too, is part of a vast network involving exchanges of information between intelligence services around the world. And because it, too, cheerfully snoops on its friends. Moreover, the revelations came on the eve of the final vote on the government's new and highly-controversial snooping legislation. Lénaïg Bredoux and Mathieu Magnaudeix report.
L'ancienne secrétaire d'Etat et épouse de l'ex-président démocrate Bill Clinton va confirmer ce dimanche 12 avril sa candidature à la primaire démocrate, dont elle est la grande favorite.
Two US experts argue France is only big NATO  power in Europe with military capability and political will to tackle threats to Atlantic Alliance.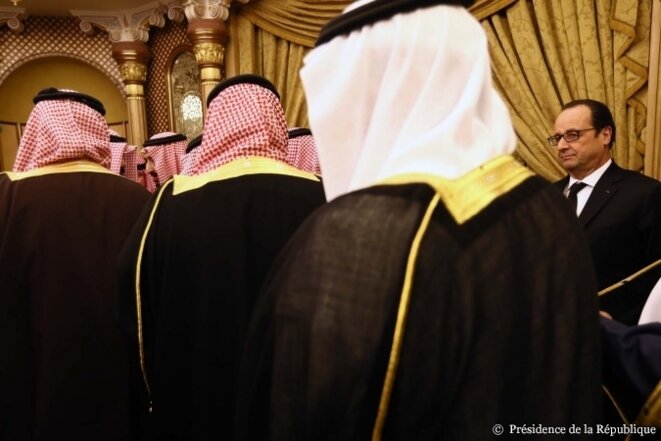 President Hollande at Riyadh in January 2015.
Both French president François Hollande and American head of state Barack Obama flew to Riyadh to pay their respects after the death of King Abdullah of Saudi Arabia on January 23rd. For the French leader it was yet another journey to the Arabian kingdom that he has already twice honoured with state visits. France and the United States - and other Western countries – have stayed close diplomatically to Saudi Arabia, seeing it as a source of oil, a massive market to buy their weapons and a pivotal place to exchange key intelligence. But the flipside of this approach, write Thomas Cantaloube and Pierre Puchot, is that these countries have been trapped into supporting Saudi's own regional political games, while also backing one of the most repressive regimes on earth. Moreover, at a time when France and other nations have made fighting terrorism their international priority, elements in the Saudi kingdom are still suspected of financial links with prominent terror groups.
Foreign minister calls for international mobilization against militants from Islamic State group whom he described as a 'transnational danger'.
Around 400 separate events will be held as American, Russian and British heads of state are among those marking 70th anniversary of landings.
French president says he will raise issue with US president who is flying in for talks in Paris ahead of Friday's D-Day commemorations.