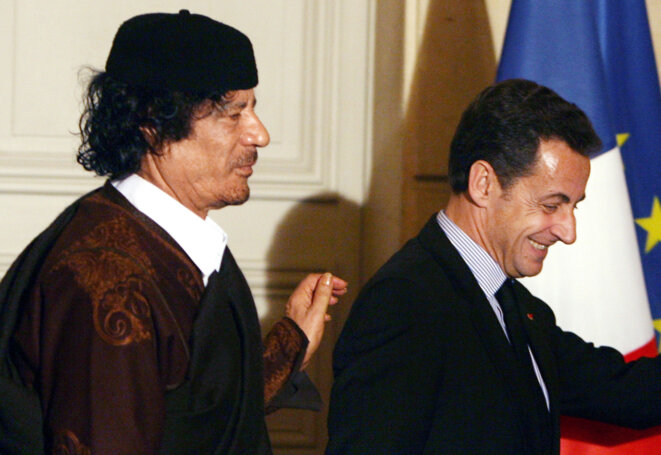 Muammar Gaddafi and Nicolas Sarkozy in Paris in December 2007. © Reuters
A handwritten notebook kept by a senior Libyan figure details three payments made by Gaddafi's regime to fund Nicolas Sarkozy's 2007 presidential election campaign, Mediapart can reveal. Shukri Ghanem, who was then Libya's oil minister, took notes on the three payments made in 2007, which came to a total of 6.5 million euros. Ghanem later fled the North Africa country and was found dead in Austria in 2012. The discovery of his personal notebook and its entries from 2007 undermine claims by Sarkozy's camp that allegations of illegal Libyan funding are based on forged documents written after Gaddafi's fall from power. Fabrice Arfi and Karl Laske report.

Nicolas Sarkozy, Bachir Saleh et Alexandre Djouhri © Reuters et DR
Declassified reports from France's foreign intelligence service show how President Nicolas Sarkozy helped a senior figure in the Gaddafi regime escape from war-torn Libya in 2011, Mediapart can reveal. They show that Muammar Gaddafi's ex-chief of staff Bashir Saleh was taken to France in November 2011 with the aid of the French presidency and businessman Alexandre Djouhri. However, Saleh later fled France after Mediapart published details of a letter addressed to him outlining the Gaddafi regime's agreement to fund Nicolas Sarkozy's 2007 election campaign. Fabrice Arfi and Karl Laske report.

Claude Guéant, Bernard Squarcini, Bachir Saleh et Alexandre Djouhri
In April 2012, Mediapart revealed a document recovered from the archives of the toppled regime of late Libyan dictator Muammar Gaddafi detailing its agreement to fund Nicolas Sarkozy's 2007 presidential election campaign. The letter, signed by Gaddafi's intelligence chief Moussa Koussa, was addressed to Bashir Saleh, head of the regime's multi-billion-dollar Libyan African Portfolio investment fund. Following the collapse of the Gaddafi regime, Saleh found asylum in France. But after Mediapart's report, and while he was the object of an Interpol 'wanted' for his arrest and extradition back to Libya where he faced fraud charges, Saleh subsequently fled to South Africa. Mediapart can reveal how French magistrates have established that Saleh's last-minute flight on May 3rd 2012 was organised by Alexandre Djouhri, a businessman close to Sarkozy's longstanding chief of staff Claude Guéant. But also present when the two men met in the shadows of the Eiffel Tower in the early evening of that same day was Sarkozy's domestic intelligence chief, Bernard Squarcini. Karl Laske and Fabrice Arfi report.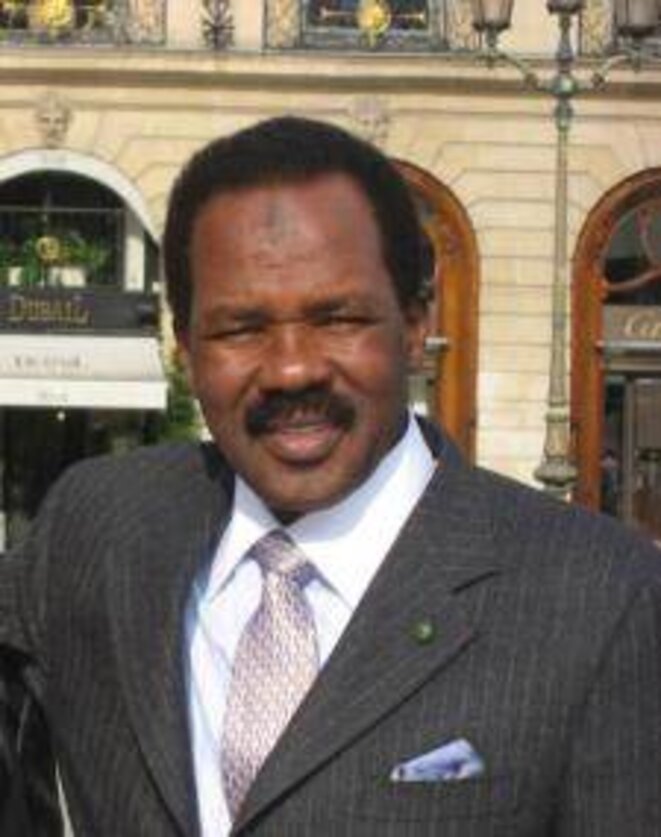 © dr
French President Nicolas Sarkozy and his Prime Minister François Fillon were under increasing pressure Tuesday to explain the extraordinary protection they have afforded to a former senior Libyan official, Bashir Saleh, identified in a document published by Mediapart as a principal figure involved in the secret funding of Sarkozy's 2007 election campaign by the late dictator Muammar Gaddafi. Saleh is the subject of an Interpol request for his arrest for extradition to Libya where he is wanted on fraud charges. Despite the Interpol 'red notice', Saleh continues to live comfortably in France where he was issued with a residency permit after fleeing Libya following the toppling of the Gaddafi regime. Sarkozy claims there is confusion over the identity of the fugitive, while Fillon said he was unaware of the Interpol notice, which is posted to the general public on its website. Louise Fessard and Carine Fouteau report.
French President Nicolas Sarkozy has announced he is to sue Mediapart over its report of plans by the former Libyan regime of Colonel Muammar Gaddafi to fund his presidential election campaign in 2007. Mediapart stands by all the evidence it has revealed, writes Editor-in Chief Edwy Plenel, who explains here why Sarkozy's reaction, and the accompanying denials of two protected former Gaddafi henchmen, were entirely predictable.