European special forces involved in anti-jihadist operations in west Africa's Sahel region were given prime position in the traditional Bastille Day celebrations in Paris on 14 July.
This year's commemoration is also paying homage to former President Charles de Gaulle, 80 years after the historic appeal he made to opponents of France's Nazi occupiers that gave birth to the French Resistance.
The French government has announced that the yearly Bastille Day grand military parade through central Paris, a tradition since WW1, is cancelled because of the Covid-19 virus pandemic and the associated requirements for social distancing, but will include the traditional flypast which this year will pay tribute to medical personnel.
The traditional July 14th military parade along the Champs-Elysées avenue in Paris, which involved more than 4,200 military personnel, was not all smooth going on Saturday, when two gendarmerie motorbike riders collided and the jet flypast spreading the tricolour smoke ribbon of the French national flag mixed up the colour coordination. 
Exceptional security measures are in place around the French capital to deal with a potential terrorism threat as vast crowds are expected to turn out for Bastille Day celebrations on Saturday and at fan zone sites for watching the football World Cup final between France and Croatia on Sunday.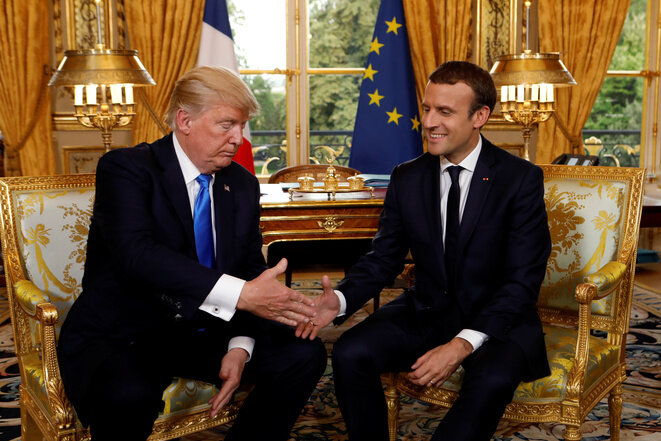 Donald Trump and Emmanuel Macron at the Elysée Palace july 13th. © Reuters
US President Donald Trump's two-day visit to Paris last week saw him courted with great pomp and ceremony by his French counterpart Emmanuel Macron whose red-carpet welcome provided Trump with a welcome diversion from political turmoil at home and a rare break from his isolation on the international stage. Macron, meanwhile, seized the opportunity of the vacuum created by Brexit and forthcoming elections in Germany to position Paris as Washington's new "special friend" in Europe. Mediapart's Washington correspondent Philippe Coste reports on how the manoeuvring was viewed from across the Atlantic.

A Paris court has refused a public prosecutor's demand that the latest issue of French weekly Paris Match be withdrawn from sale over its publication of gruesome CCTV images of the 2016 Bastille Day terrorist attack in Nice when a truck ploughed into seafront crowds, killing 86 and injuring hundreds more, but has ordered the magazine not to republish the photos.
The Paris public prosecutor's office has asked for a court order to remove the weekly magazine from sales points in France on Thursday over its publication of gruesome images from CCTV footage of the terrorist attack in the Rivierra city in July last year when a man acting in the name of Islamic State drove a truck into seafront crowds killing 86 people and injuring more than 450 others. 
US President Donald Trump arrived in Paris on Thursday for a two-day visit when he will take part in the traditional French Bastille Day military parade and commemorations of the entry 100 years ago of US troops into World War One, while also holding several meetings with French President Emmanuel Macron who officials said was keen to de-frost relations with the US leader.
Macron's office said Trump will attend traditional military parade on Champs-Elysées, where US soldiers will march alongside French troops.
Donald Trump and First Lady asked to attend the parade on July 14 and French president's office says US leader promised to examine invitation.
Ten suspects, including one or more Albanians, were arrested in various parts of Nice and another was detained in the western city of Nantes.
French President François Hollande led a ceremony in the Riviera town of Nice to honour the 86 people, aged between 2 and 92, who died on July 14th when a Tunisian man claiming allegiance to the Islamic State group drove a heavy truck into Bastille Day crowds walking the seafront.
The detained were all from the region around Nice in south-east France, suspected of helping Mohamed Lahouaiej Bouhlel mount his attack on July 14th, when he drove a truck into Bastille Day crowds on the Nice seafront causing the deaths of 86 people.