A bus driver in Bayonne, south-west France was described as brain dead on Monday after challenging a group of passengers who boarded his vehicle on Sunday evening without tickets or masks which by law must be worn by all passengers on public transport.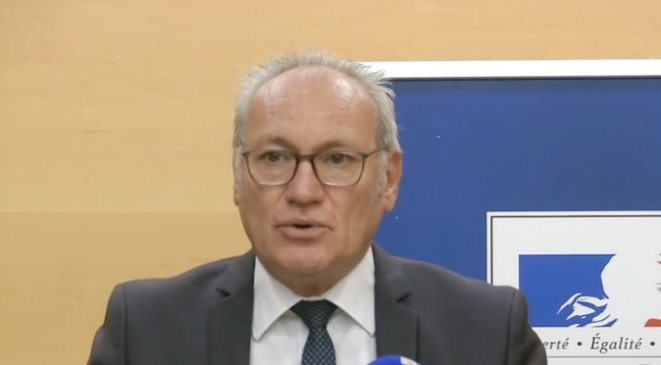 The state prosecutor in Bayonne Marc Mariée.
Claude Sinké, aged 84, a former local election candidate for the far-right Front National – now called Rassemblement National – is in custody for the attack on a mosque in Bayonne in south-west France on October 28th 2019. He told detectives his aim was to "avenge the destruction" of Notre-Dame cathedral in Paris from a fire which he blames on Muslims. Marine Le Pen and the rest of the RN leadership have been quick to distance themselves from their former activist. But Claude Sinké had been adopted as a candidate for the far-right party in 2015 despite posting hate-filled messages on Facebook. Marine Turchi and Matthieu Suc examine the far right party's handling of its supporters and look at the growing threat posed by right-wing extremists in France and across Europe.
Source that 84-year-old suspect had been a candidate for Marine Le Pen's Rassemblement National party in 2015.
Meanwhile environmental group will defy ban on demonstrations in nearby Bayonne with march carrying official portraits of President Macron.
French agriculture minister Didier Guillaume, whose ministerial brief is also to defend animal welfare, has been photographed attending a bullfight in the town of Bayonne, south-west France, when six bulls were killed, prompting outrage from animal rights organisations.
Authorities in the French city of Bayonne are struggling to cope with the number of migrants coming from across the nearby Spanish border. Mediapart met Joseph and Moriba, 'blood  brothers' who are seeking France's protection after nearly dying at sea crossing to Europe from Morocco. After a legal battle, Joseph has now been recognised as a minor by the French courts while Moriba's request will be heard on appeal shortly. Mathilde Mathieu reports.
Dominique Perron and another spectator suffered serious injuries after bull jumped out of arena at Bayonne Festival in south west France.
Nicolas Bonnemaison, who ended the lives of seven terminally-ill patients, was acquitted of all charges after trial that raised issue of euthanasia.