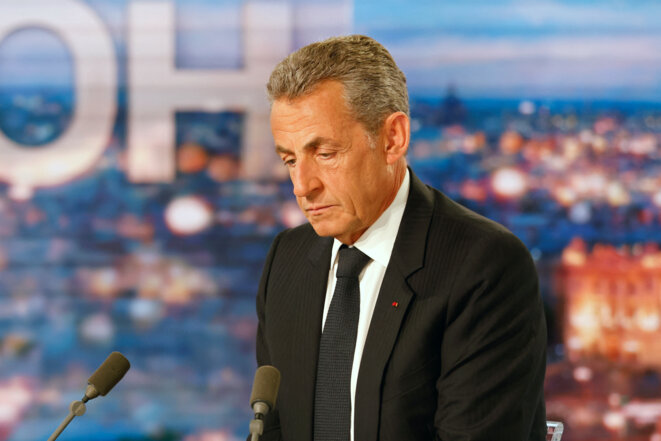 Nicolas Sarkozy on the news bulletin of TF1 television station, March 3rd 2021. © Ludovic MARIN / AFP
In November 2020 Ziad Takieddine, a key witness in the judicial investigation into Libyan funding of Nicolas Sarkozy's 2007 presidential election campaign, retracted his evidence. The apparent volte-face by a man who had previously said Nicolas Sarkozy had been corrupted by Libyan money in the affair was seized on by the former president's supporters as a turning point in the lengthy judicial saga. But Takieddine's retraction was not a genuine one. New legal documents seen by Mediapart – who originally broke the story of the alleged funding scandal - show the scale of the media manipulation used to help Nicolas Sarkozy. The former president's role in this is now at the heart of this part of the investigation. So, too, is the role played by the so-called 'queen of the paparazzi' Michèle 'Mimi' Marchand who is currently in custody in connection with the case. She has told detectives that her role in the affair was to: "Kill Mediapart".  Fabrice Arfi, Karl Laske and Antton Rouget report.
Takieddine was once an accuser in the inquiry into suspected Libyan financing of Sarkozy's 2007 election campaign but recently suddenly retracted his claim.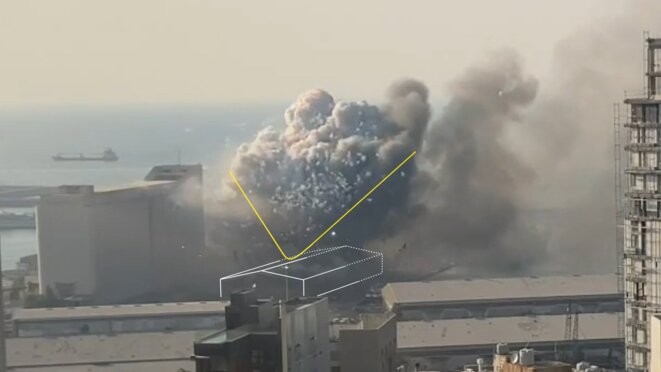 An image taken seconds before the mega-blast in the port of Beirut on August 4th 2020, as analysed by Forensic Architecture. © Forensic Architecture © FA
On August 4th this year, a huge explosion ripped through the port of the Lebanese capital Beirut and the surrounding city neighbourhoods, killing more than 200 people, wounding more than 6,500 others and leaving hundreds of thousands homeless. It was so powerful that the shockwaves and tremors it caused were recorded hundreds of kilometres away. Now, London-based independent research group Forensic Architecture has produced a remarkable video report with 3D imaging, using documented evidence and expert input, to piece together a precise chronology of the multiple causes of the explosion, and which Mediapart presents here.
Intent on playing a high-profile role in helping Lebanon out of economic and political collapse, french President Emmanuel Macron arrived in Beirut on Monday, his second trip since the devastating chemicals blast in the capital on August 4th and just hours after Lebanese diplomat Mustapha Adib was named as the Middle East country's new prime minister.
Lebanese protesters and the international community have called for an impartial investigation into the incident that killed more than 170 people and injured thousands.
French President Emmanuel Macron visited blast-torn Beirut on Thursday, the first foreign leader to do so, when he announced that France will organize an international fundraising conference with other international donors to provide food, medicine, housing and other urgent aid, but warned  that 'if reforms are not made, Lebanon will continue to sink'.
French President Emmanuel Macron will visit Lebanon on Thursday to meet with the country's political leaders, 48 hours after a huge explosion devastated parts of Beirut where France has already sent teams of rescuse workers, engineers and medical equipment.