Overwhelmed hospitals in north-east France have begun sending Covid-19 patients to hospitals in nearby Belgium to free up intensive care unit beds.
Yassine Atar, brother of Osama Atar who is suspected of having planned the November 13th 2015 Islamic State group attacks in Paris that left 130 people dead, has been extradited to France from Belgium where he was arrested in March 2016 in connection with the terrorist bomb attacks in Brussels that month which claimed 32 lives.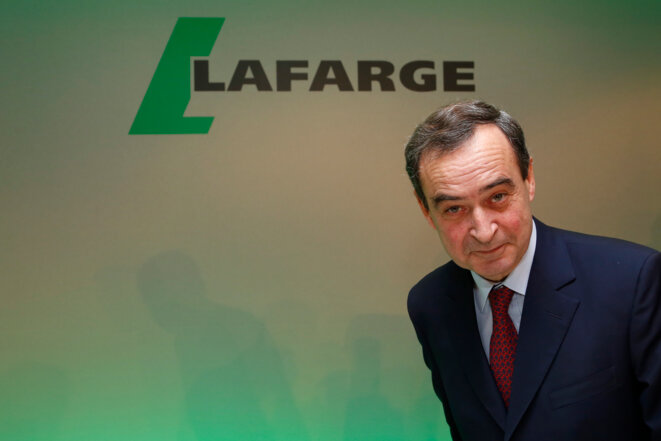 Bruno Lafont when he was CEO of Lafarge, on February 18th, 2015. © Reuters
An intercepted telephone call involving the former boss of French cement firm Lafarge, which is accused of funding terrorist group Islamic State to keep its Syrian cement plant in production, shows the extend of the "worry" that has gripped the company, which has since become a Franco-Swiss multinational. Just how far – and to whom – will the current judicial investigation extend? Fabrice Arfi reports.
Mohamed Bakkali, 30, who is accused of knowingly offering his Brussels apartment to attackers who took part in the November 13th 2015 terrorist attacks in and around Paris which left 130 people dead, has been extradited to France, just as the Paris trial of Jawad Bendaoud, 31, continues into his alleged conspiracy with the Islamic State group cell which were housed in a property belonging to him in a suburb close to the French capital.
Salah Abdeslam, detained in France for his suspected role in the November 13th 2015 Paris terrorist attacks which left 130 people dead and hundreds more wounded, was due to stand trial this week in Brussels in a separate case in whicjh he is charged with the attempted murder of Belgian police officers.
Belgian prosecutors said Friday they have asked France to hand over Salah Abdeslam, a suspect in the November 2015 terrorist attacks in and around Paris, so that he can stand trial in Brussels in December over his alleged involvement in a March 2016 shooting attack on police in the Belgian capital. 
Stand-up comic Dieudonné M'Bala M'Bala, who has been previously prosecuted in France for anti-Semitic speech during his shows, was handed a two-month jail sentence and a fine by a Belgian appeals court for anti-Semitic comments during a performance in the country.
The Belgian ambassador to France was on Thursday summoned to explain why the two arrested police officers had crossed the border with 13 migrants in their vehicle.
Belgian police alerted French colleagues that Islamic State jihadists have left Syria with a set of targets to attack in Belgium and France.
Salah Abdeslam, arrested in Brussels and wanted by France for his role in November Paris terror attacks, held documents from centre near Belgium-Germany border.
Lawyer for suspect in Paris attacks, who was arrested in Brussels on March 18th, says he wants to be handed over to French authorities.
The attacks in Brussels on Tuesday March 22nd highlight once again how Belgium has become a nerve centre of jihadist terrorism in Europe, as well as being a target itself. The Belgian network led by Abdelhamid Abaaoud, who led the November 13th bombings in Paris, was very active while the logistical 'expert' for the Paris attacks, Salah Abdeslam, who was arrested just last week, is suspected of having been involved in planning the latest attacks in the Belgian capital. Earlier this year, meanwhile, Europol warned of the risk of more attacks. As Belgian authorities identified three men with links to the Paris attacks as the Brussels suicide bombers, Matthieu Suc and Yann Philippin consider how Belgium has become a terrorist hub.
Salah Abdeslam, the 26-year-old Frenchman captured in Brussels after four months on the run, has been cooperating with police.
Belgian prosecutors appealed for sightings of Najim Laachraou who travelled with arrested suspect Salah Abdeslam to Budapest last year.