Lawyer for Salah Abdeslam, held in Belgium and fighting extradition to France, said weekend comments by French official violated probe's confidentiality.
Algerian Mohamed Belkaid, 35, was shot dead in a gun battle in Brussels with Belgian and French police, while two other men escaped.
Belgians aim to prevent potential influx of UK-bound migrants if part of the 'Jungle' camp in the French ferry port of Calais is demolished.
Both countries want to boost intelligence-sharing and French source says justice ministry will send official to Belgium for important cases.
Mother of 26-year-old murdered at the Bataclan theatre in attack by a group of mostly Belgian gunmen said Belgium could have arrested them earlier.
Belgian prosecutors said DNA and fingerprint evidence showed Paris terrorists used apartments and a house situated in Brussels, Charleroi and Auvelais.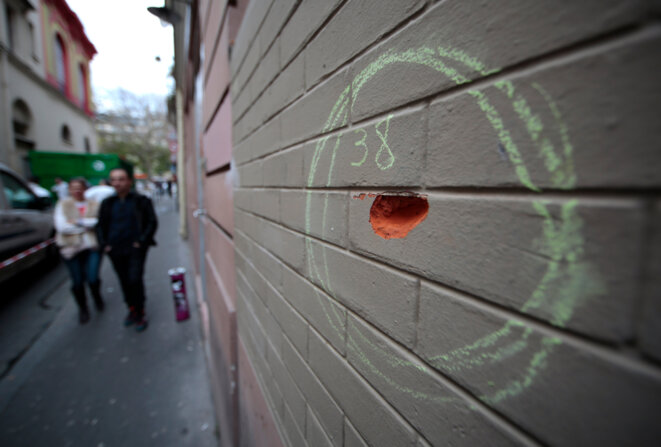 A bullet impact on a wall close to the Bataclan theatre. © Reuters
Of the 130 people killed by gunmen and suicide bombers during the November 13th terrorist attacks in Paris, the single worst toll was at the siege of the Bataclan theatre and music hall which left 90 people dead. It has since emerged that the Bataclan was already the target of a jihadist plot in 2010, while France's justice minister has dismissed any connection between that and the massacre in November. Mediapart has obtained access to a Belgian police report sent to their French colleagues in 2011 which clearly identifies the close links between the main suspect in the 2010 plot and the French jihadist who fronted the Islamic State group's video claiming responsibility for the November attacks.
Officials said the suspect, identified as 'Abdoullah C.', regularly phoned cousin of Paris attacks ringleader in the days following the massacres.
Official said Salah Abdeslam, wanted for his part in the massacres, was not among the five arrested in and around Brussels on Sunday and Monday.
Abdelhamid Abaaoud, killed by French police last month, escaped arrest in Athens from where he directed Brussels terror cell, security source tells BBC.
Prosectors said two men were arrested, one a French national, in connection with the November attacks, bringing total of suspects held to eight.
Growing concern in France after it emerged that Abdelhamid Abaaoud, one of Europe's most wanted men, travelled freely around continent.
One of the key issues arising from the Paris terror attacks on Friday November 13th is the apparent ease with which the perpetrators and other terrorists got their hands on significant numbers of "decommissioned" military assault weapons. Belgium, where some of those who carried out the Paris attacks lived, is said by many to be the hub of the flourishing illegal firearms trade in Europe. Mediapart's Brussels correspondent Ludovic Lamant interviewed Belgian expert Cédric Poitevin on the issue.
French and Belgian police on Monday carried out more than 180 anti-terrorist raids, with 23 people detained in France, but chief suspect still on run.
French government says a new Belgian 2-euro coin with an image of the memorial at Waterloo, site of Napoleon's defeat, is 'negative' symbol.