Keyword: Benjamin Griveaux
Related keywords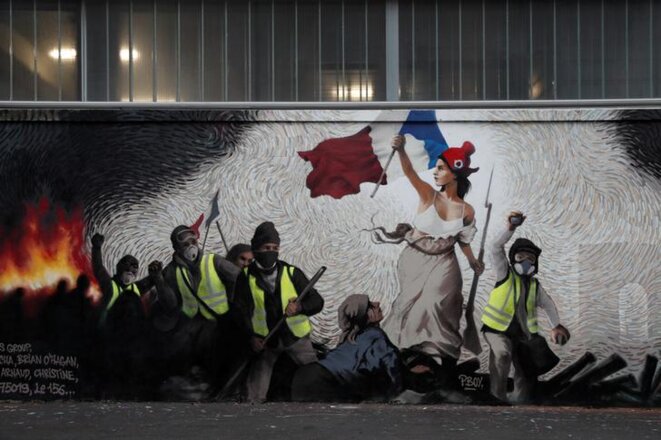 A work by artist Pascal Boyart, alias PBOY, in homage to the 'yellow vests', on the walls of Paris, January 7th 2019. © Reuters
On Monday January 7th the French prime minster Édouard Philippe announced plans to boost the array of security powers at the state's disposal with, in particular, a new law against rioters and undeclared demonstrations, plus preventative targeting of protestors presumed to be violent. Mediapart publishing editor Edwy Plenel points out that the prime minister did not utter a word about police violence, demonstrating that in making this repressive decision the government has turned its back on the sometimes vague democratic demands made by the 'yellow vest' protestors.
The official photo of the new French governemnt, June 2017. © Elysée
Following the recent Parliamentary elections President Emmanuel Macron has formed a new government under the same prime minister Édouard Philippe. However, what was supposed to be a minor technical change to the government has become rather larger in scale after the departure of four ministers in response to potential scandals. The result is a government that gives us a glimpse of how the new centrist president intends to balance his administration between the Left and the Right of the political spectrum. Stéphane Alliès, Christophe Gueugneau, Mathieu Magnaudeix and Mathilde Mathieu report.