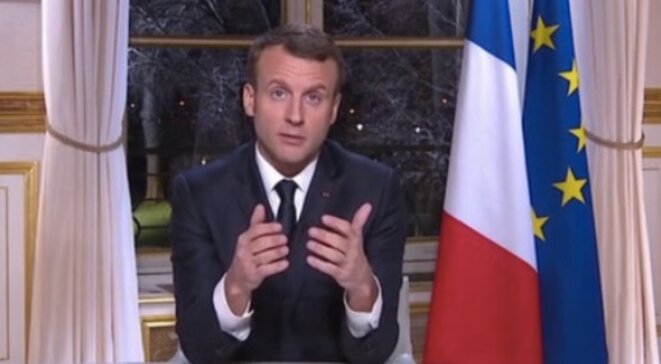 Addressing the nation: Presisdent Emmanuel Macron on December 31st, 2017.
"I did it in 2017....I will do it in 2018". On Sunday December 31st, President Emmanuel Macron delivered his first New Year goodwill message to the French people. Just 12 months ago no one imagined that he would be the occupant of the Élysée. Even last summer, when he had been elected, no one thought he would be in a strong position. Yet here he is, and his political situation looks robust. But it is a little too early for the new president to get out the bunting just yet. For Hubert Huertas argues that President Macron is about to face his biggest political 'opponent' – himself.
Defeated presidential candidate Benoît Hamon announces plans to establish a new 'First of July movement' aimed at rebuilding ailing Left.
A source close to Manuel Valls said that the former premier would now be allied to President Emmanuel Macron's centrist group.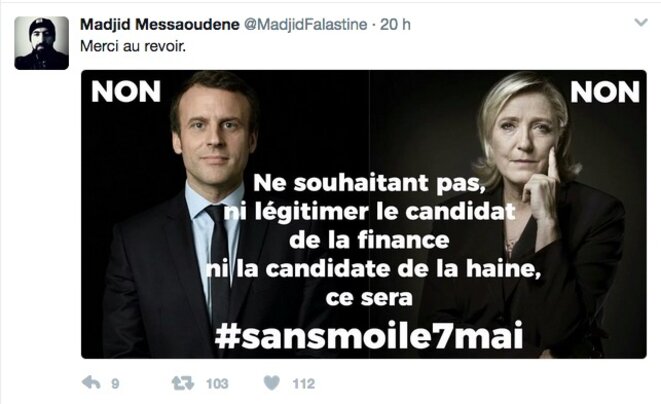 One voter's view: they want neither a candidate of 'finance' or one of 'hate'.
Voters on the French Left are already fed up. Fed up that their candidates did not make it through to the second round of the French presidential election on May 7th, and fed up about being told to vote for a candidate whom they despise - Emmanuel Macron – in order to stop the far right's Marine Le Pen from gaining power. As Lénaïg Bredoux reports, some voters on the Left say that they do not want to give centrist Macron a convincing mandate and that they will either not vote or will leave their ballot paper blank – unless the outcome looks too close to call.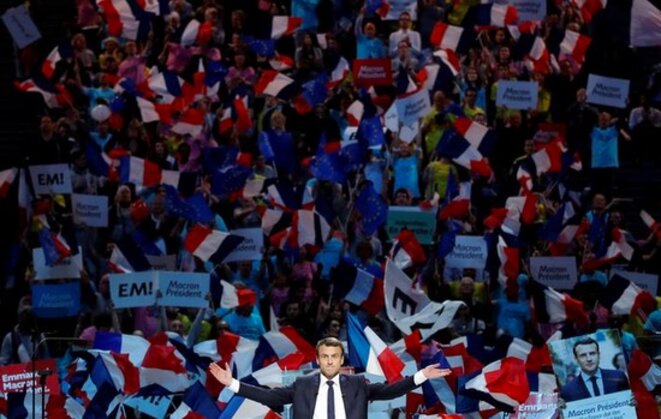 Emmanuel Macron just a few days before the first round of the election. © Reuters
The elimination of the candidates for the two main parties of government, centrist Emmanuel Macron coming top and the spectacular breakthrough by radical left Jean-Luc Mélenchon and his Unbowed France movement constitute a political upheaval without precedent since 1958. After Sunday's first-round French presidential election vote, each political camp is now talking about a complete realignment of the political battlefield, and everything needs to be rebuilt. This is excellent news, argues Mediapart's editor François Bonnet.
The decision by United States president Donald Trump to launch air strikes against the regime in Syria in response to the use of chemical weapons has created waves in France's election campaign. Most of the presidential candidates have been critical of the unilateral American action. Two notable exceptions are Socialist Party candidate Benoît Hamon and, to a lesser extent, the independent candidate and favourite Emmanuel Macron. Lénaïg Bredoux reports on how the candidates for the Elysée have reacted to the Syrian crisis.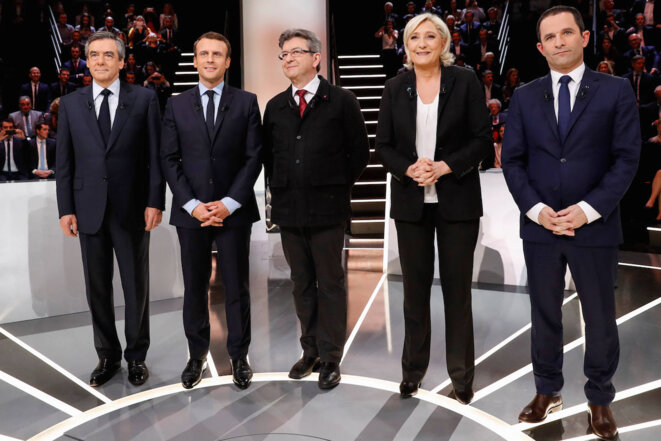 The five main candidates at a televised debate on TF1 on 20th March, 2017. © REUTERS
The chatter about the French presidential election focuses on the likely high abstention rate, the record number of undecided voters, a possible last-minute surge by the Right and whether one can trust the polls. In particular, just under three weeks from the first round of voting, the talk is of how unpredictable and hard to forecast this 2017 election is. But, Hubert Huertas, argues it is no more unpredictable than usual. It is just that when it comes to the mood of voters, the rules have changed.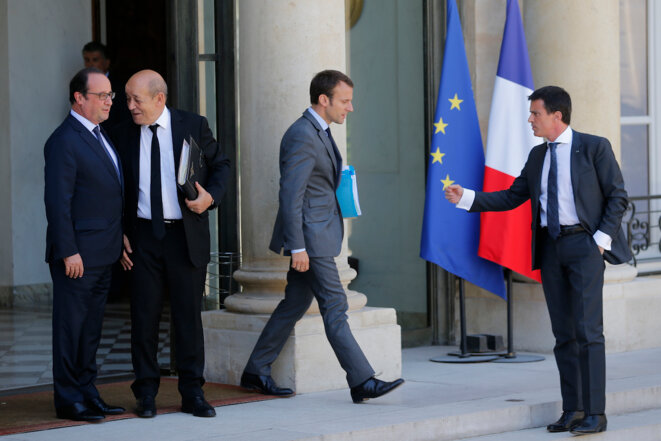 July 2015: (left to right) President François Hollande, defence minister Jean-Yves Le Drian, then-economy minister Emmanuel Macron and Prime Minister Manuel Valls at the Elysée Palace. © Reuters.
The French Socialist Party is closer than ever to implosion following the announcement by one of its veteran stalwarts, defence minister Jean-Yves Le Drian, that he was backing maverick centrist presidential candidate Emmanuel Macron, a former economy minister and advisor to President François Hollande, instead of the party's nominee Benoît Hamon. Lénaïg Bredoux reports.   
Socialist presidential candidate Benoît Hamon, trailing centrist Emmanuel Macron and far-right leader Marine Le Pen in opinion surveys of voting intentions, held a major rally in Paris in which he described rightwing rivals as being candidates of 'the money party'.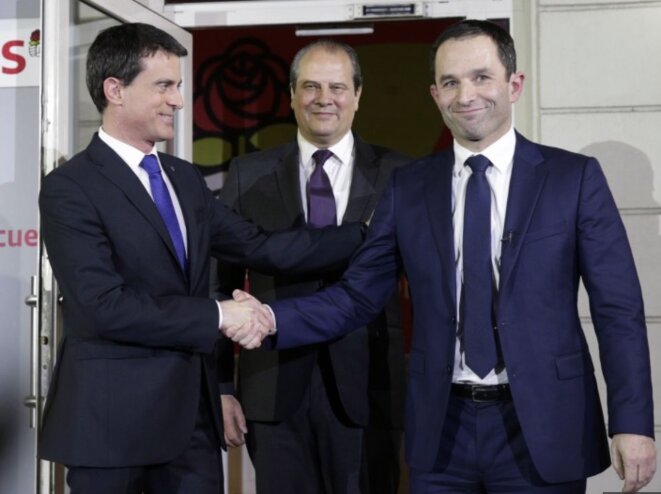 Manuel Valls (left) congratulates Benoît Hamon after the latter's victory in the January socialist primaries.
Former prime minister Manuel Valls, who resigned last December to run in the Socialist Party's primary to choose its presidential candidate, has controversially refused to support the election campaign his leftist rival who won the contest, Benoît Hamon. But he has also refrained from backing maverick centrist candidate Emmanuel Macron, whose ideas are closer to his own. Mediapart political commentator Hubert Huertas argues here why Valls, whose ambition was to transform the French Socialist Party into something resembling the New Labour of Tony Blair, has ended up in a political dead end and left behind him a party in tatters.
Former prime minister Manuel Valls has refused to publicly back Benoît Hamon, the French Socialist Party's presidential candidate who beat him in party primary elections earlier this year with a markedly a leftwing programme in contrast to that of Valls.
Benoît Hamon on the evening he won the socialist primary election in January 2017. © Reuters
The official Socialist Party candidate in the French presidential election, Benoît Hamon, has been deserted by a section of the right wing of his own party who are opting to support the independent centrist Emmanuel Macron. The latest high-profile figures to support Macron are former Paris mayor Bertrand Delanoë and defence minister Jean-Yves Le Drian, a close ally of President François Hollande. Some in Hamon's team say the defections make it easier for their candidate to make his pitch on the left. But as Stéphane Alliès and Lénaïg Bredoux report, his campaign is so far pretty much inaudible.
Presidential candidates Benoît Hamon and Jean-Luc Mélenchon complain that uproar is smothering discussion of the real campaign issues.
Benoît Hamon: seeking a path to party unity.
With just ten weeks to go before voting begins in the first round of France's presidential elections, newly-elected Socialist Party candidate Benoît Hamon has revealed a campaign team made up of fellow leftwingers but also of allies of President François Hollande and former prime minister Manuel Valls.  While Hamon's olive branch to the party's Right may dissipate its predicted desertion in favour of maverick centrist Emmanuel Macron, it suggests there can be little, if any, chance that he can reach an alliance with radical-left candidate Jean-Luc Mélenchon. Mediapart political analyst Hubert Huertas sketches here the fundamental divide between Mélenchon and Hamon and what is at stake for the future of the Socialist Party.