Related keywords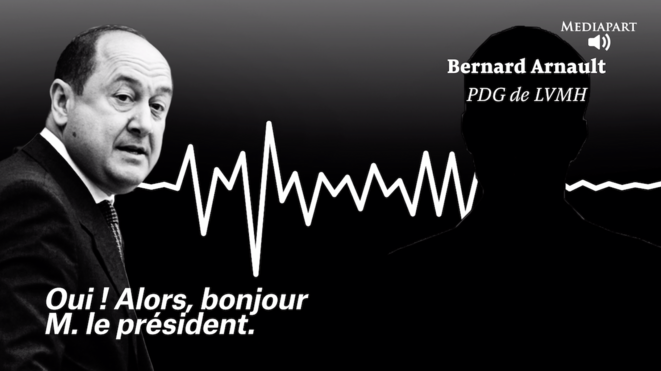 The first part of the Mediapart series of recordings involving former French spy chief Bernard Squarcini. © Mediapart
Mediapart is publishing a series of recordings of police phone taps involving the former head of France's domestic intelligence agency, Bernard Squarcini. These extraordinary tapes, which date from 2013, reveal the de facto existence of a state within a state, where private and public interests became intertwined. The first series of judicially-approved recordings reveal how after leaving his intelligence post Squarcini, nicknamed 'La Squale' ('The Shark'), was asked by the French luxury goods group LVMH to "infiltrate" an independent magazine in order to spy on it. Neither Squarcini nor LVMH wanted to comment on the content of the tapes. Fabrice Arfi and Pascale Pascariello report.
Bernard Arnault, CEO of the LVMH group (Louis Vuitton Moet Hennessy), last Friday briefly, and for the second time in recent months, knocked Jeff Bezos of Amazon off his perch as the world's richest person, part of an ascension that has also seen him try to obtain Belgian nationality to escape taxes at home.
Runaway success Merci, Patron!  is about unemployed couple from northern France who lose their jobs when the company opens new factories in Poland.
Bernard Arnault, boss of LVMH which owns brands such as Louis Vuitton, Fendi and Givenchy, hopes to acquire Le Parisien for €50m.
The French president inaugurated the ship-shaped structure of glass housing a big new contemporary art collection in Paris' Bois de Boulogne.
Survey by business magazine Challenges also shows that the richest 500 people in France are worth a massive 390 billion euros between them.
Critics say that new glass facade planned as part of the redevelopment of this art deco and nouveau Paris landmark will look like a shower curtain.
Probe relating to France's richest man Bernard Arnault concerns a capital increase of 2.9 billion euros in LVMH's Belgian holding company.
The head of luxury group LVMH said he always denied the move was for tax reasons but had abandoned plans to avoid 'any ambiguity'.
After months of speculation, France's richest person has finally placed his multi-billion euro fortune in Belgium, denying the move is over tax.
Belgian prosecutors have advised against giving citizenship to Bernard Arnault, chief executive of luxury group LVMH.
The tax-avoiding attraction of Belgium for the French rich is nothing new. But since the arrival of France's socialist president, François Hollande, who has announced a 75% tax on those earning an annual 1 million euros or more, the country's wealthy have begun pointing north. While speculation continues to surround the motivations of Bernard Arnault, founder and chief executive of French luxury goods group LVMH and France's richest individual, in applying for Belgian nationality, the controversy has fuelled a lively debate in Belgium itself over the country's growing status as a semi-tax haven. Mediapart's Brussels correspondent Ludovic Lamant reports on the rich figures of a tax-avoiding exodus that, continent-wide, is estimated to annually cost European states 150 billion euros.
Earlier this month it was revealed that French tycoon Bernard Arnault, chief executive of luxury goods firm LVMH, the wealthiest person in France and the fourth wealthiest worldwide, has applied for dual Belgian nationality. The French conservative opposition was quick to cite it as an example of the flight of capital that will follow higher taxes the government is to impose on the country's top income earners, while President François Hollande decried Arnault's lack of patriotism. Mediapart Editor-in-Chief Edwy Plenel sets out here how tax evasion has become a colossal and insitutionalised business at the centre of the economy. Fighting it has never been more urgent, yet little effort - if any - is being made to prevent it or to sanction those who are bleeding society of vital resources.  
Baron Rothschild, owner of French daily Libération, defends crude headline attacking LVMH boss Bernard Arnault for seeking Belgian nationality.