Keyword: Bernard Cazeneuve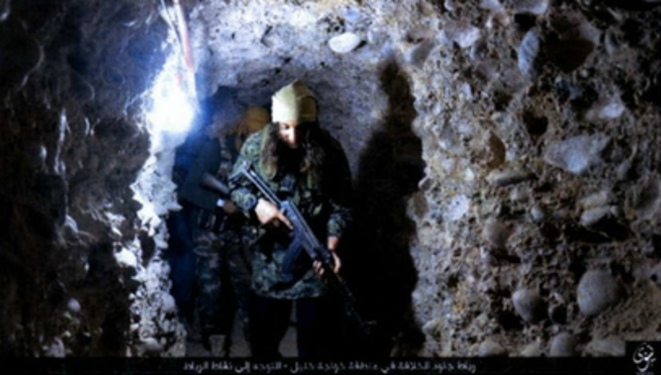 A jihadist in a tunnel underneath the former Islamic State-held city of Mosul.
The Islamic State terrorist organisation has been quietly preparing for the loss of its self-styled Caliphate for several months. France's security services now fear that its fighters might be moved to other areas of jihadist conflict or into Europe. In particular they have have raised concerns over the role of the terrorist's mysterious 'Emigration and Logistics Committee' based in Turkey, the Lebanon and Jordan, amid fears it may be used to send French and other European jihadists back to their country of origin. Matthieu Suc reports.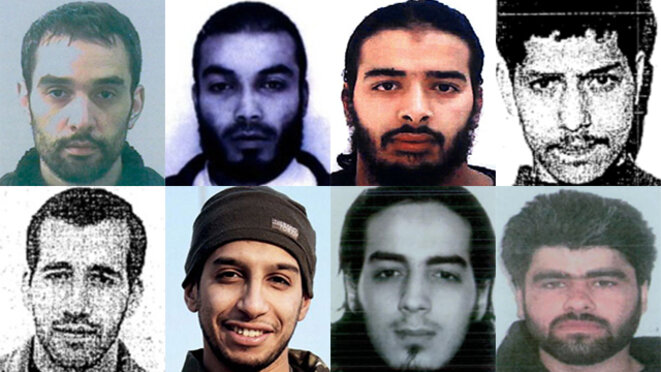 Eight of the terrorists behind attacks against Europe. From left to right and from top to bottom: Oussama Atar, Boubakeur el-Hakim, Salim Benghalem, Samir Nouad, Abdelnacer Benyoucef, Abdelhamid Abaaoud, Najim Laachraoui and Ahmad Alkhald. © DR
Jihadi veterans have been seeking to cause disarray among European intelligence agencies with hoax attacks that distract from real ones and attempts to infiltrate public agencies and companies. As a result security official are having huge difficulties in trying to measure the true scale of the terrorist threat that faces us. In the last of this lengthy series of investigations on Islamic State's intelligence operations, Matthieu Suc reports on the dangers still posed by jihadist agents operating within Europe despite Islamic State's major reverses in Iraq and Syria.
British Prime Minister Theresa May met with her French counterpart, Bernard Cazeneuve, in London on Friday, pledging that Britain will not seek to 'cherry-pick' in negotiations over leaving the European Union, and reiterated her her aim to guarantee rights of EU nationals already in the UK and said she hoped France will do the same for Britons living there.
French Parliament has voted to extend the legislation until July 15th, after next year's presidential and parliamentary elections.
In first speech to Parliament the new prime minister also directly attacked policy plans of conservative presidential candidate François Fillon.
Formerly interior minister, Cazeneuve, 53, takes over as prime minister from Manuel Valls who on Monday resigned in order to launch his bid to become socialist candidate in presidential elections next spring.
French ministers have hit back at apparent British criticism of way migrant children are being treated while Calais camp is dismantled.
France's interior minister said ahead of a meeting on Monday with his British counterpart that he was 'solemnly asking Britain to assume its moral duty' to grant asylum to hundreds of children living in the makeshift migrant camp in the French Channel port.
Interior minister Bernard Cazeneuve says he will press ahead with dismantling the 'Jungle' in coastal town with the 'greatest determination'.
French and British interior ministers agree to develop cooperation 'now and when UK leaves EU' to address challenges posed by migrant flows.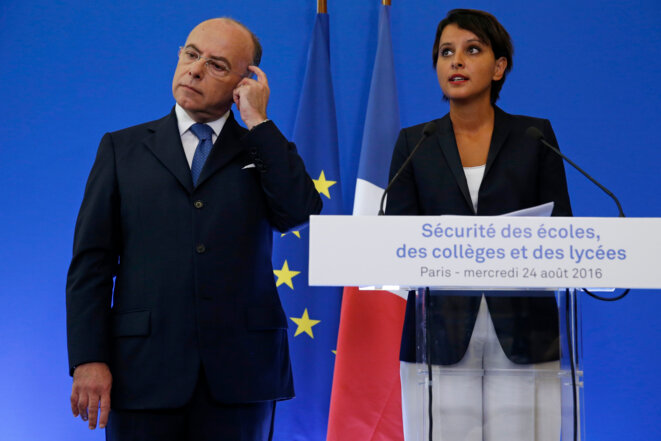 School security: interior minister Bernard Cazeneuve and education minister Najat Vallaud-Belkacem. © Reuters
Pupils in France go back to school this week amid ever-greater security and against the backdrop of a constant threat of terrorism. The education minister and the interior minister have held a joint press conference to outline the unprecedented measures that are being taken to ensure the safety of children at school. As Faïza Zerouala reports, the authorities have to strike a careful balance between ensuring educational establishments are prepared for a terrorist attack and avoiding causing anxiety among younger pupils.
UK's home secretary to have scheduled talks on security with French counterpart amid calls for British border controls in Calais to be reviewed.
French interior minister Bernard Cazeneuve gave few details of the arrests but said three of those arrested were preparing terrorist attacks.
Hundreds of children and adults were evacuated from leisure centres and homes north of Marseille while four fire crew were hurt near Béziers.