Related keywords
The flamboyant businessman is embroiled in a fight over a 1993 deal and the massive compensation he won from the state 15 years later.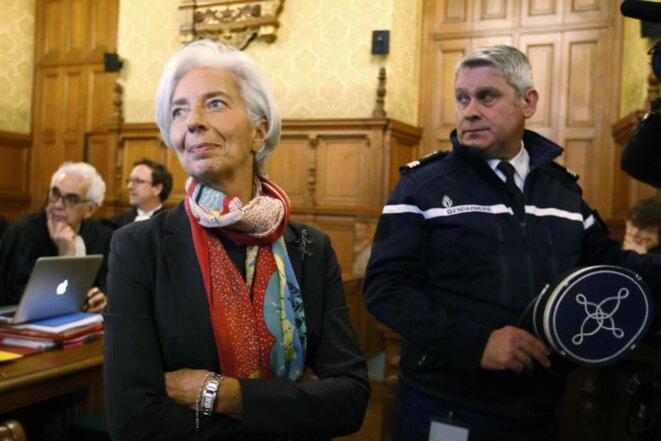 Christine Lagarde in court at the start of her trial on December 12th. © Reuters
Following a week-long trial, International Monetary Fund (IMF) chief Christine Lagarde has been found guilty of negligence when French economy and finance minister for allowing an award of more than 400 million euros from public funds to controversial tycoon Bernard Tapie. But the Court of Justice of the Republic, a special French court dedicated to judging the misdeeds of ministers, decided to exempt her from any sentence. The IMF announced late Monday that it had "full confidence" in Lagarde. Michel Deléan reports.
On last day of her trial IMF chief insisted she did nothing wrong in authorising massive settlement to Bernard Tapie to settle dispute.
A former top French civil servant told the judges in the trial of IMF boss Christine Lagarde how he had tried to meet the then-economy minister to stop her from agreeing to an arbitration process that eventually cost French taxpayers 403 million euros. Ex-Treasury official Bruno Bézard said not only was holding the arbitration in the first place a blunder, it had been a mistake not to have appealed against its 2008 ruling in favour of tycoon Bernard Tapie. Mediapart's legal affairs correspondent Michel Deléan says it was a tough day in court for Lagarde, who denies negligence in signing off on the arbitration process while a member of President Nicolas Sarkozy's government.
The International Monetary Fund managing director is to be tried by a special court on Monday charged with negligence when she was French finance minister for allowing a payout of more than 400 million euros from public funds to tycoon Bernard Tapie, a decision since quashed.
The trial of the former budget minister Jérôme Cahuzac for tax fraud and money laundering opened in Paris on Monday, the same day that it was revealed that French prosecutors want former president Nicolas Sarkozy to stand trial for "illegal financing" of his 2012 election campaign. Mediapart investigative reporter Fabrice Arfi says that such high-profile cases give us an insight into the ethics of public life in France. He argues that rather than simply looking the other way, the country needs to own up to the shameful nature of the situation.
Lagarde is accused of negligence for allowing an extremely rare out-of-court arbitration process that gifted Bernard Tapie with more than 400 million euros.
Official says IMF boss should go to court over her handling of massive state payout to Bernard Tapie when she was France's finance minister.
Appeal court throws out Bernard Tapie's attempt to reverse quashing of a 404-million-euro award to him in dispute with Crédit Lyonnais bank.
Ex-minister embroiled in scandal over which IMF boss Christine Lagarde faces court wants to fight youth unemployment and rise of far-right.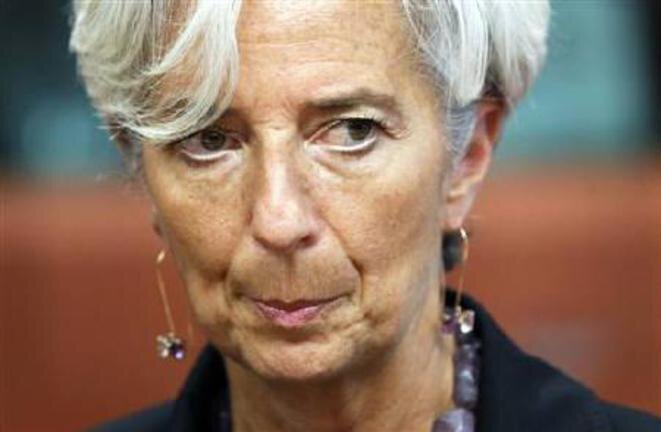 IMF chief Christine Lagarde. © Reuters
International Monetary Fund chief Christine Lagarde has been sent for trial in France for "negligence" when she was French finance minister in her management of an arbitration process that awarded French businessman Bernard Tapie with 404 million euros paid out of public funds, Mediapart can reveal. Earlier this month the Paris appeals court ordered Tapie to pay back the controversial 2008 payout. Michel Deléan and Laurent Mauduit report.
Magistrates rule he wrongly received the compensation sum for he had not been duped by state bankers when he sold sportswear firm Adidas in 1992.
The former owner of Adidas claims new evidence shows state-owned bank Crédit Lyonnais actively devalued his shares it was mandated to sell.
Six people, including Tapie, his lawyer and judge Pierre Estoup, are under investigation for organised fraud in the contested 2008 deal.