Flamboyant French tycoon Bernard Tapie, who made his fortune in the 1980s buying failing companies and selling them on, who became a minister and owner of football club Olympique de Marseille, before being sent to prison for match-fixing and losing his business empire, returning to riches and a corruption scandal over a 400m-euro compensation payout he received in 2008 for which he was accused of fraud, died on Sunday at the age of 78. 
The former minister and ex-owner of Marseille football club and his wife Dominique were asleep when four men broke into their house in Combs-la-Ville near Paris, beat them and tied them up with electrical cords.
French wheeler-dealer tycoon Bernard Tapie,76, who built his fortune from buying and asset-stripping businesses before selling them on, and who was once jailed for match fixing when he owned football club Olympique de Marseille, has been acquitted by a Paris court, along with four other co-defendants including Orange CEO Stéphane Richard, of charges of fraud over a controversial state payout made to him in 2008 of more than 400 million euros.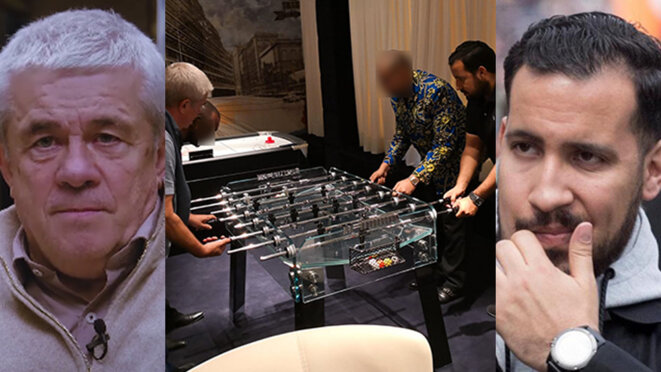 Jean-Louis Haguenauer, left, and Alexandre Benalla at a château in the Dordogne in August 2018. © Document Mediapart
In the unfolding saga of the Benalla affair, which involves President Emmanuel Macron's sacked security aide Alexandre Benalla, one man played a key role in the shadows. He is French middleman Jean-Louis Haguenauer, the man behind the Russia security contract negotiated by Benalla while the latter was still working as a key aide at the Élysée. Mediapart can reveal how over a period of 30 years Haguenauer cultivated a network of contacts in Russia, including close links with the Russian secret services. Fabrice Arfi, Antton Rouget and Marine Turchi report.
Prosecutor has demanded jail time for ex-government minister Bernard Tapie and also Orange CEO Stéphane Richard over arbitration award.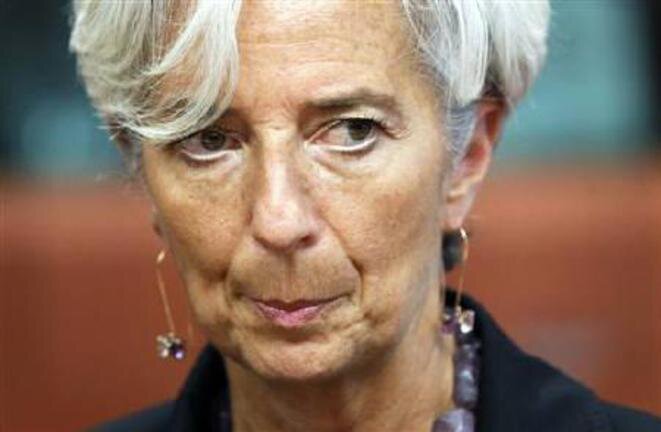 IMF chief and former French economy and finance minister Christine Lagarde. © Reuters
IMF chief Christine Lagarde was called by French tycoon Bernard Tapie to testify as a witness at his current trial in Paris on charges of fraud over a staggering 2008 award to him of 404 million euros out of public funds. The payout was made while Lagarde was French finance minister, and followed her approval of a private arbitration process which has since been overturned. Washington-based Lagarde has declined to appear at the trial, where she would have been a key witness, apparently because of her busy agenda. Mediapart's Laurent Mauduit has discovered that in fact Lagarde has every opportunity to attend the trial, but has instead decided to take part in an unrelated event just a few kilometres away from the Paris courthouse.
The flamboyant businessman is embroiled in a fight over a 1993 deal and the massive compensation he won from the state 15 years later.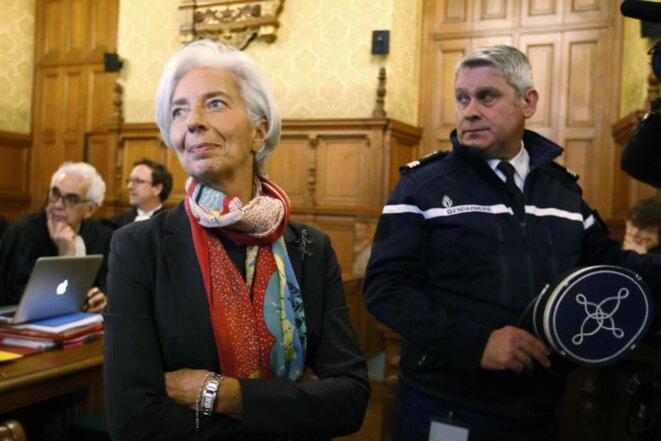 Christine Lagarde in court at the start of her trial on December 12th. © Reuters
Following a week-long trial, International Monetary Fund (IMF) chief Christine Lagarde has been found guilty of negligence when French economy and finance minister for allowing an award of more than 400 million euros from public funds to controversial tycoon Bernard Tapie. But the Court of Justice of the Republic, a special French court dedicated to judging the misdeeds of ministers, decided to exempt her from any sentence. The IMF announced late Monday that it had "full confidence" in Lagarde. Michel Deléan reports.
On last day of her trial IMF chief insisted she did nothing wrong in authorising massive settlement to Bernard Tapie to settle dispute.
A former top French civil servant told the judges in the trial of IMF boss Christine Lagarde how he had tried to meet the then-economy minister to stop her from agreeing to an arbitration process that eventually cost French taxpayers 403 million euros. Ex-Treasury official Bruno Bézard said not only was holding the arbitration in the first place a blunder, it had been a mistake not to have appealed against its 2008 ruling in favour of tycoon Bernard Tapie. Mediapart's legal affairs correspondent Michel Deléan says it was a tough day in court for Lagarde, who denies negligence in signing off on the arbitration process while a member of President Nicolas Sarkozy's government.
The International Monetary Fund managing director is to be tried by a special court on Monday charged with negligence when she was French finance minister for allowing a payout of more than 400 million euros from public funds to tycoon Bernard Tapie, a decision since quashed.
The trial of the former budget minister Jérôme Cahuzac for tax fraud and money laundering opened in Paris on Monday, the same day that it was revealed that French prosecutors want former president Nicolas Sarkozy to stand trial for "illegal financing" of his 2012 election campaign. Mediapart investigative reporter Fabrice Arfi says that such high-profile cases give us an insight into the ethics of public life in France. He argues that rather than simply looking the other way, the country needs to own up to the shameful nature of the situation.
Lagarde is accused of negligence for allowing an extremely rare out-of-court arbitration process that gifted Bernard Tapie with more than 400 million euros.
Official says IMF boss should go to court over her handling of massive state payout to Bernard Tapie when she was France's finance minister.