Keyword: Bettencourt affair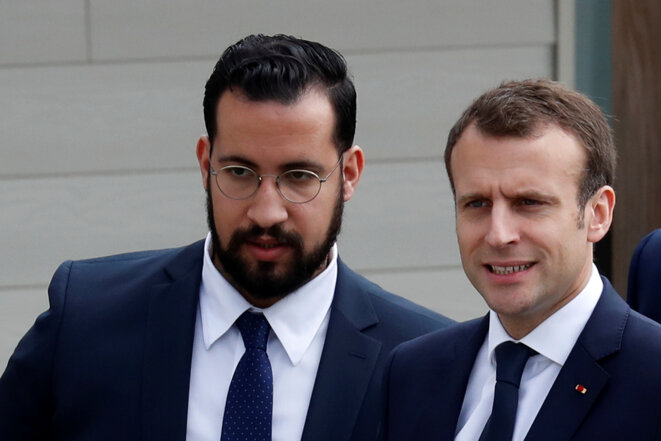 Alexandre Benalla and President Emmanuel Macron during a visit to Normandy April 12th 2018. © Reuters
Mediapart is not a back-room intelligence agency but a news-gathering organization. We do not spy on anyone nor do we install secret microphones, writes Mediapart publishing editor Edwy Plenel. We are content with revealing information in the public interest while respecting press laws. That is true in the current affair involving President Emmanuel Macron's security aide Alexandre Benalla just as it was in the earlier Bettencourt, Sarkozy-Gaddafi and Cahuzac affairs, he says.
Barely a week after Nicolas Sarkozy was placed under formal investigation over Libyan funding of his 2007 presidential campaign, the former president has been hit by a new legal blow. Judges have ruled he must stand trial on corruption and influence peddling charges over claims that he tried to get a senior judge to leak him crucial information about the progress of a case involving him. In return the ex-head of state is said to have promised to help get the judge a plum post in Monaco. Mediapart's legal affairs correspondent Michel Deléan explains the background.
Case based on wiretapped phone-calls in which Mr Sarkozy allegedly sought to influence judge and get leaks into progress of investigation.
In July 2013, Mediapart was ordered by a French court to remove all its published articles that cited secret tape recordings made by the butler of Liliane Bettencourt which provided evidence of how the late heiress to the L'Oréal cosmetics giant, suffering from dementia, was despoiled of part of her wealth by her close entourage. The tapes were at the centre of what became known as the Bettencourt affair and led to the convictions of several of those involved in the scam. Yet the censorship of the contents of the recordings remains, and Mediapart has challenged the ruling before the European Court of Human Rights (ECHR). Mediapart publishing editor Edwy Plenel analyses here the French state's submission to the ECHR in defence of the censorship, and highlights its absurd and contradictory attempt to justify the violation of the right to know.

Isabelle Prévost-Desprez had been accused of passing details of high-profile case to journalists in breach of judicial confidentiality laws.
One of the greatest political-financial scandals of France's Fifth Republic has been reduced to the level of just another human interest story of money and greed. The verdicts handed down by the courts in the Bettencourt affair on Thursday – in particular the acquittals of former budget minister Éric Woerth – have stripped the scandal of its powerful political dimension. In doing so, argues Mediapart's editor François Bonnet, France's malfunctioning justice system, dependant as it is on its political masters, has shown yet again that it is suffering from a profound malaise.
Former government minister and the treasurer of Nicolas Sarkozy's 2007 presidential campaign, Éric Woerth, has been cleared in two separate trials resulting from the extraordinary saga of the Bettencourt affair. But photographer François-Marie Banier has been sentenced to prison for his role in abusing the frailty of France's richest woman, billionaire L'Oréal heiress Liliane Bettencourt, from whom he received up to 414 million euros. Also jailed for abusing Bettencourt's frailty was her former wealth manager Patrice de Maistre. The jail sentences are the climax of a long-running saga that has gripped France, involving secret tapes made by Bettencourt's butler, claims that a circle of advisors and hangers-on preyed off the ageing billionaires, and amid allegations of covert political funding of the right-wing UMP party. At one point former president Nicolas Sarkozy had himself been placed under formal investigation over the affair, though the case against him was later dropped. Woerth, meanwhile, was acquitted both of 'receiving' illicit cash for party funding via Maistre from Liliane Bettencourt – even though judges said there was a "strong suspicion" that some money had been handed over - and, in a separate trial, of 'influence peddling'. The judges' decision to acquit the former minister, while eight other defendants were convicted, means that in effect they have 'de-politicised' the affair. Michel Deléan reports.
Ex-budget minister Eric Woerth found not guilty of exploiting L'Oréal heiress Liliane Bettencourt but two of her associates were jailed.
On Wednesday February 25th, lawyers representing the French billionaire and senator Serge Dassault announced they were withdrawing an appeal against a ruling that Mediapart had been justified in publishing details of secretly-made tape recordings involving the industrialist. In those recordings Dassault, who also owns a newspaper group, appears to confess to handing out large sums of cash to ensure his preferred candidate won an election. As Mediapart's editor-in-chief Edwy Plenel points out, not only is Dassault's decision to stop the appeal a victory for press freedom in France, the outcome also makes a mockery of the decision by another court to ban Mediapart from using any content from the tapes at the heart of the Bettencourt affair.
France's highest court the Cour de Cassation has upheld the ruling that censored Mediapart's coverage of the Bettencourt affair. The decision confirms that more than 70 articles detailing the secret recordings made by the Bettencourt family's butler must remain suppressed, even though the revelation of the content of these very recordings has led to a string of scandals and high-profile judicial investigations. Editor François Bonnet says that faced with this anti-freedom stance by the top French courts, who have given the right to privacy complete precedence over the public's right to know, Mediapart has no choice but to appeal to Europe.
Beleaguered former president hits out angrily in TV interview at those parts of the judiciary he says are seeking to humiliate and destroy him.
For the first time under France's Fifth Republic a former president has been held in custody for questioning. On Tuesday morning Nicolas Sarkozy was summoned to the offices of the fraud squad at Nanterre, west of Paris, where he was formally placed in police custody for questioning over claims that he benefited from what is known as 'influence peddling'. In particular the judges and police carrying out the investigation want to know if Sarkozy sought confidential information from a senior judge about the Bettencourt affair, in return for helping him get a top job in Monaco. The questioning of the former president, which comes a day after his lawyer, the judge at the centre of the 'influence peddling' claims and another judge were also held for questioning, is bound to place doubts over his expected return to French politics. If the investigating judges consider there is enough evidence, Sarkozy could be placed under formal investigation, one step short of formal charges.
Former president Nicolas Sarkozy's lawyer and close friend Thierry Herzog and senior judge Gilbert Azibert were questioned in police custody on Monday 30th June as part of an ongoing investigation into the alleged trading of confidential judicial information in return for political favours. In particular, Azibert is suspected of having passed on information about a part of the Bettencourt affair in the hope that he would be favoured in his application for a top judicial post in Monaco. A third man, an advocate general at France's top appeal court which was handling the Bettencourt affair, was also being questioned. As Mediapart's legal affairs correspondent Michel Deléan reports, the questioning in custody of such senior figures will send shock waves through the judicial establishment. On the evening of Tuesday July 1st, Herzog and Azibert appeared before the judges carrying out the probe and were placed under formal investigation.
Judges say investigators can keep his diaries - initially confiscated during an inquiry into alleged election illegal funding - to help in other probes.