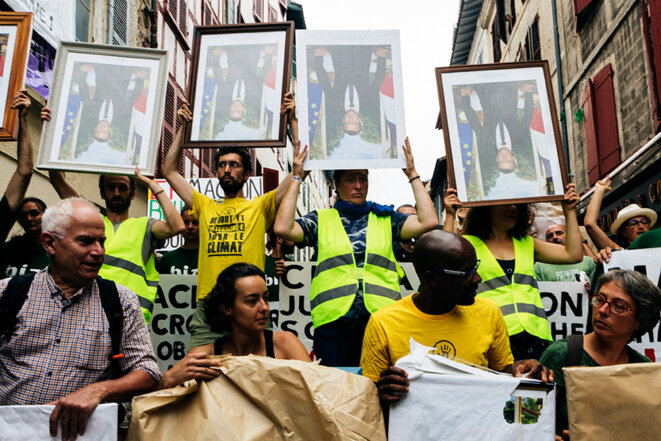 A protest involving portraits of President Emmanuel Macron held at Bayonne near the G7 summit on August 25th 2019. © Yann Levy / Hans Lucas
The main 'counter summit' to the recent G7 gathering took place miles away from the French resort of Biarritz, towns were locked down, and some protestors were banned from the area. The result was low-key, small-scale opposition to the meeting of international leaders, representing an undeniable success for the French presidency. Christophe Gueugneau and Elisa Perrigueur report.
German Chancellor Angela Merkel said that talks between Iran and France were "parallel" but not officially part of the G7 Summit. 
Meanwhile environmental group will defy ban on demonstrations in nearby Bayonne with march carrying official portraits of President Macron.
Surprise lunch came just a day after Trump reiterated his threat of tariffs against French wine in retaliation for new tax on major US tech firms.
More than 13,000 police have arrived in the town in south-west France and the authorities say any unrest will not be tolerated.
The town of Biarritz in south-west France is already the scene of unprecedented security measures ahead of the G7 summit to be held there next weekend, with some locals complaining that its summer season economy is being hit, while the authorities, fearing violent protests, have ordered that a counter-summit organsied by leftwing groups should be held 30 kilometres away in Hendaye, on the Spanish border. 
Satff of the British low-cost carrier cited security problems when they prevented wheelchair-bound Joseph Etcheveste, 55, from boarding a flight in Biarritz in south-west France in 2010.